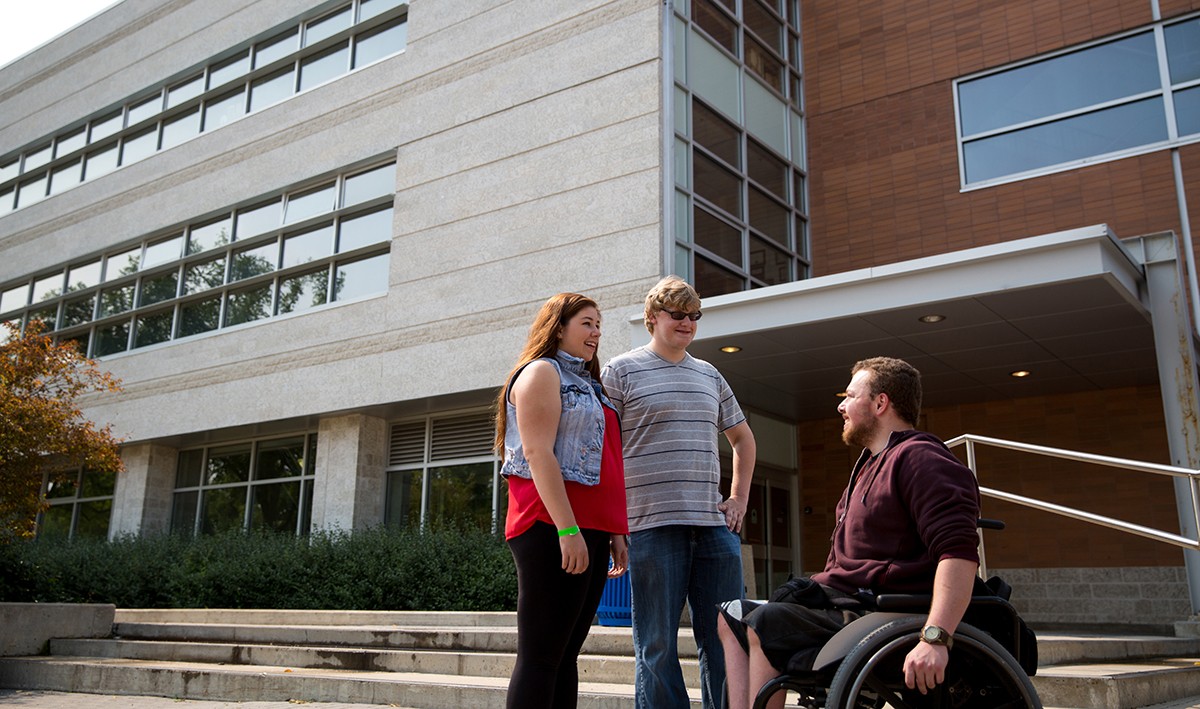 Leaders in accessibility
Access Awareness Day promoting accessibility issues since 2001
January 27, 2016 —
The University of Manitoba is seen as a leader in the area of accommodation and accessibility across Canadian post-secondary institutions. Advancing the needs of students with disabilities is Student Accessibility Services (SAS).
In the 2014-2015 academic year, there are about 2000 students registered with the SAS office, with 1100 actively using the services, providing support to students with disabilities, by offering note-taking, sign language interpretation, exam accommodations, providing specialized classroom equipment and more. In addition, SAS and Physical Plant operate an accessible transportation service on Fort Garry campus for students, staff and faculty who have limited mobility.
Since 2001 Student Accessibility Services (SAS) has hosted the Access Awareness Day – an annual event designed to promote the inclusion of persons with disabilities. On this day, SAS aims to bring awareness to the U of M community about the areas in which accessibility has improved and the areas that the university, as a community, is still working on.
"Within the UofM's strategic plan, 'providing accessibility and reasonable accommodation in all of our programs for students with disabilities' is an identified goal. Access Awareness Day provides an opportunity promote inclusion and to celebrate our successes," says the director of student advocacy and accessibility, Brandy Usick.
This year Access Awareness Day will be held on Thursday, February 4, 2016. A variety of organizations will be on the main floor of University Centre to promote awareness of disability-related issues and services at the U of M. The day also serves to let students know about the accessibility office. Additionally, the event serves as a recruiting tool as well for the accessibility office, which hires a large number of students each year to assist with their programs.
It's important to consider accessibility in every feature of campus, which provide benefits for everyone, not only persons with disabilities say Carolyn Christie, a coordinator with Student Accessibility Services. As such, the accessibility office follows the principles of universal design and universal instructional design to maximize learning and accessibility for all people on campus. These services are offered to both students and staff.
"For instance, an accessible door button is useful for a student using a wheelchair, as well as for a person delivering items to a building," says Christie. "Accessible course materials allow for students to review the material in the format that suits their learning best such as, reading, audio, large print etc. which can assist students with disabilities as well as students who have different learning styles."
For Access Awareness Day this year, SAS partnered with the Information Services and Technology office to open a new computer lab. The equipment in the lab uses specialized assistive technology, designed specifically for students who may have difficulty working on computers. Students registered with SAS will have training and access to software that converts text to speech and speech to text.
"The creation of a dedicated Assistive Technology Lab ensures we can continue to be responsive to students' needs, offer innovative programs and services, and provide a space to collaborate with other academic and support units to help students succeed," says Usick.
Throughout the week of February 29- March 4, 2016, an exhibition of student art entitled Celebrating Abilities will be displayed at the Gallery of Student Art (GOSA) in University Centre. The eclectic mixture of art will include photographs, sculptures, sketches, paintings, and Braille by students registered with Student Accessibility Services. If you're interested in submitting artwork for the exhibit, please email student_accessibility [at] umanitoba [dot] ca or call 204-474-7423 for more information.