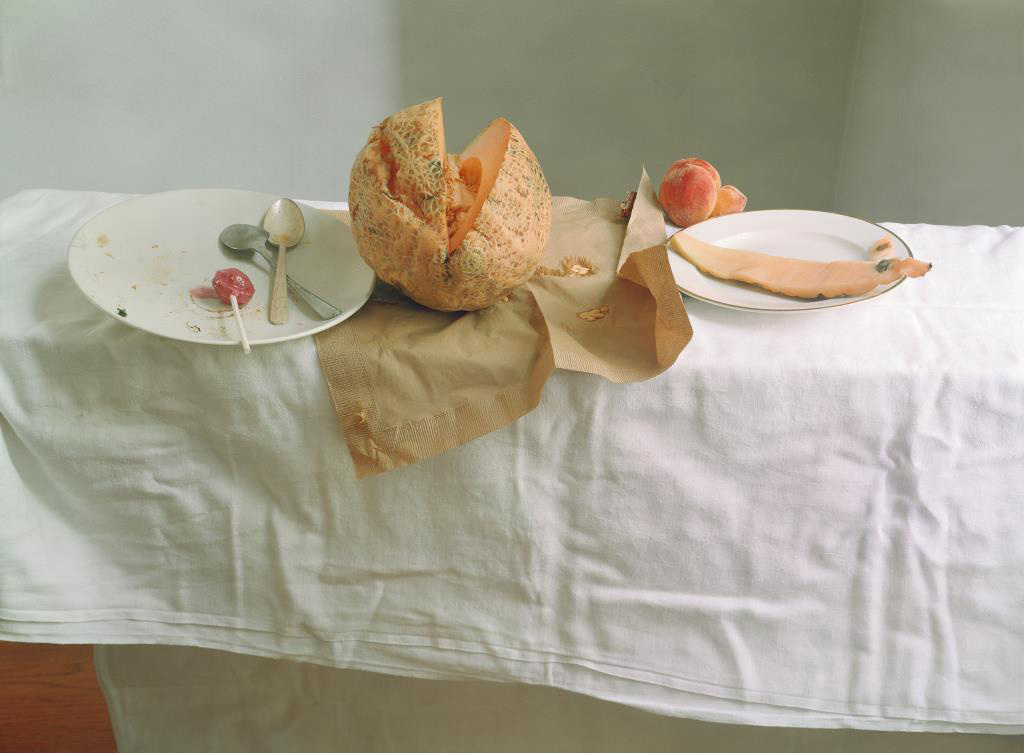 Laura Letinsky: Still Life Photographs, 1997-2012
February 8, 2016 —
Inspired by 17th century European still life paintings, Laura Letinksy offers her 21st century perspective of the genre in the photographs in the School of Art Gallery exhibition Laura Letinsky: Still Life Photographs 1997 – 2012. Although as thoughtfully composed as the arrangements of those historic painters, Ms. Letinsky's  images seemingly embrace the messiness of real life where peaches rot, and table cloths are stained with spilled red wine and covered with crumbs from meals consumed.
Now a professor at the University of Chicago, Letinsky will return to Winnipeg for the exhibition reception and artist talk on March 17, and will also teach a 5-day photography workshop, Shallow, neither flat nor deep, at the School of Art, March 14 – 18.
What: Laura Letinsky: Still Life Photographs, 1997-2012 runs now until April 1, 2016
Artist's reception: March 17, 4:30 – 6:30 p.m.
Artist talk: March 17, 6:30 p.m., 136 ARTlab
All events take place at the School of Art Gallery, 255 ARTlab, 180 Dafoe Rd.
Gallery hours: M-F, 12-4 p.m.
More about the Artist
Born in Winnipeg, Manitoba, Laura Letinsky graduated with a BFA (Hon) from the School of Art in 1986, and continued on to Yale University School of Art to earn an MFA degree in 1991. She is currently a Professor in the Department of Visual Arts at the University of Chicago.
Laura Letinsky's work has been exhibited at Canadian Museum of Contemporary Photography; Musee de Beaux-Arts, Montreal; Casino Luxembourg; Galerie m Bochum, Germany; Museum of Modern Art, New York; Nederlands Foto Institute; and The Renaissance Society, Chicago.  Her work is included in the collections of the Art Institute of Chicago; J.P. Getty Museum, Los Angeles; Hermes Collection, Paris;; The Museum of Fine Art, Houston, TX; and San Francisco Museum of Modern Art. She is represented by Yancey Richardson Gallery, New York.
Laura Letinsky is a recent recipient of Canada Council's International Residency in Kunstlerhaus Bethanien, Berlin. She has received grants are from the Richard Driehaus Foundation, Illinois Arts Council, Anonymous Was A Woman Foundation, John Simon Guggenheim Memorial Fellowship, and Canada and Manitoba Arts Council.