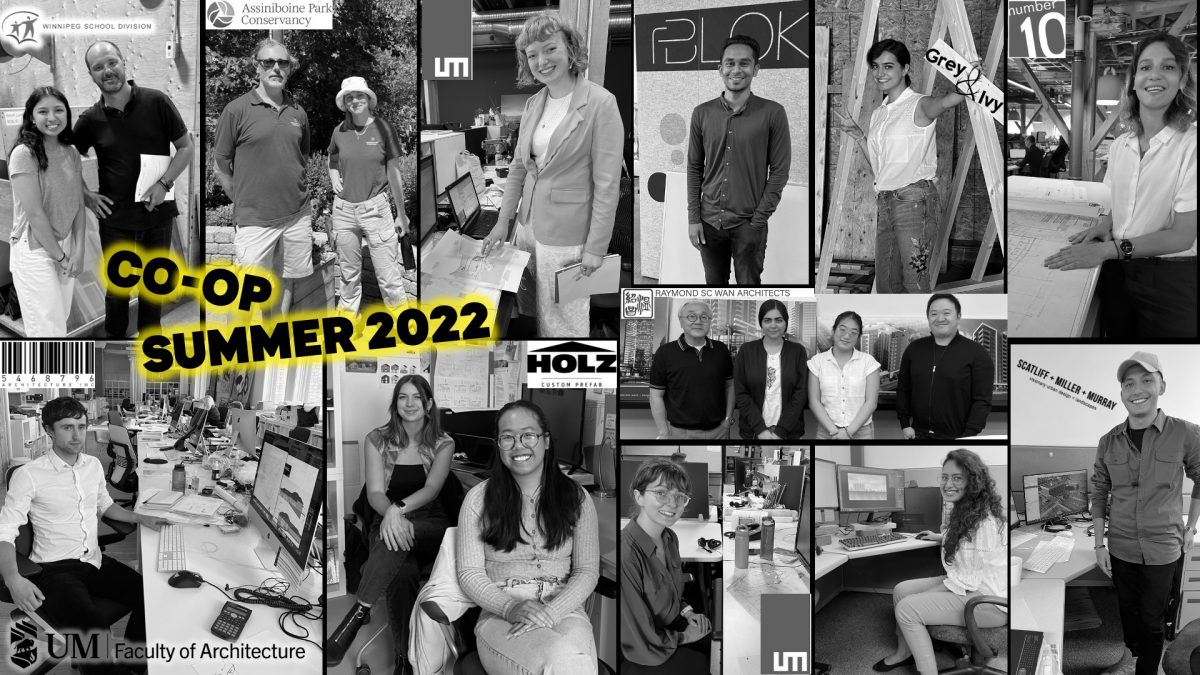 Launching Careers with Cooperative Education
September 20, 2022 —
Thanks to the support of regional professionals, alumni and employers across Canada, the Faculty of Architecture's Co-op program continues to grow and thrive.
Thirty students from all disciplinary streams secured work terms in summer 2022 – nearly double the number of placements from last year. Two additional work terms commenced this fall. Jobs were secured across Winnipeg, in Toronto, and with the Government of Nunavut in Iqaluit. Thirteen employers in 2022 were first-time Co-op partners!
These experiential learning opportunities are building professional skills and knowledge, fostering career development, and exposing the next generation of designers to a variety of inspiring and important work.
Student Experience
This summer, students gained hands-on experience in building and landscaping, and contributed to designing and planning affordable urban housing, infrastructure and services for First Nations communities, and neighborhood revitalization strategies. Co-op students helped to renovate and maintain educational facilities for two Winnipeg school divisions, and participated in making much loved cultural spaces more beautiful, sustainable and inclusive.
For Saba Mirhosseini, an international M.Arch student from Iran, a Co-op placement with Grey & Ivy enabled her to apply a love of learning, passion for making, and experience working with ArchiKID to a multidisciplinary collective of design-builders bringing educational programs and visualization techniques to Manitoba youth. For Landscape and Urbanism ED student Lilian Gorchinski, a work term with the Assiniboine Park Conservancy meant collaborating with the skilled zoo horticultural crew to care for plant habitats of butterflies and cougars. She also created and maintained complex landscapes for multitudes of visitors, and gained first-hand technical experience with a variety of landscaping equipment. Watch their Instagram takeovers here.
Insights and testimonials from Co-op students speak to the thrill of gaining a first professional experience, the joy of collaborating with knowledgeable and supportive teams, an appreciation for expanding skills and networks, and an excitement for future contributions to the field.
Enhancing Skills with Experiential Learning
Nearly 120 Faculty of Architecture students participated in Co-op in 2021-2022. Everyone involved benefited from career-development workshops, including sessions on interview skills, resumé composition and cover letter writing. Additionally, students enjoyed trans-disciplinary exchanges with one another across different streams and with potential employers from multiple design, planning and construction sectors.
The annual portfolio workshop enabled students to network and gain personalized feedback, detailed advice and inspirational encouragement.
THANK YOU to the twenty-eight professionals, including representatives from the MAA, MALA, MPPI and PIDIM, who dedicated time and insights to this valuable mentorship opportunity. Special gratitude goes to architects Lindsay Oster of Prairie Architects and Shane Solomon of Republic Architecture Inc. who shared opening words of practical wisdom at this event.
Cooperation and Partnership Development
Launched in 2018, the Faculty of Architecture's Cooperative Education/Integrated Work Program option is designed to complement academic study with paid work experience, enabling students to sharpen skills, apply knowledge, broaden perspectives, and consider future career specialization. Co-op students have worked internationally, across Canada and in the north, helping businesses and communities prosper.
Co-op is open to undergraduate and graduate students in all streams of the Environmental Design program (ED3-level and higher) and all Masters programs (Architecture, City Planning, Interior Design and Landscape Architecture).
Thinking to hire a Co-op student in 2023?
We welcome opportunities in all design and planning fields, as well as government, not-for-profit and commercial sectors. Four, eight, twelve and sixteen-month work terms are available, typically beginning in May. Hiring incentives for employers, including Manitoba tax credits, are available. Find out more here.
Thank you to the 2022 participating Co-op employers:
5468796 Architecture Inc.
Assiniboine Park Conservancy
City of Toronto (City Planning)
fBlok
ft3 Arch. Landscape & ID
Government of Nunavut
Grey & Ivy
Hanson & Jung Architects, Tor.
Kindret Landscaping
Holz Construction
Little Bluestem Landscape Architecture + Design
LM Architects
MB Gov't Municipal Relations
MB Parks
MCM Architects
Monteyne Architecture
Number Ten Architects
Ray SC Wan Architects
Scatliff+Murray+Miller
St. James Assiniboia School Div.
StorefrontMB
Verne Reimer Architects
Winnipeg School Division
UM – Arch/Eng. Services
UM – FABLab
UM – Partners Program
Up North Architecture, Inc.
Voitec Architect Inc.