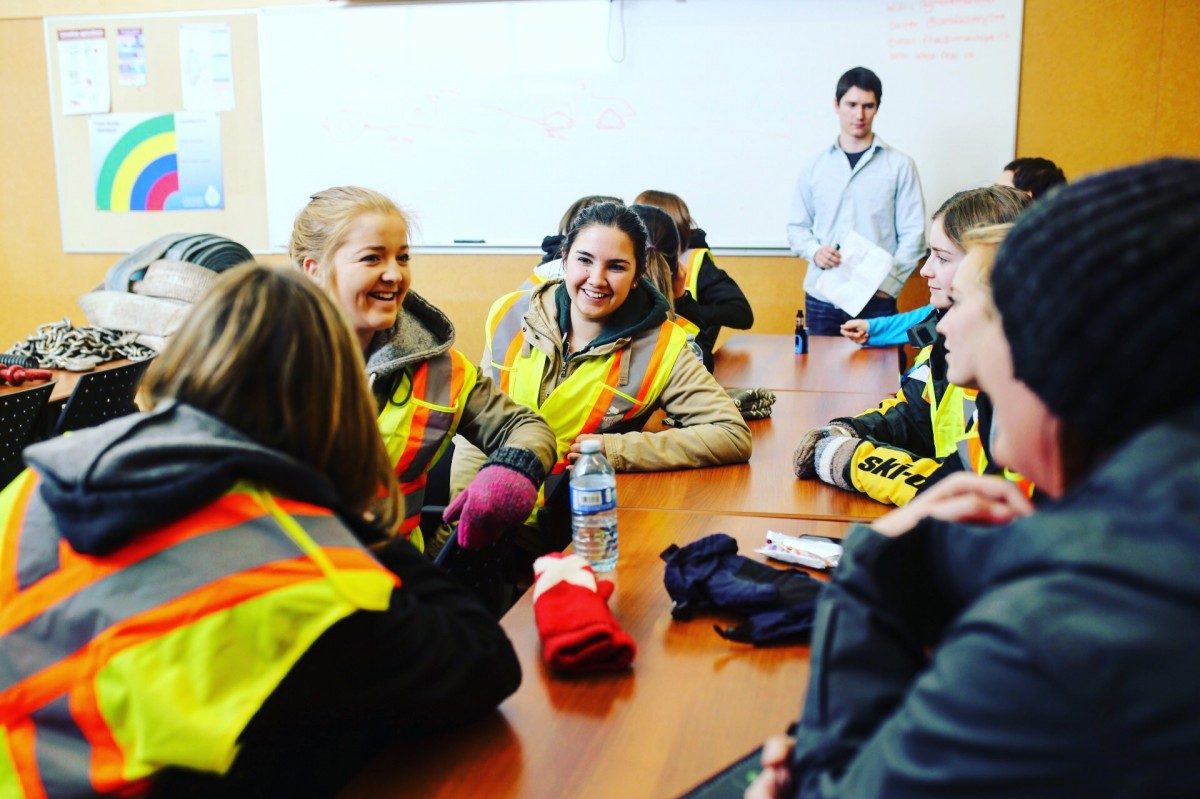 KAP Farmers' Voice: U of M reinvents its agriculture diploma program
July 16, 2018 —
As Farmers' Voice (Summer 2018) reports:
Technology is constantly changing and almost everything needs to be updated on a regular basis in order to stay relevant. That's why the University of Manitoba will be making some changes to its agriculture diploma program beginning this fall.
The program has become a well-known staple in the agriculture industry since its early days as the first offering of the Manitoba Agricultural College in 1906. It has undergone several changes over the last century, and has been slowly shifting its focus from technical training toward new scientific principles that will propel modern farming production and current agribusiness practices into the future and beyond.
The two-year program received its last major update in 2000. But come September, the newest 85 agriculture diploma students will be the first to experience the latest changes made to the program. Michele Rogalsky, director of the School of Agriculture discussed some of the biggest changes to the program, and how students will benefit from them.
"Technology is changing," she says. "Students and farmers need to respond to it and recognize it. Things are changing quickly, so there's no use teaching current technology. We have to prepare the students for assessing the changes in the future so that they can respond and adjust their management practices."
As in the current program, students in the new program can choose to target their education toward business management, livestock management, crop management or general agriculture. This format was created to give students an education that is tailored for their goals in the industry, whether they decide to pursue careers in the agricultural and food service and/or value added sectors or take over the family farm.
Under the new program, some of the core aspects such as the management planning project will be maintained This course allows students to apply the practical skills they have learned toward a real-life situation.
In their first year, students partner with a farm manager, have access to farm records and are able to analyze the farm. In their second year, they put on the manager's hat, develop a comprehensive plan for the farm, put it in to action and defend all of their decisions, says Rogalsky.
"The biggest change to this part of the program is the expansion of the core courses so that students are well-prepared with the skills needed to serve the industry now and in the future. All students in first year will have a common program with an increased emphasis on farm management.
In terms of technology, a new precision agriculture course is being introduced and will focus on technological skills. Students will learn about precision agriculture tools used in livestock, agronomy and business management.
They will also learn how to use the technology, the data it provides, how to analyze it, the cost of using the technology and how to complete a cost-benefit analysis.
The course will aid in developing their decision-making skills, a big focus in the program, and how they can apply these technologies to their own operations, Rogalsky says.
There will also be other new required courses that have a big focus on decision making and practical applications. Two second year core courses have been added – one on current agricultural issues and the other on agri-food systems. Rogalsky says the program continues to strive toward helping students become more aware of how their farms and the agriculture industry are impacted by external influences such as consumers and international agriculture policies.
"We are making sure students have a solid understanding of the chain of the agri-food sector – from the farm field or barn, through processing, to the consumers, and the impact on health, as well," she says.
She wants students to leave with a solid knowledge of the industry as a whole, combined with decision-making, communication and leadership skills.
There will also be changes to the production courses, mainly in plant science and soil science. They will no longer focus on all the specific production techniques of all the current and most popular crops, she says. Instead, they will focus on production techniques for a particular crop category such as cereals.
They'll learn how they can apply this to make production management decisions for their farm – how to determine seeding rates, what variety to use, risk factors in relation to crop insurance, and where to find this information.
"They'll be able to adjust to change because they'll be getting the tools to determine what the 'new' crop is going to be," Rogalsky says. "For example, we didn't cover soybeans in our core courses five years ago, and now it is a mainstream crop in Manitoba. These students will be deciding what the next one will be."
The academic teaching staff in this program are extraordinary individuals, and are committed to the industry and to agriculture students, says Rogalsky. Five staff members also manage their own farms full-time and teach the core courses in farm management.
Keeping the industry in mind, the program will remain accommodating toward staff and students with farming obligations. It begins in mid-September and ends in early April.
The majority of students in the program continue to come from rural areas in Manitoba, and are usually coming straight from high school. The program provides a strong sense of community for each year's fresh crop of students, Rogalsky says. In their first year, they spend much of their time together in classes, labs, collaborating on projects, and on field trips.
"They really do become a community of learners. We stress that in the program. It's not just about learning the production or the management skills. We're also developing leaders, and we're strongly committed to making sure that the program supports students. We have a positive community."
This support helps the students with the challenges of relocating from a rural setting to an urban one, and the transition from being a high school student to a post-secondary student.
The program is also hands-on, says Rogalsky, and aims to give students not only classroom training, but also experience in the field so they can apply their knowledge and learn from their experiences alongside industry professionals.
"It's touching. It's feeling. It's being out in the field," she says. "The students go to Ag Days and they participate in the Keystone Agricultural Producers annual meeting, where they have the opportunity to participate as ag leaders."
Rogalsky hopes that there will be more opportunities in the future to increase experiential learning with more independent studies, practicums and more involvement with producers and industry organizations such as KAP.
With one program revision under its belt, the University of Manitoba will be looking at updating the four-year agriculture degree program next.
Reprinted with permission from Keystone Agricultural Producers.