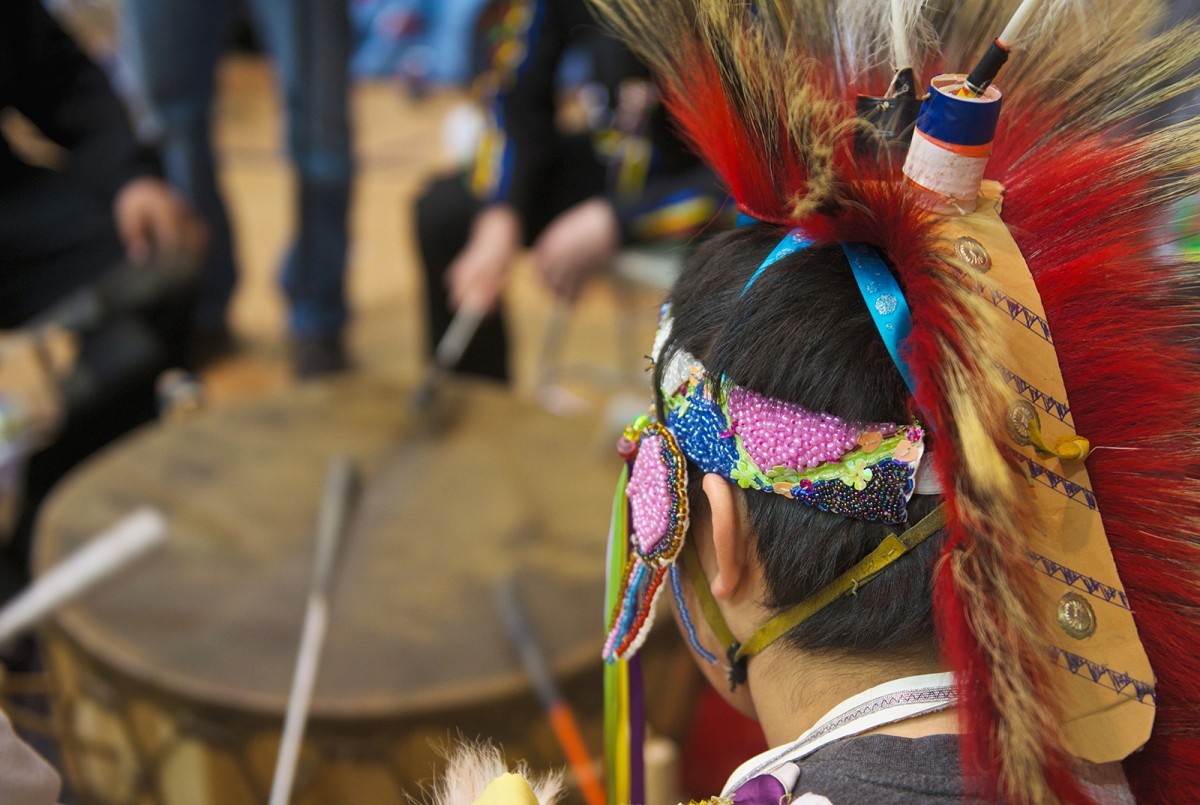 Join us for National Aboriginal Day celebrations
June 18, 2015 —
The University of Manitoba will host National Aboriginal Day celebrations on June 19, from 8:30 a.m. – 2:00 p.m. on both the Fort Garry and Bannatyne campuses with live performances, a tipi display, bake-offs, craft vendors, cultural entertainment and a special activity in honour of Residential School Survivors.
At 11 a.m. in the foyer of Migizii Agamik – Bald Eagle Lodge, the U of M's Indigenous community and allies will honour the memory of residential school Survivors by planting a Heart Garden. Initiated by the Truth and Reconciliation Commission of Canada and its partners, this project has planted 6,293 Heart Gardens across Canada to date. All are welcome to decorate a heart to honour those lost to residential schools. The U of M's Office of Indigenous Achievement and the Indigenous Student Centre will provide supplies.
The U of M is honoured to participate in this special day, celebrating the unique and diverse cultures of First Nation, Métis and Inuit peoples.
"In addition to being a time of celebration, National Aboriginal Day is an opportunity for all of us to reflect on our University's commitment to Indigenous Achievement, and to remember Survivors of Residential Schools as we work toward reconciliation," says David Barnard, President and Vice-Chancellor at the University of Manitoba. "Through the sharing of Indigenous knowledge, cultures and traditions across our campuses, we can create a richer learning environment and foster greater understanding between Indigenous and non-Indigenous community members – for both current and future generations."
More than 2,000 Indigenous students study at the U of M, one of the largest post-secondary populations in the country, and this year we celebrated the achievements of more than 350 Indigenous graduates.
The day's schedule of events includes:
Bannatyne campus celebrations in partnership with the WRHA and HSC:
8:30 a.m. – 10 a.m. – Raising of the tipi and traditional pipe ceremony at the Medicine Garden of Indigenous Learning, located outside 750 Banntyne Ave.
10 a.m. – 2 p.m. – Health program Displays, 720 William Ave.
10 a.m. – 2 p.m. – Live-artists painting, craft vendors, opening remarks (11a.m.), food blessing, Brodie Centre Atrium, 727 McDermot Ave.
11:30 a.m. – 2 p.m. – Cultural performers and Feast, Brodie Centre Atrium, 727 McDermot Ave.
Fort Garry campus celebrations:
11 a.m. – Noon – Heart Garden, Migizii Agamik – Bald Eagle Lodge, Fort Garry campus
Noon – 1 p.m. – Lunch, Migizii Agamik – Bald Eagle Lodge, Fort Garry campus
1 p.m. – 2 p.m. – Bannock bake-off, Migizii Agamik – Bald Eagle Lodge, Fort Garry campus
All activities are free and everyone is welcome.
For more information, visit Indigenous Connect.