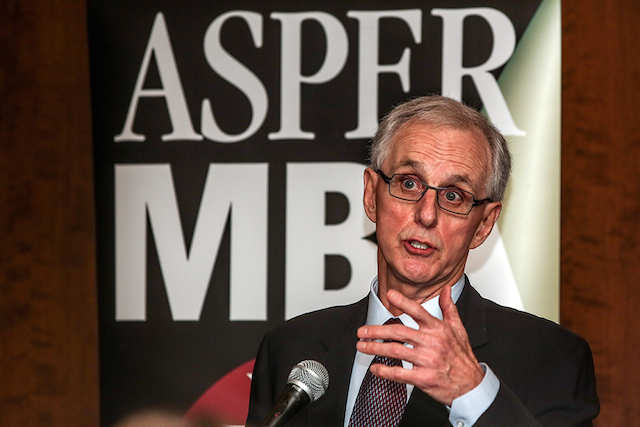 John McCallum Receives Luminary Teaching Award
October 28, 2014 —
On October 14, 2014, the Asper MBA Student Association (aMBAsa) presented the 2014 Dr Reg Litz Luminary Teaching Award to Dr John McCallum, a Professor of Accounting and Finance at the University of Manitoba's Asper School of Business.
AMBAsa created the award to recognize a prominent individual who inspires or influences others.
Dori Chudobiak (MBA/14), Government Relations and Current Issues Manager at Manitoba Hydro, presented the award to Dr McCallum. She said students in the Asper MBA program had many reasons for voting to recognize him with the award.
Some described him as the "most influential professor" – one who "shares with students a treasure trove of insights sculpted from real-life experiences and astute observations."  Others described McCallum as "a true business leader in the community" who "cares about the success of his students and ensures that what he teaches is relevant to the real world."