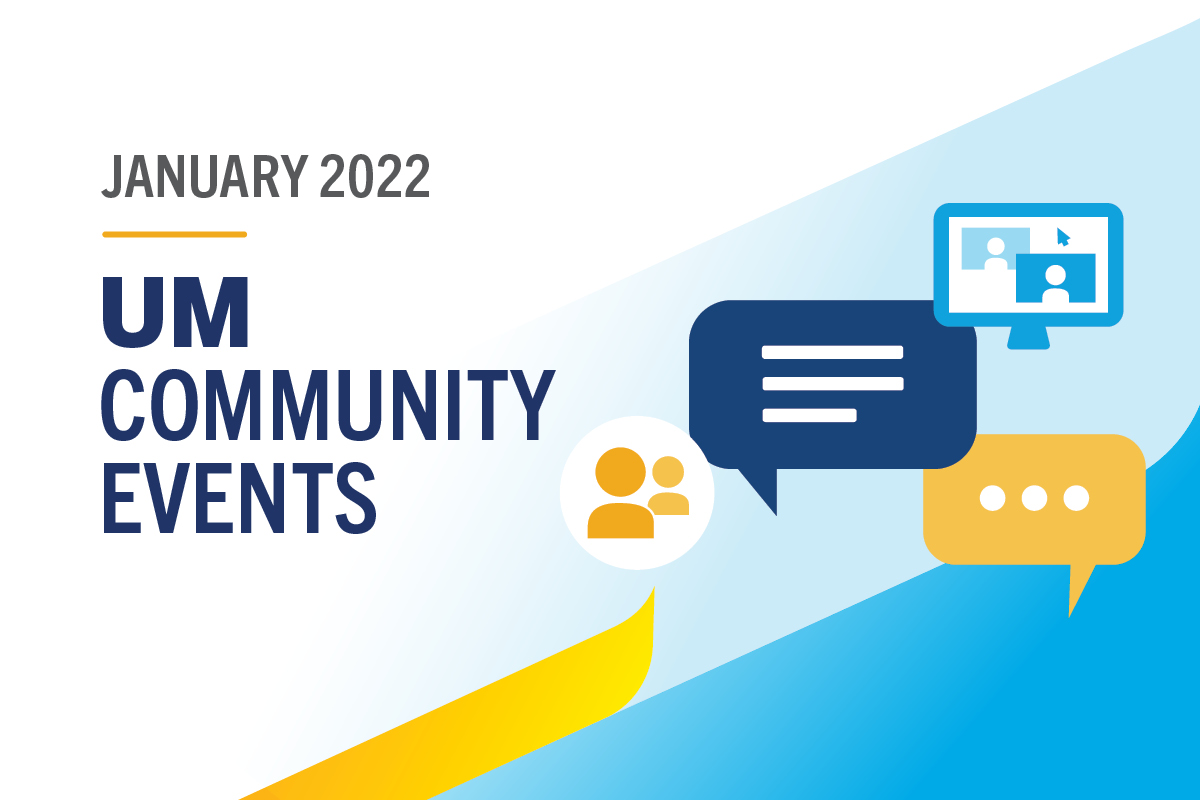 January 2022 UM Community Events
January 6, 2022 —
Explore UM's community events in January with virtual networking opportunities while learning from experts and other participants. Enjoy discussions at the virtual sharing circles, School of Art workshops and more.
Stu Clark Webinar Series: Building an Entrepreneurial Mindset
In this webinar, we will talk about what the Entrepreneurial mindset is and how this mindset can help you, no matter what your career path is. Whether you are a full-time entrepreneur, working on a side hustle or working within an organization, having an entrepreneurial mindset will help you grow as a creative innovator, changemaker and leader. Join us to learn more about how you can start building your entrepreneurial mindset today and use these skills in other areas of your life.
January 12, 11:30 a.m.-12:00 p.m. | Free
Take part in presentations, workshops, and exhibitions that explore contemporary and historical arts practices and perspectives.
The School of Art Gallery supports the mission of the School by fostering creativity, supporting research, and encouraging critical thinking among undergraduate and graduate students alike
January 12 and onward | Free
Learn More
Symposium: Deconstruction of Being
Participate in the presentations and conversation with Michèle Pearson Clarke, Canisia Lubrin, Péjú Oshin, and Pamela Woolford as they break down and synthesize notions of individual and collective identity, self-exploration, memory, the body, place, kinship, language amongst other themes.
January 22, 7-9 p.m. | Free
Register
The Desautels Lecture Series: Family Firm to Managerial Enterprise
Get answers from Professor Matthew Bellamy, an associate professor of history at Carleton University, specializing in Canadian business, political and cultural history as he discusses the three generations of Labatt's and the bootlegging manager-entrepreneur who saved the brewery from prohibition. The lecture will consider the nature of family relationships at Labatt's and its effect on their business, amongst others.
Matthew J. Bellamy's latest research has taken him into the realm of brewing history. His book Brewed in the North: A History of Labatt's was published by McGill-Queen's University Press.
January 25, 12-1 p.m. | Free
Register
Stu Clark Webinar Series: Protecting your Intellectual Property
In this webinar, learn from our guest lawyer and expert on your intellectual property (IP), about protecting IP as an entrepreneur, the different types of IP and when to protect your IP.
January 26, 11:30 a.m. –12:30 p.m. |Free
Register
Two-Spirit (2S) Virtual Sharing Circle
Join Elder Charlotte Nolin to share, heal and celebrate at the sharing circles and teaching open to the 2SLGBTQQIA+, allies, students, staff, faculty and community.
January 28, 12:30 p.m.-1:30 p.m. | Free
Learn more
For more events: University of Manitoba events calendar