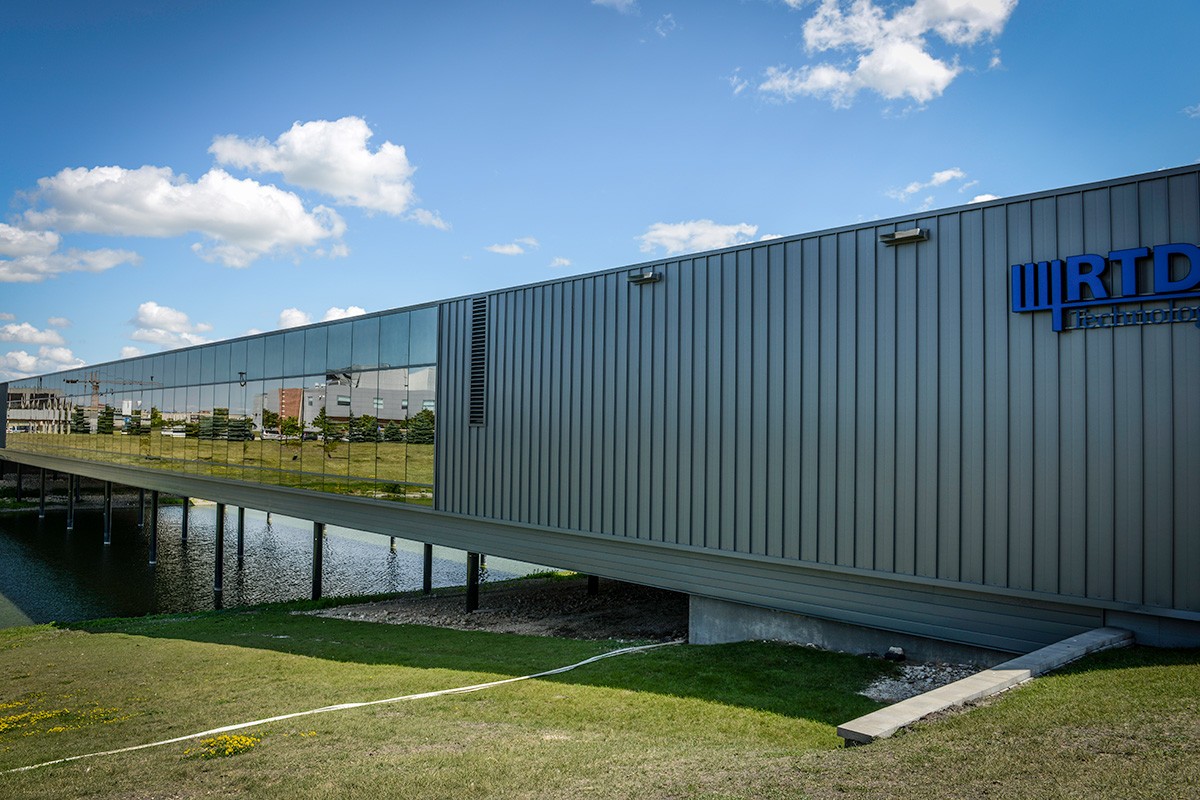 Jane's Walk delves into Smartpark sites
May 5, 2016 —
Have you ever wondered what makes Smartpark so "smart"? Here's your chance to find out! Community members are invited to join a free, fun Jane's Walk at the U of M May 6 and May 7. Take a stroll with a guide and learn about the community of innovators at the doorstep of the University of Manitoba.
Now home to 21 research and technology tenant organizations in nine buildings across the park, Smartpark has grown considerably since opening its first facility in 2002. The walk will explore the 100 acre research and technology park, hearing stories of its past, present and future. Community connections, naturalized landscaping, and sustainable design will be highlighted.
"Although relatively new, Smartpark has a rich and interesting history including success stories of previous tenants and graduates of Smartpark's incubator, who have expanded to global success while remaining grounded here in Manitoba," said Larry Paskaruk, director of property development and management at Smartpark.
Two walks will be co-hosted. The first will begin Friday May 6th at 11:30 a.m. in front of the Event Centre (100-One Research Road). This leisurely walk is expected to last one hour and will conclude with a complementary lunch and a chance to connect with members of Smartpark and the university community. While this walk will be geared towards Smartpark and university community members, all are welcome to join.
"Success for Smartpark means success for the university, the city and the province. In alignment with our vision to build a community of innovators, it is important to create strong connections within the community, fostering conversations amongst peers, and sharing stories to inspire innovation and forge new relationships," said Paskaruk, who will be one of the walk leaders on Friday.
The second walk will take place Saturday, May 7, beginning at 10:30 a.m. and will last about 90 minutes. Those interested are invited to meet at the campus Welcome Centre, 423 University Crescent. After the walk, participants are invited to experience the Annual Traditional Graduation Pow Wow at the Investors Group Athletic Centre.
The walks are co-hosted by University of Manitoba's Smartpark Research & Technology Park, the Campus Planning Office and the Office of Sustainability.
More information on these walks is available on the U of M's site.
What is Jane's Walk?
Jane's Walk is an international movement bringing communities together through free, locally-organized walking tours. The movement is in celebration of Jane Jacobs, a writer and urbanist whose ideals and views had a strong influence on modern urban planning.
Jacobs advocated for concepts that would transform neighbourhoods into communities; shorter blocks, mixed-use developments, local economies and urban walkability are just a few examples of the ideas she endorsed. These concepts allow for more interactions between neighbours, Jacobs suggested, striving away from the car-dominated norm. Walks take place on the first weekend of May to coincide with Jacobs' birthday; this year would be her 100th.
To celebrate her legacy, the Jane's Walk movement was born. Now in its tenth year, Jane's Walks are held in over 100 cities across six continents.