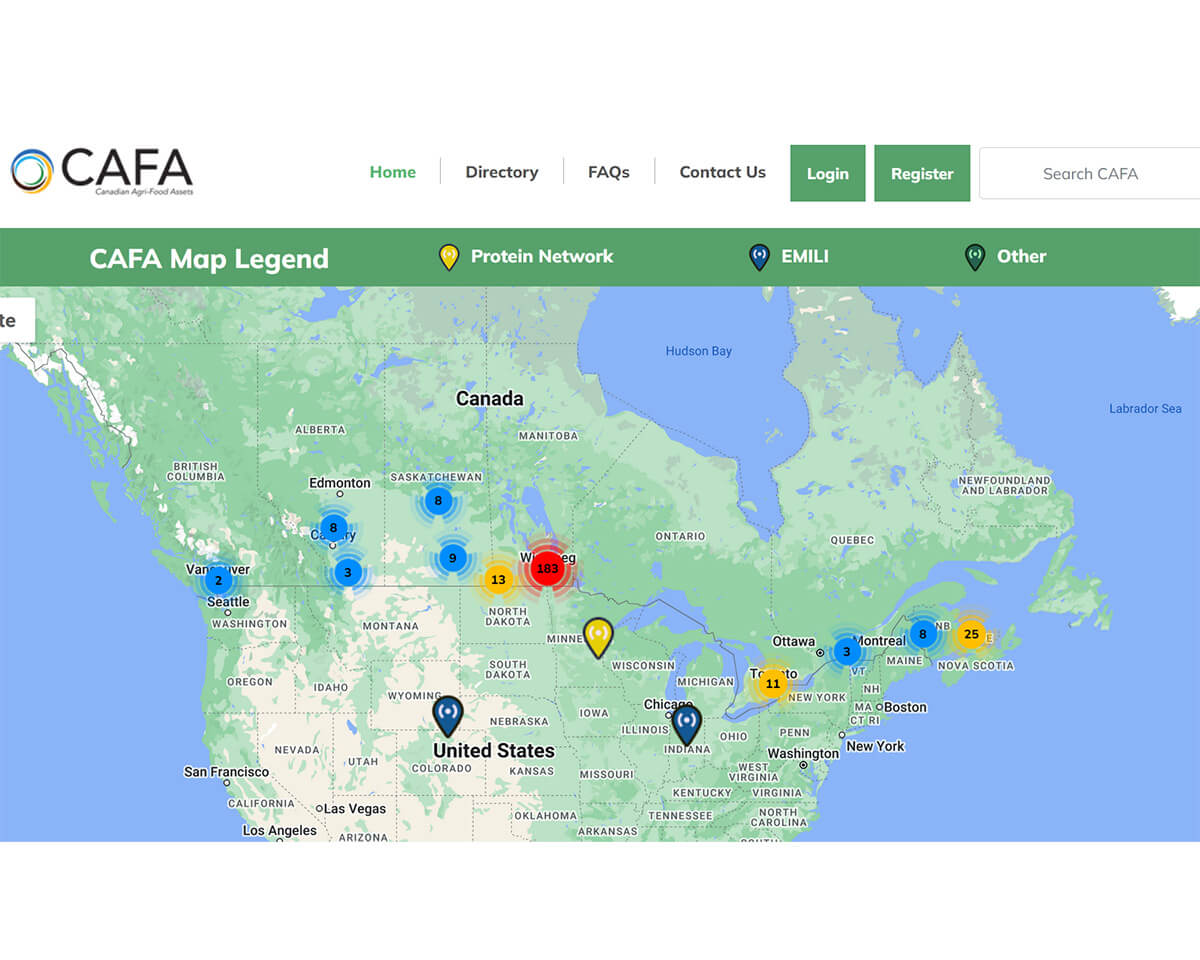 Introducing the Canadian Agri-Food Asset Map
Connecting Sustainable Protein Researchers to Opportunities for Collaboration and Growth
June 21, 2023 —
Canadian researchers involved in sustainable protein development now have a powerful new platform to showcase their expertise and infrastructure. The Canadian Agri-Food Asset Map (CAFA), an easy-to-use online directory designed to facilitate collaboration, foster partnerships, and drive progress in the agri-food sector, has been launched as a key initiative of the Manitoba Protein Research Strategy. To get started, researchers can simply register online and add information about their expertise and infrastructure.
"CAFA is a comprehensive and interactive directory that shines a spotlight on Canada's vast array of agri-food assets, making it easier than ever for researchers, investors, and industry partners to connect and work together," said Dr. James House, Manitoba Strategic Research Chair in Sustainable Protein. "CAFA presents a unique opportunity for sustainable protein researchers to enhance their visibility within the protein ecosystem and engage with like-minded professionals who share a common vision."
Researchers who contribute to CAFA gain access to a broad audience to showcase their research and state-of-the-art capabilities. The platform helps identify potential partners for future collaborations, opening the doors to transformative projects. Additionally, CAFA provides a wealth of resources that can advance important work in sustainable protein in the Province of Manitoba.
"The Canadian Agri-Food Asset Map is the go-to resource for anyone looking to be part of Canada's most comprehensive agri-food network," said House. "By joining CAFA, you unlock a world of opportunities for collaboration, research, and growth, all within a vibrant and dynamic community. Don't miss out on this chance to position yourself at the forefront of the sustainable protein revolution."
To view the Canadian Agri-Food Asset Map, visit https://cafamap.ca/.
Please contact mbprotein [at] umanitoba [dot] ca with any questions, comments, or to inquire about participating in CAFA.