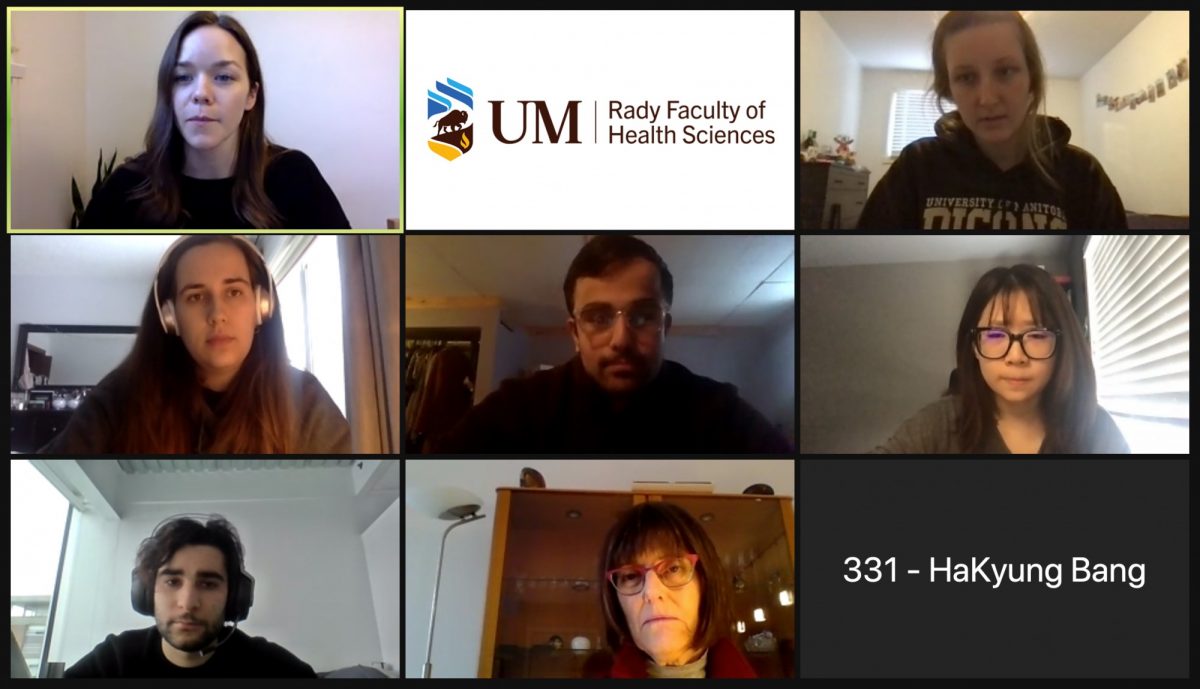 Interprofessional curriculum readies students to join health-care teams
July 19, 2021 —
The interprofessional collaborative care (IPCC) curriculum prepares Rady Faculty of Health Sciences students to thrive as part of a team in the modern health-care environment.
All first- and second-year students in the Rady Faculty take part in the IPCC curriculum, which covers the broader determinants of health, patient safety and helps breaks down traditional barriers between the health professions.
"We hope that this next generation of health-care professionals will see interprofessional collaborative care as a given and as an expectation in any workplace that they go to," said Dr. Moni Fricke, director of the Rady Faculty's Office of Interprofessional Collaboration, which coordinates the IPCC curriculum. "We hope that where the system has not kept up to what we've promoted in our curriculum, our students will take on those leadership positions and advocate for increased team approaches in whatever practice setting they find themselves in."
For the 2020-21 academic year, 609 first-year and 565 second-year students took part in the program. Three of those learners are Sue Zhang, nursing; Megan Peterson, occupational therapy; and Maziar Fazel Darbandi, medicine.
UM Today has been following the three students over the course of the past two years as they embarked on their IPCC journeys (read the first, second and third story in the series). Here is what they had to say as they wrapped up their IPCC experience.
What are some of the key things you learned over the past two years in the IPCC program?
Maziar Fazel Darbandi: I think the biggest thing I'm going to take away from the program is the knowledge of the roles that the different health-care professionals play within the health-care team and how integral all those roles are in providing excellent patient-centred care.
Sue Zhang: I think over the past two years, I gained knowledge about other health-care professionals and their responsibilities when we work on a team.
Megan Peterson: The IPCC program helped me realize that having one point of care is such an effective way to manage a client's health because it's so much easier than the client going to eight different professionals and trying to manage their own care. If we all come together as a team to support the client, it exponentially increases services and the client's health and their care.
How has the IPCC curriculum prepared you to work within an interprofessional environment in the future?
MFD: The biggest thing that I'm going to take from IPCC into clerkship is just knowing if I have a certain question who would be the best person to ask. Also, just having more comfort in approaching different health-care providers and having a better understanding of what their skill sets are and the things they're taught and their unique perspective on the health-care team.
MP: A lot of us have placements during our programs and a lot of the content we learned on the IPCC team was actually used when I went on my placement. When you're learning about it in this group, you're thinking 'how am I going to apply it?' But when you actually get out there and on placement I was like 'OK, I understand role clarification, team functioning and shared leadership.' You actually see it in practice and it's nice to have a better understanding going in.
SZ: I understand and respect the diversity of other health professionals. If there's conflict that happens in the future in my workplace, I will know how to approach it.
How have you grown over the past two years when it comes to how you participate within an interprofessional team?
MP: When many people think of classic health care they assume the doctor is going to be the leader on the team. As our IPCC team worked together we realized that when we were looking at our case studies that sometimes I, as the occupational therapist, would be the expert in an area so I would actually take the lead or another health professional would. It wasn't always the doctor. It shows you that leadership can be shared.
SZ: After two years, I know that between the professions there will be role overlap and everybody on the team has to understand each other's roles. Our goal is to provide better patient safety and provide better patient outcomes, so we have to collaborate very well.
MFD: I feel I've matured in the sense that I've realized that one health-care field – whether it be pharmacy or medicine or occupational therapy – no matter which one you come from, the vast needs that a patient requires can't possibly be provided by just one profession. It's going to take all the professions coming together, working together in a civil and collaborative way to really achieve the common goal of providing excellent patient care.
Going forward, what will you work on personally when it comes to interprofessional collaboration?
SZ: In the future, when I work in a hospital, I would like to talk with other health professionals to know their perspectives and how they approach different situations.
MFD: Communication is something we can always work on. Having a great relationship with the members of the health-care team that I'm part of and making sure that there's a strong sense of mutual respect, that's something I will always strive for in my career.
MP: Something that I'm taking away is that every group and every team is different. You're going to have health-care professionals with different strengths on your team and you have to leverage their skills. When I start getting placed on teams, I will learn the skills and the areas of strength of my team members and shine a light on that.