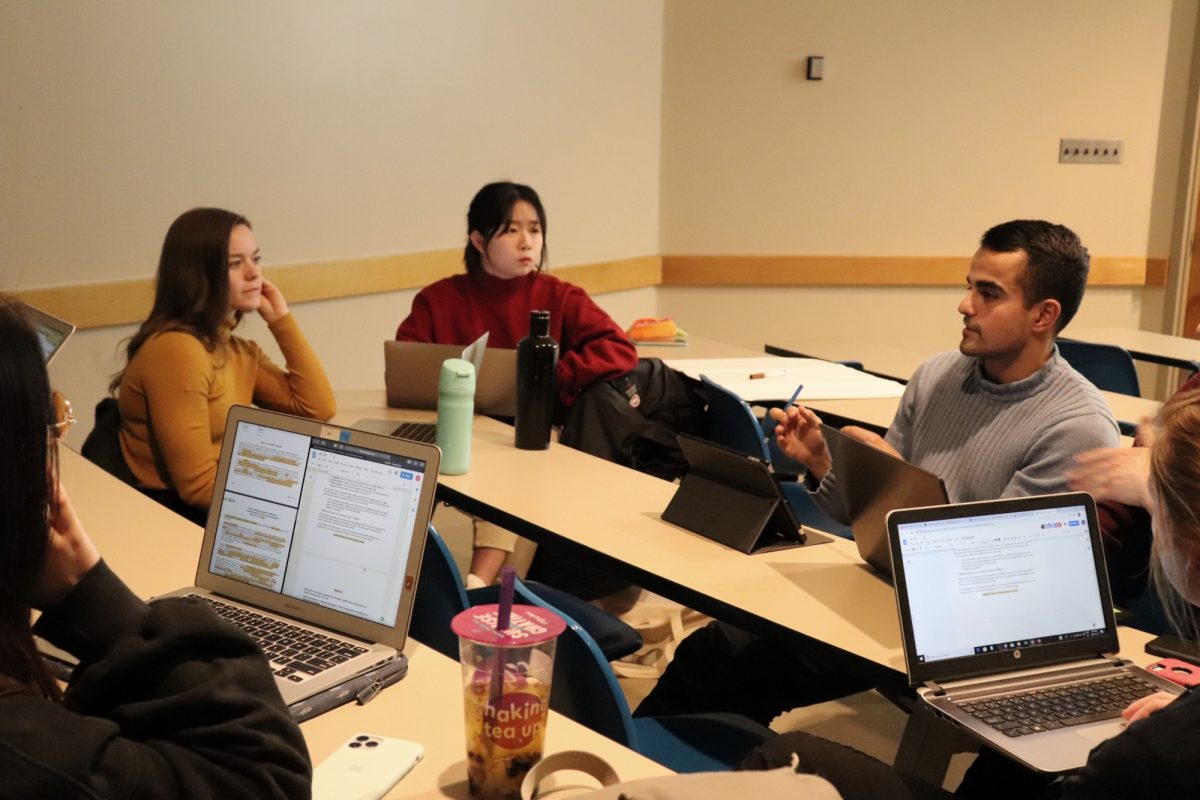 Rady students learn importance of teamwork through interprofessional curriculum
June 10, 2020 —
Students from team #331 finished their second term of the interprofessional collaborative care (IPCC) activities with a greater understanding of how teamwork among health-care professionals can have a positive impact on the health of patients.
Last year, the Rady Faculty of Health Sciences students learned about the social determinants of health and were introduced to community agencies that work to address the social and economic factors that impact people's health. This year, they built on what they learned by applying their knowledge to a fictional case study of a newcomer family to Canada, and the learners looked at how an interprofessional approach might apply.
"What we're hoping the outcome of the winter term will be is that the students will understand how they can apply the theory around interprofessional collaboration and how it can improve the health status of a family and the community they live in," said Dr. Moni Fricke, director of the Office of Interprofessional Collaboration, which coordinates IPCC.
In January, the students met in person and were introduced to the case study. They participated in a series of online discussions throughout the term and ended the semester by each completing a written reflection exercise.
All first- and second-year students in the Rady Faculty take part in the IPCC curriculum. For the 2019-20 academic year, 591 first-year and 423 second-year learners were involved in IPCC activities. The students were from the Max Rady College of Medicine, Dr. Gerald Niznick College of Dentistry, College of Nursing, College of Pharmacy and College of Rehabilitation Sciences.
UM Today is following three students from team #331, one of 70 first-year teams, over the course of two years (read the first story in the series here.) We spoke with Sue Zhang, nursing; Megan Peterson, occupational therapy; and Maziar Fazel Darbandi, medicine, about their IPCC experiences this year.
Megan Peterson: This term was a little bit different than the fall term. The fall term was about orienting us to IPCC and learning about the social determinants of health. This semester I felt that we were using our different backgrounds to work on a case study. It was a little bit more hands on, which I liked.
Maziar Fazel Darbandi: Working on a case study together as a group was interesting. It allowed us to see what students from different colleges are learning and what resources various health-care providers can offer to people in different situations.
Sue Zhang: During the winter term we were focused on how health-care professionals work as a group to promote a healthy community.
What did you learn this term?
SZ: I learned that when we work as a team we come up with ideas quickly, much more quickly than if I'm doing something by myself. Each member of the team is from a different profession, so they see things from a different perspective and I can learn from them.
MFD: Our discussions this term were more case based which kind of pushed us to do more research and learn about what resources are available and also to think a little more critically about the barriers that affect the patient population.
MP: I learned that it's not just one health-care professional that is going to be the one to fix any situation; it's definitely a team approach because we all bring our different backgrounds, skills, knowledge and scope of practice, and it's definitely important to communicate that as well.
How did the team function this year?
MFD: I think everyone gets along really well. Everyone respects each other's time when it comes to when one person is presenting their ideas and we are receptive to what they're saying. It's all very professional and respectful.
SZ: We are working together pretty good. At the face-to-face meeting we developed the community-based plan pretty quick and efficiently.
MP: If we see someone from our group on campus, we smile at each other and do a quick check-in. For the second face-to-face meeting, I felt we were a lot more comfortable. We knew each other and got straight to work. It felt a lot less awkward than the face-to-face meeting during the first term.
Have you applied what you learned from the IPCC curriculum to any of your other courses?
MP: One of my courses is called professional and leadership in enabling occupation. We learn about how we as occupational therapists (OT) can demonstrate the skills, attitudes, and behaviours that demonstrate professionalism related to the different roles OTs can fill in Canada. Having been on an IPCC team with other health care students gave me a better understanding of how I would be able to apply the different roles on a professional team. I was able to link the varying roles of practice for an OT to the case study.
SZ: This semester I was doing my clinical rotation. Every time I took care of a patient, I knew that I was not only taking care of a patient physically, but I was part of a team. I talked to pharmacists and dieticians. If the patient got discharged, we would find out who would take care of him or her and find out if is there any assistance the patient needs and is there anything we can do to advocate for them.
MFD: We learned a lot about the social determinants of health in our population health course and IPCC did a lot to consolidate that material and help us apply it in a different way while taking into consideration how other health care providers could help us in achieving our goals when it comes to being generally aware of the social determinants of health when we're providing health services.
What would you like to learn next term?
MFD: Throughout the IPCC curriculum I'm hoping to keep gaining more and more knowledge about the unique services that my fellow colleagues can provide. I want to continue to build more connections and always be gaining more awareness of the roles of the people around me in the professional atmosphere.
SZ: One thing I want to learn next semester is how we can convert this core plan into real life. How we can actually apply this on the patient instead of just coming up with a care plan.
MP: Due to COVID, I'd be really interested to learn how health-care teams are functioning during this time because I think it will be important to know in the future. We don't really know how long this is going to last, or what it's going to look like, so that would be really interesting as well.
We will follow up with the members of team #331 over the next two terms while they continue their interprofessional journeys.