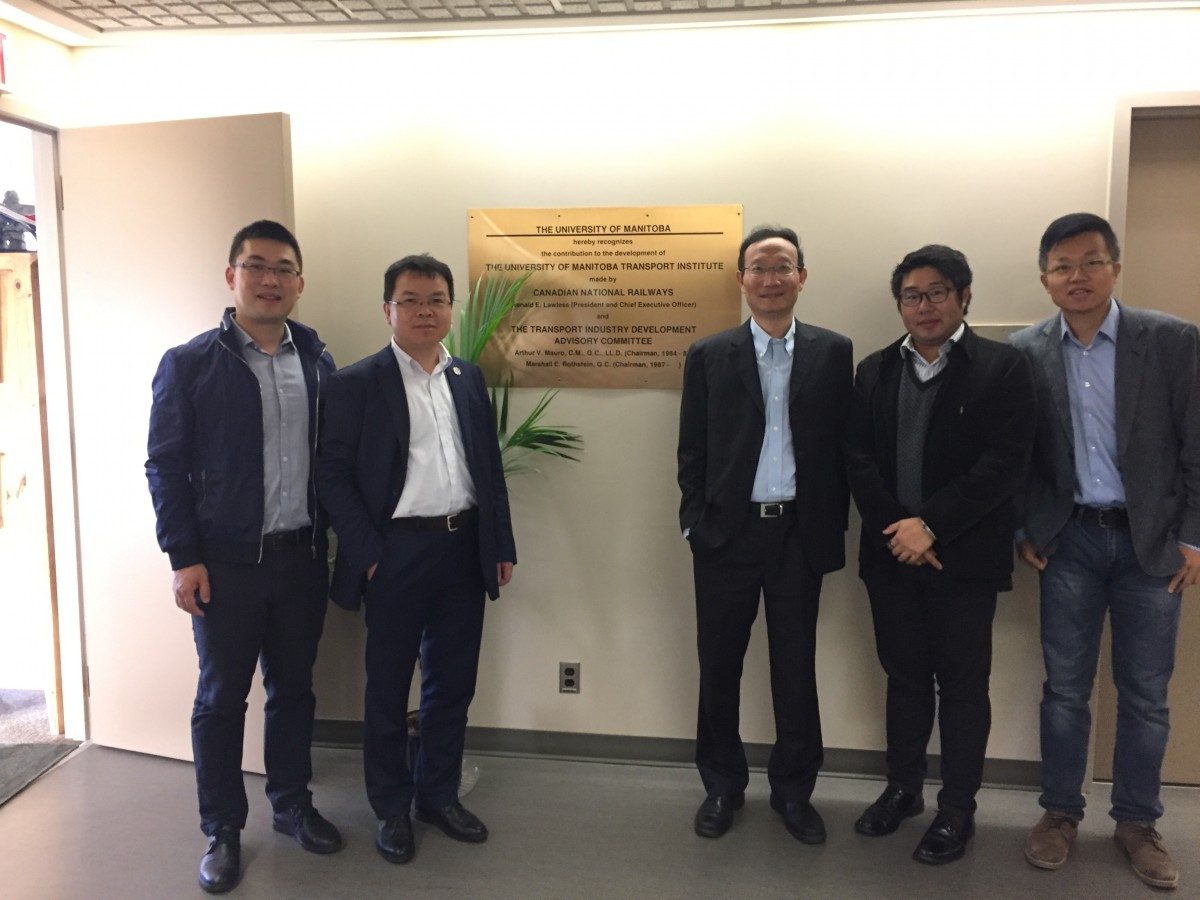 International Workshop on Transportation, Logistics, and Regional Development
September 23, 2017 —
The Transport Institute of the Asper School of Business of the University of Manitoba (UMTI) co-organized with the Shanghai Maritime University, China (SMU) the International Workshop on Transportation, Logistics and Regional Development held in Fort Garry Campus of the University of Manitoba, Winnipeg, MB, Canada, on September 22, 2017.

With more than 80 from U of M faculty members, students, and the transportation and logistics sectors, Dr. Digvir S. Jayas (Vice-President Research and International, U of M), Prof. Youfang Huang (President of SMU), Mayor Blair Skinner (Mayor of Muncipality of Pinawa), and Dr. Adolf K.Y. Ng (Director of UMTI) were present to deliver the officiating speeches. Dr. Jayas pointed out the importance to learn from each other and collaboration between institutions and countries so as to build a better future, while Prof. Huang emphasized on further collaborative research between UMTI, U of M, and SMU. His view was echoed by Mayor Skinner who looked forward to build further relationship with UMTI, U of M, and SMU in the long term, while Dr. Ng introduced the workshop's theme and objectives and UMTI's commitment to achieve such objectives.
Three speakers from SMU (Dr. Jiankun Hu and Prof. Ying-En Ge) and UMTI (Dr. Changmin Jiang) shared their research findings on shipping and maritime logistics with the audience. This was followed by a panel discussion on the impacts of transportation logistics on international trade. The panel discussants consisted of Prof. Ying-En Ge (SMU), Mr. Alberto Valesco (World Trade Centre Winnipeg), and Mr. Shane Li (Municipality of Pinawa and North Forge East). A lunch and a brief tour of the Muncipality of Pinawa was held in the afternoon.
UMTI would like to thank the officiating guests, speakers, panel discussants, and all participants on their support to make this workshop successful.
The workshop's program can be found at:
http://umanitoba.ca/faculties/management/ti/media/docs/SMU_Workshop_Program_-_Sept_2017_final-1.pdf

In Chinese:
http://shmtu.edu.cn/imagenews/huang-you-fang-xiao-chang-ying-yao-chu-xi-zhi-hui-shui-yun-guo-ji-hui-yi-he-yun-shu-wu-liu?from=singlemessage&isappinstalled=0