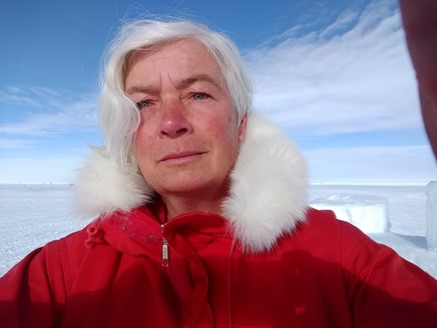 International team reaches bedrock in Greenland, marking a significant milestone in climate change research
UM professor, Dorthe Dahl-Jensen, led the team of researchers from 12 countries
July 26, 2023 —
An international research team, led by UM professor and Canada Excellence Research Chair in Arctic Ice, Freshwater-Marine Coupling and Climate Change, Dorthe Dahl-Jensen, has reached a significant milestone. The team drilled through 2670 m of ice on the North Greenland Ice Stream and has reached bedrock after seven long years.
This is the first time a deep ice core has been drilled through an ice stream, and the ice at the base is more than 120,000 years old. Researchers have discovered the ice stream is flowing like a river of ice ripping itself free from the surrounding slow flowing ice sheet, with rock and sand embedded at the bottom of the ice.
Dahl-Jensen has confirmed that the ice is indeed melting at the base, signaling trouble ahead. The ice core will be analyzed in laboratories around the world to better understand the changing ice sheet and improve sea level predictions.
"I am so excited about this success," says Dahl-Jensen. "I have followed the flow of the ice by measuring the shape of the borehole through the years with a borehole logger. The fact that the ice is sliding like a block on mud will change the models and improve the sea level predictions."
The first ice cores were drilled exactly 7 years ago on July 21, 2016. Research in the field in 2020 and 2021, were cancelled due to COVID-19. The last four meters of the ice core was drilled with a rock drill set up due to the presence of pebbles in the ice. The very last core was drilled July 21, 2023.
"I would like to extend my congratulations to Dorthe on this remarkable accomplishment in climate change research," said Mario Pinto, Vice President (Research and International). "UM is proud to lead this important milestone in Arctic science and climate change research. We are confident this result will increase awareness and knowledge of how rapidly the effects of climate change are transforming our planet."
The international EGRIP project has researchers from 12 countries including the U.S., Germany, Japan, Norway, Switzerland, China, and Sweden. The logistics have been led by the University of Copenhagen and U.S. National Science Foundation. Samples from the ice cores have been analyzed in more than 30 laboratories and the first of several papers have been published. More information on the project, publications and fieldwork can be found on eastgrip.org.
This is the second exciting breakthrough around understanding climate change for Dahl-Jensen. She and a group of researchers from 15 other international institutions recently discovered that 20 per cent of Greenland was green 416,000 years ago and that the current Greenland ice sheet is more vulnerable to melting from human-caused climate change than previously thought. That study was published in the journal, Science.
Research at the University of Manitoba is partially supported by funding from the Government of Canada Research Support Fund.