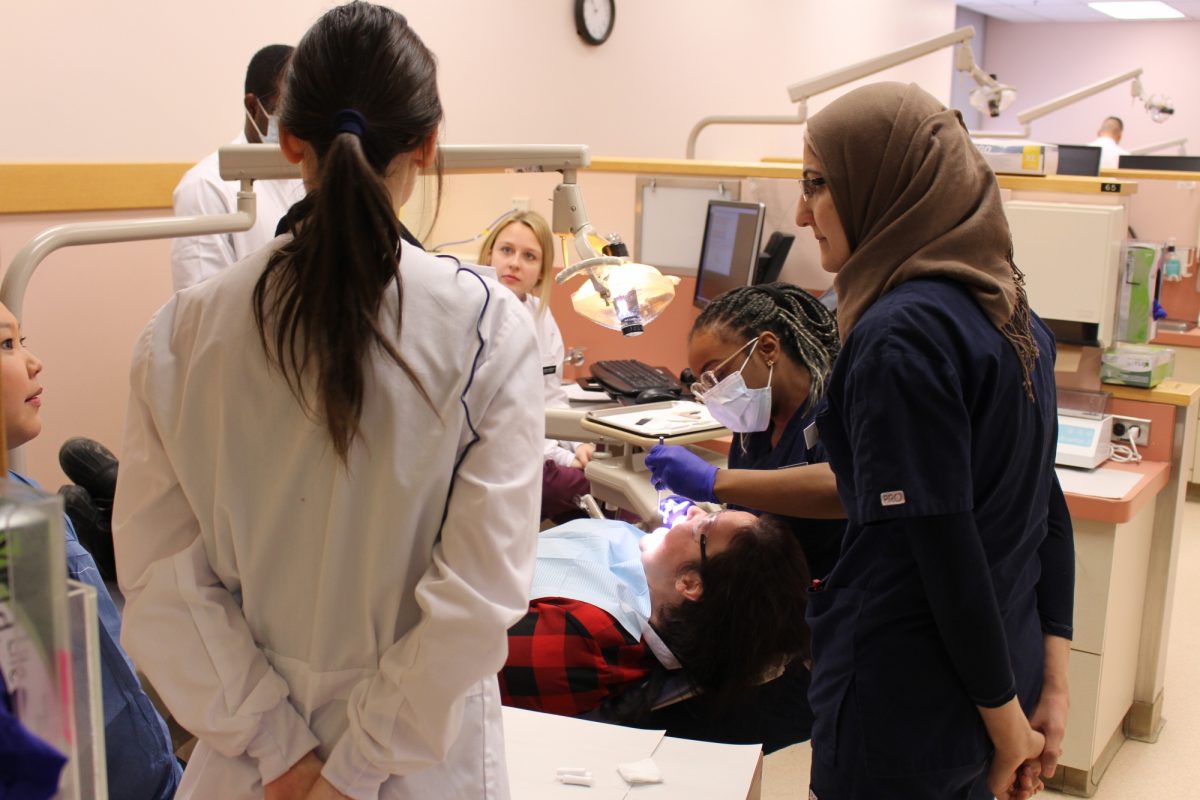 Inter-professional link between dentistry and primary health explored
February 11, 2020 —
Nurse practitioner (NP) students from the College of Nursing recently joined dentistry and dental hygiene students at the dental clinic on Bannatyne campus to assess patients for an innovative new project exploring inter-professional initiatives between oral and primary health.
"The mouth is an important link to the rest of the body," said Cheryl Dika, an instructor in the NP program and one of the project's leads. "The oral-systemic health approach incorporates NP students and dental hygiene students into the dental clinic to pull together the complete health of the patient."
Chronic inflammatory diseases such as diabetes, arthritis and cardiovascular disease can all be affected by inflammation in the mouth, and an inter-professional approach can help identify these problems sooner, Dika said.
She noted the project is the first of its kind in Manitoba, and possibly in Canada.
The project dates back about two years and was initiated by Dr. Tony Iacopino, former dean of the Dr. Gerald Niznick College of Dentistry. Iacopino, who retired in 2019, researched oral-systemic health for over 20 years and in 2008 launched the International Centre for Oral-Systemic Health (ICOSH) at the U of M, the first centre in the world to explore the gap between dentistry and other health professions.
Dr. Julie Pfeffer, assistant professor in dentistry, said that dentists and dental hygienists could learn a thing or two about assessing a patient's overall health from NPs, and NPs could similarly benefit from the knowledge dental providers have about assessing intra-oral health.
"Our hope, from the dental side, is that when these students leave our nest and are in their own clinics, they are able to identify the medical concerns they need to communicate to a medical provider and collaborate for care," she said.
Kathy Yerex, assistant professor in the School of Dental Hygiene, added that working together inter-professionally can improve outcomes for the patients.
"As students graduate, we want to establish that they're not working in these individual silos, that there's a community of health providers that can actually work together for the patient," Yerex said.
The students – 12 from the NP program, 34 from dentistry and 26 from dental hygiene – initially met in August 2019 for theory and simulation exercises, and applied what they learned with real patients at the dental clinic on Jan. 31.
The 12 groups each did assessments on two patients, who had to have not seen a primary care provider in over a year. The patients will return to the clinic for their dental needs as necessary and the NP students will follow up with phone calls to see how the patients are doing with their overall health. Dika noted that some of the patients did not have a primary care provider, so the project team will also try to connect them with one.
Students said they learned a lot from seeing how those from a different discipline approach their patients.
"It's exciting to see how my dentistry and dental hygiene student colleagues approach an oral health exam," said second-year NP student Caitlin Bloxom. "I want to be able to bring those approaches into my practice so I can do a more enhanced oral health assessment for my patients, and maybe identify concerns so I can refer them to a dentist sooner."
Fourth-year dental student Maninder Gundhu said he also found great value in seeing the NP approach.
"On the primary care side of things, we got to see how they interact with patients. It was very interactive and almost therapeutic, which is different from us because we're just focused on the teeth," he said. "That's something I'm going to take away from this, to interact more with my patients and see their medical and systemic side of things before moving onto their dental work."
The project is funded through ICOSH for three years. The team hopes to expand it into additional clinics next year and then have it to become a regular part of the curriculum.