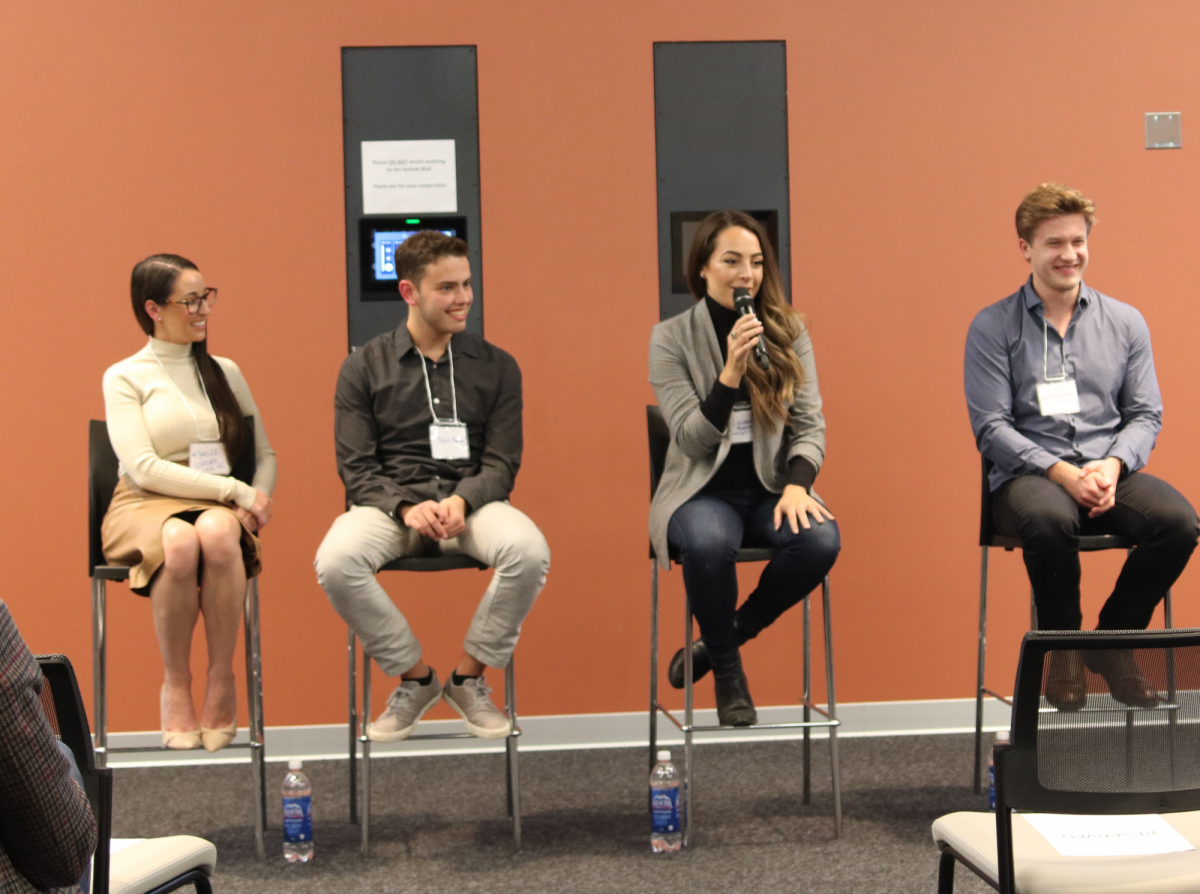 Innovative location inspires collaboration at CEO Manitoba's first Kick-off to Entrepreneurship event
September 30, 2019 —
A space designed to stimulate innovative thinking was the ideal location to inspire Manitoba's future entrepreneurs at the first-ever Kick-off to Entrepreneurship event, hosted by Collegiate Entrepreneurs' Organization (CEO) Manitoba, an international student organization based out of the Stu Clark Centre for Entrepreneurship.
The Kick-off to Entrepreneurship event, held on September 20, was the first in the series of student entrepreneurship events hosted by CEO Manitoba, and the first event of this type held at the University of Manitoba's newly constructed Smartpark Innovation Hub.
A 'collision space' designed for idea exchange, the Smartpark Innovation Hub is comprised of numerous meeting rooms and lab spaces to support innovative collaboration. The fourth floor also houses the "collision corridor", where tenants can network in the shared space.
CEO Manitoba President Michael Sangster noted, "[t]he environment and culture of the Innovation Hub really allowed for students and panelists to feel at ease to explore and share entrepreneurship."
The Kick-off to Entrepreneurship event began with a networking reception where students connected with local entrepreneurs. This was followed by presentations from four entrepreneur panelists who described their entrepreneurial journeys and shared valuable insights with the student attendees. Panelists, Marlee McMillan [BComm (Hons)/17], Owner/Operator of Centered Care Inc., Giovanna Minenna, Founder and CEO at Brows by G., Chris Schmidt, Co-Founder and CEO at Pluto Ventures, and Noah Palansky, Co-Founder and CEO at TaiV, encouraged students to pursue their own entrepreneurial journeys and shared insights on the challenges associated with starting a business.
Student Tino Hove said: "CEO Manitoba has an amazing culture and drive to promote entrepreneurship in the university. This is exhibited in the Kick off to Entrepreneurship where we had some alumni with businesses share their experiences. This helped students know that entrepreneurship is possible and set realistic expectations and helped with mentoring for younger students".
The Collegiate Entrepreneurs' Organization (CEO) Manitoba is a student group that promotes and supports student entrepreneurship. CEO Manitoba inspires students to pursue entrepreneurship, collaborate with the entrepreneurial community, and educates students on the skills they need to succeed in starting a business. There are only two CEO Groups in Canada.
The next CEO Manitoba event is the Startup Crawl, held Friday, November 22. Attendees will hop on a bus and tour the city, visiting various Winnipeg-based start-ups and resource centres, curated to help inspire and assist future entrepreneurs.
For more information on the event, visit the CEO Manitoba website.