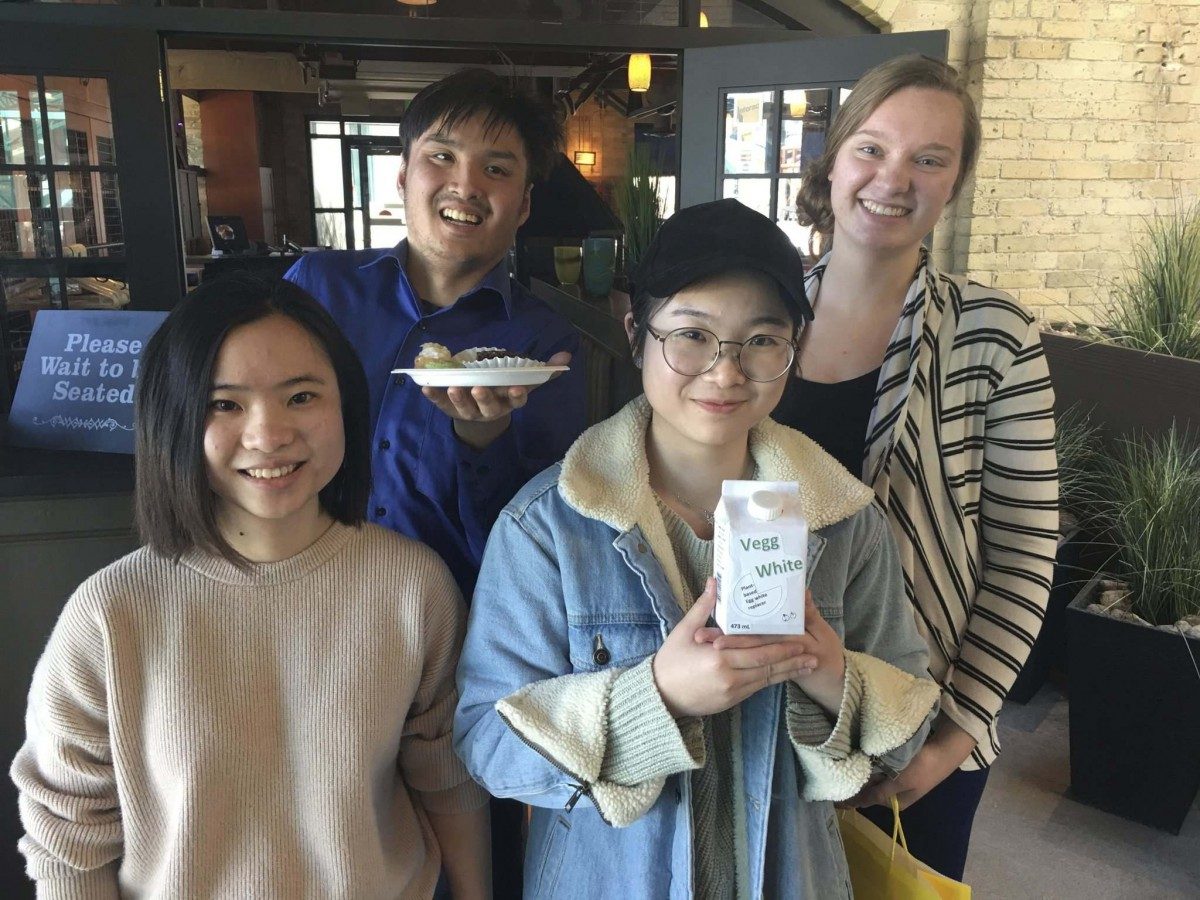 Innovative food products take the stage at Food Fight
Judging panel samples products, tests competitors on marketing and production knowledge
March 21, 2018 —
At the recent University of Manitoba Food Fight, students took their products from test kitchen to the podium to see who might have the next industry-ready food innovation. The competition was held March 17 as part of the annual Discover Ag in the City public event at The Forks.
Nine teams enrolled in the course food product development course (FOOD 4510) pitched their unique creations to the three-judge panel, giving background on their product selection, development and marketing plans. Among this year's unique products were a seabuckthorn Greek yogurt, a beet/fruit jam, and cinnamon buns made with chickpea flour and cricket powder.
The judges – which included Judy Wilson, marketing expert and photographer, Dave Shambrock, executive director of Food and Beverage Manitoba, and Doug Speirs, humour columnist for the Winnipeg Free Press – in turn asked some hard questions and provided their critical analysis.
Course instructor Dr. Claudia Narvaez from the Department of Food and Human Nutritional Sciences notes that the Food Fight competition gives the students a chance to refine their product before their final in-class presentation in April.
"The teams get a valuable opportunity to learn from the real-word expertise of the judges. The students are challenged to consider everything from their product's packaging, stability and ingredient sourcing, to consumer trends and market demographics. They go back to the test kitchen and refine their products even further."
The winning product? Vegg Whites, a plant-based egg white alternative that allow vegans and those with egg allergies or intolerances to enjoy products such as angel food cake, french macarons, and meringues – all products with previously no egg-free alternative. The 2018 Food Fight winning team was made up of Kristen Hill, Nguyen Thi, Chi Jiawen, and Difei Huang.
"Restrictive diets are everywhere and it has always been a passion of mine to try to keep these types of diets from keeping you from the foods you enjoy. I love the challenge of trying to take a common food, eliminate a key ingredient, and try to come up with a recipe that looks and tastes just as good," said team member Kristen Hill.
"We had so much fun developing this product knowing that it could help so many, and the Food Fight was a great way to get some feedback on our own progress and to be inspired again by the creativity of our classmates and the amazing products they came up with."