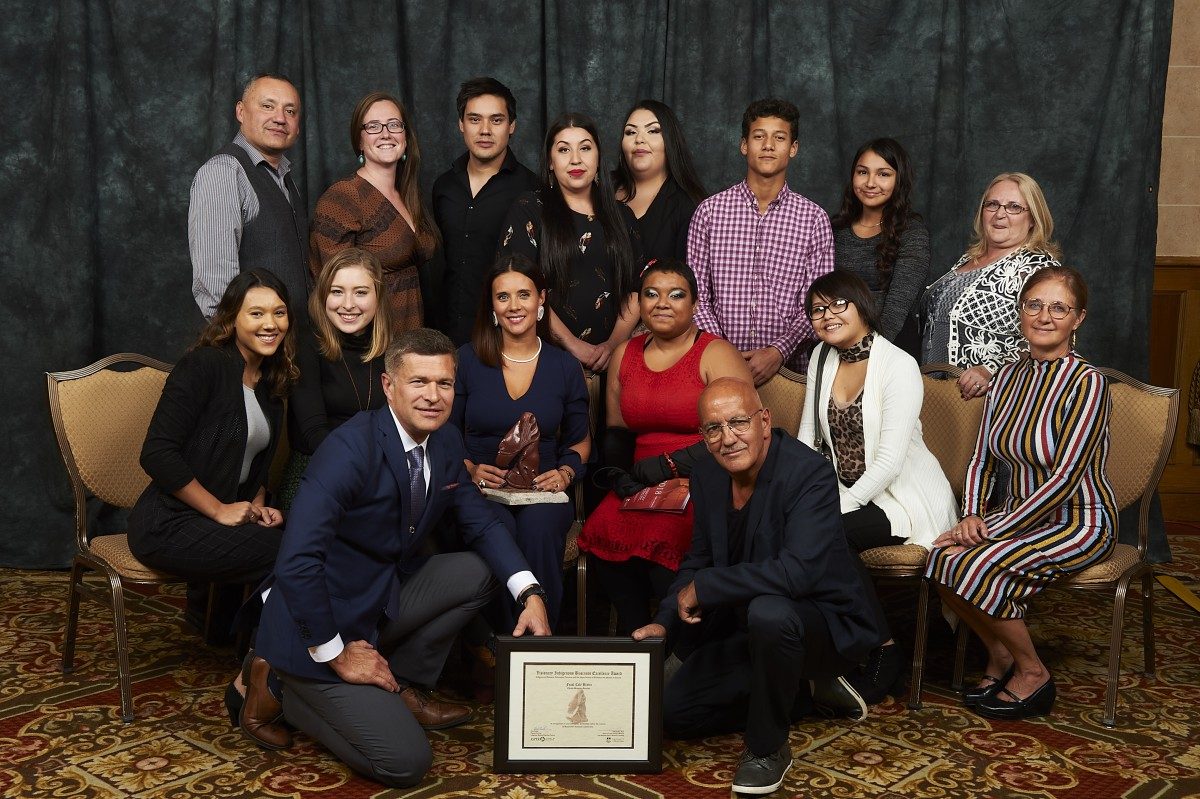 Indigenous business leaders recognized at annual VIBE Awards Dinner
November 13, 2018 —
On October 25, 2018, the Indigenous Business Education Partners (IBEP) hosted the 14th annual Visionary Indigenous Business Excellence (VIBE) Awards Dinner at the Fort Garry Hotel. The event honours exemplary Indigenous business leaders who are making a difference in our community.
One hundred per cent of the proceeds from the event go to Indigenous business students in the form of scholarships, bursaries and academic resources. This year's awards celebrated the achievements of Christa Bruneau Guenther of Feast Café Bistro and Regan Greenwood of Style Bar Boutique.
Métis fashion entrepreneur Regan Greenwood opened Style Bar Boutique in the fall of 2013. Achieving year-after-year growth in sales since its inception, Style Bar launched an e-Commerce site in 2017 to expand its sales footprint across Canada. Community investment is important to Style Bar; the boutique participates in initiatives like Habitat for Humanity, Main Street Project's Runway to Change Fashion shows, and the Denim for Denim campaign.
Greenwood spoke about her determination and drive to pursue her vision of Style Bar as she accepted the award. At the age of 19, Greenwood followed her dreams, moving from Winnipeg to Los Angeles to attend fashion school. Greenwood endured long hours of work at the expense of her social life to ensure Style Bar's success. She provided words of advice to aspiring entrepreneurs, "Surround yourself with like-minded people and take advantage of all the learning opportunities that come your way. Find a good mentor to bounce ideas off of, because learning from them will change your life." Greenwood was humbled to receive the VIBE Award and thanked everyone who supported her to achieve her vision.
Feast Café Bistro opened in December 2015 by Christa Bruneau Guenther of Peguis First Nation. Feast quickly earned its position as an important pillar in the West End community. Their mission is simple: to reconnect people to Indigenous food and culture with a special focus on sourcing as many local ingredients as possible. Feast endeavours to keep its flavours and pricing accessible and affordable – all while being committed to hiring employees who may have experienced barriers to employment. In addition to minimizing its environmental impact, Feast has partnered with dozens of organizations to support fundraising efforts and promote volunteerism.
Bruneau Guenther spoke from the heart when accepting her award, sharing her story as an entrepreneur. It was her passion for food, paired with her entrepreneurial spirit that led her to open Feast. "I was truly honoured and humbled to receive this meaningful award," said Bruneau Guenther of her selection to receive the VIBE Award. "I was proud to have shared it that evening with my staff – it's just as much theirs as mine."
Bruneau Guenther offered sage advice to anyone considering the path of entrepreneurship, "Believe in yourself, be prepared to work hard for what you want to achieve, stay healthy, use your resources, find a mentor and always look for ways to give back."
The 2018 VIBE Awards event left an indelible impression on IBEP students in attendance. "It was very inspiring to not only see a successful thriving business, but a sustainable business model. Feast goes beyond the financial bottom line and shows that a sustainable business model is possible," remarked Riley Proulx, Vice-President of University of Manitoba Indigenous Commerce Students (UMICS).