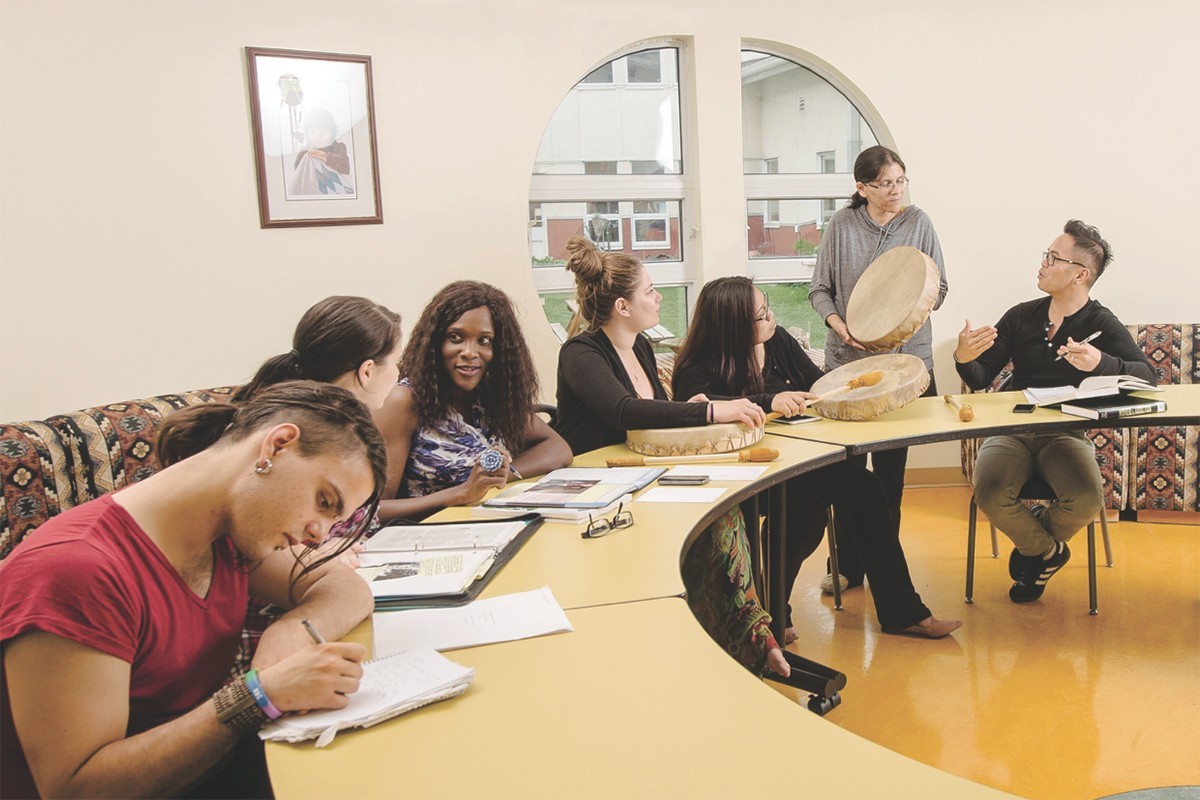 Indigenous Achievement
We will bridge the gap
October 6, 2015 —
The Front and Centre philanthropic campaign will transform the University of Manitoba. Alumni, donors and the university community have shaped five campaign priorities that will ensure our province's long-term economic, social and cultural vitality.
First Nations, Métis and Inuit youth are the fastest growing population group in Manitoba and are the key to the future of this province. Yet there is a huge gap between the employment rate of Indigenous and non-Indigenous Manitobans, a gap that can be bridged through post-secondary education.
"Education is the path towards economic freedom and wealth for Indigenous Peoples," says Ovide Mercredi, University of Manitoba alumnus and former National Chief of the Assembly of First Nations. "At U of M we pledge to do our share to build a strong Aboriginal middle class. Our shared future demands no less."
Through the Front and Centre campaign, the U of M is focused on four major areas in support of Indigenous achievement. Together, these programs will provide greater accessibility and opportunity for Indigenous students, as well as enhanced understanding for the entire university community.
The U of M currently has one of the highest Indigenous student bodies in the country, but we know we can do more to ensure that young Indigenous people are able to attend, and graduate, successfully. That is why the Front and Centre campaign includes a $17.5 million Indigenous Success Fund, which will provide scholarships and bursaries, establish earlier connections with Indigenous youth through mentorship and outreach programs, and facilitate the transition from early years through to post-secondary education.
Successful programs like the Aboriginal Business Education Partners and the Engineering Aboriginal Access Program (ENGAP) will see an increase in capacity through a $7.5 million campaign investment.
Started in 1985, ENGAP is the most successful program of its kind in Canada, providing guidance to Indigenous peoples pursuing a degree in Engineering.
"ENGAP provided so many supports that I didn't even know I would need," said Dan Brown, who was the program's first graduate back in 1991. "Tutoring, navigating the university, providing access to community based supports and counselling…these were all things that were really the keys to my success." Brown is now the Manager of Process Control and Automation at Syncrude Canada Limited in Alberta, and sits on the Senate of the University of Alberta.
The Faculty of Law, which counts among its distinguished alumni Ovide Mercredi and Justice Murray Sinclair, will see an addition of a research chair in Aboriginal law through $5 million in funding. This distinguished position will help ensure that Indigenous perspectives, traditions and priorities are integrated into the foundations of the faculty's teachings.
The largest portion of the $65 million earmarked for Indigenous achievement through Front and Centre will go to support the National Centre for Truth and Reconciliation, the country's first research centre dedicated to studying the impact of the Canadian Residential School System. Set to open early next year, the NCTR is the steward of the Truth and Reconciliation Commission's four million historical records and 7,000 interviews of Residential School Survivors.
"The University of Manitoba is honoured to help maintain these sacred records, and is committed to ensuring the National Centre for Truth and Reconciliation is accessed by as many people as possible," explained David Barnard, president and vice-chancellor of the University of Manitoba.
Providing scholarships, bursaries, innovative programming, and the attraction and promotion of research on Indigenous issues will result in greater accessibility and opportunity for Indigenous students, as well as enhanced understanding for the entire community.
Help us put Indigenous achievement front and centre. Donate now!