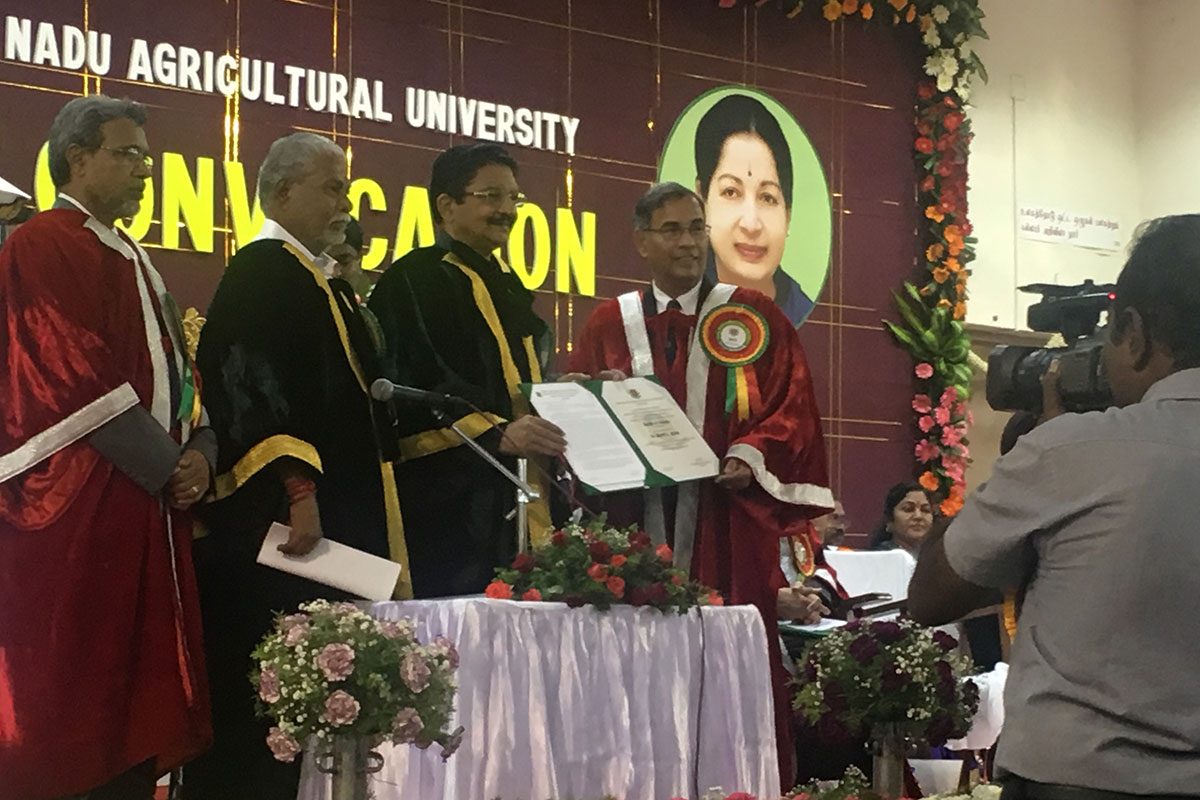 Indian university confers honorary degree on U of M Vice-President (Research and International)
October 18, 2016 —
Distinguished Professor Digvir S. Jayas has been recognized by Tamil Nadu Agricultural University in India.
The university conferred a doctor of science degree on Jayas at its 37th Convocation on Oct. 15.
Jayas, who is U of M Vice-President (Research and International), addressed the graduates in a speech.
"I am proud of my research accomplishments at the University of Manitoba and I owe a great deal of thanks to the many TNAU graduates and professors who chose to work with me and contributed to my success," said Jayas. "Their contributions have led to a better understanding of interactions among biotic and abiotic factors in stored-grain ecosystems through experiments and mathematical models. These models can be used to design better grain storage systems."
The Times of India covered the Convocation in a story.
Jayas also spoke on food security in his speech to graduates.
"We're becoming all too aware that climate change affects the production, preservation, and processing of foods. However, the TNAU and its graduates are well-prepared and poised to play a significant role to deal with the adaptation and mitigation of these impacts. Graduates in all fields of agricultural sciences and engineering will be needed to enhance food security and safety to feed the world's growing population," he said.
Jayas was educated at the G.B. Pant University of Agriculture and Technology in Pantnagar, India; the University of Manitoba, and the University of Saskatchewan. He has held a Canada Research Chair in Stored-Grain Ecosystems, and conducts research related to drying, handling and storing grains and oilseeds and digital image processing for grading and processing operations in the Agri-Food industry.
He has authored or co-authored over 800 technical articles in scientific journals, conference proceedings and books dealing with issues of storing, drying, handling and quality monitoring of grains. He has collaborated with researchers in several countries but has had significant impact on development of efficient grain storage, handling and drying systems in Canada, China, India, Ukraine and USA.
Research at the University of Manitoba is partially supported by funding from the Government of Canada Research Support Fund.