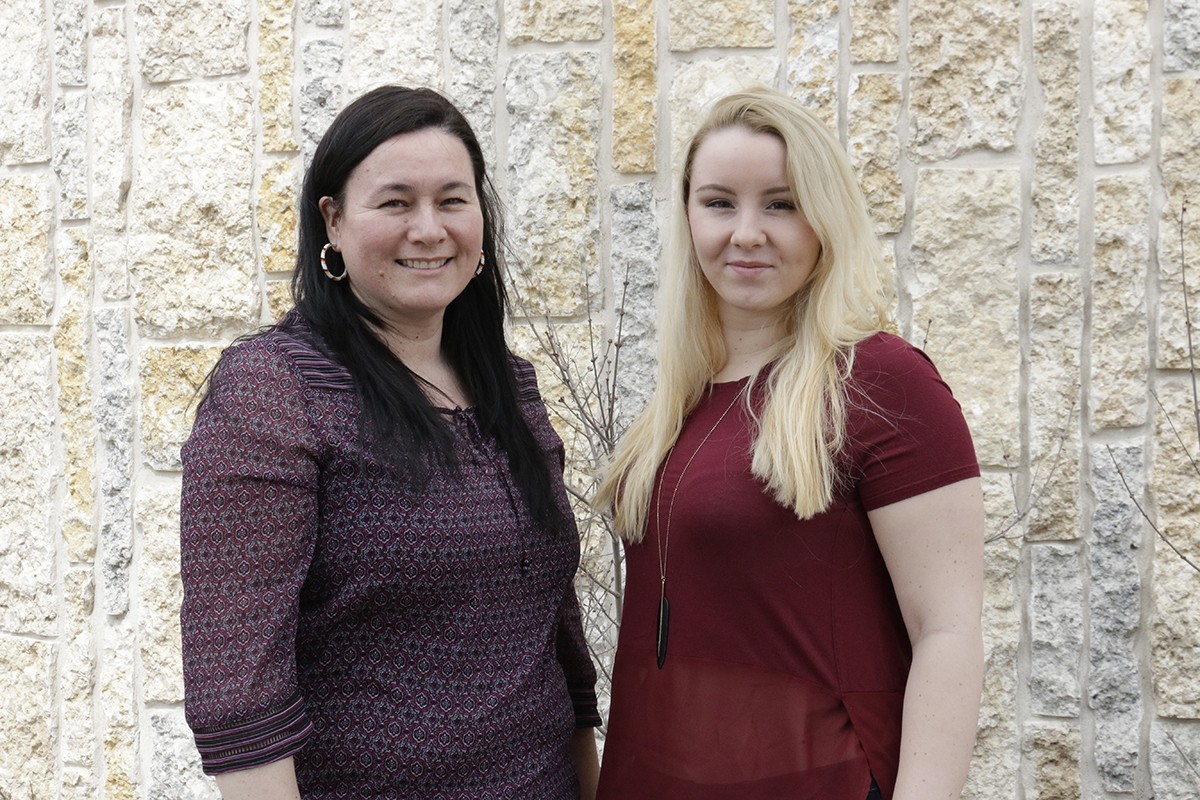 In it together
Mother and daughter celebrate academic achievements at Graduation Pow Wow
May 13, 2016 —
It took buckets of determination and about 10 years but Vanessa Kisilowsky is now a graduate of the University of Manitoba.
The Cree and Métis mother of three started at the U of M in her 30s, studying part-time while raising a family and working full-time.
"I always wanted to go to university but it was important to me to stay home and raise my kids. So I started going back to school when my youngest was in kindergarten," says Vanessa.
She was able to complete her four-year arts degree in psychology this year, the same year her eldest daughter Savannah graduates from the U of M. The two celebrated their academic accomplishments and their Indigenous heritage at this year's Traditional Graduation Pow Wow.
Marking its 27th anniversary, the Traditional Graduation Pow Wow is one of the largest in the province and a way for the U of M to connect with the next generation of Indigenous leaders. The Pow Wow honours and celebrates the academic achievements of Indigenous post-secondary graduates with a full day ceremony in the Investors Group Athletic Centre on the Fort Garry campus. The day began with a traditional Pipe Ceremony and also featured dancing, drumming, and a celebration feast for all in attendance.
Purple scarves representing Indigenous cultures were given to grads at the Pow Wow. This was the third year these scarves were presented to Indigenous grads and the first year they have been officially approved to wear at convocation.
"I've been looking forward to graduating at the Pow Wow since I've been coming to university," says Vanessa. "Especially now that they have the convocation scarves, that was one of my big motivators and it actually helped to pull me through third year. Receiving that in front of friends and family and my mentors was really meaningful."
Her daughter Savannah – who majored in anthropology and graduated with a bachelor of arts – agrees.
"It's nice to be able to connect with culture that I didn't necessarily know I had when I was younger, especially because it's helping me celebrate something so monumental in my life journey – graduating university. It's a really good experience to mix culture and academics and that makes it important to me."
Vanessa has volunteered at the Pow Wow for two years and says support from the Indigenous Student Centre helped her immensely.
"Migizii Agamik has been a huge part of me being able to graduate. The people here have been so supportive of me graduating and so helpful in so many different ways, so to graduate at the Pow Wow was awesome for me. It's a culturally relevant way of reclaiming part of who we are. It's a celebration of who I am as a person and also to be surrounded by my peers who have been on a similar journey to me and that's been really meaningful."
The shared experiences between Vanessa and Savannah have helped both mother and daughter throughout their time at the U of M. When Vanessa started, her kids were young but still supportive. They would all help with chores at home or give Vanessa the space and time to do her work.
As Savannah aged and started university her roles evolved. She edited her mother's papers and during exam time the two would support each other as much as they could. One would study and the other would make food and so on.
Vanessa's familiarity navigating the U of M application process also helped to keep her daughter on track.
"She showed me a bunch of bursaries and scholarships and so on. That was most important for me because I wouldn't have come to university if I didn't have the funds for it," says Savannah. "Every time she would tell me about a bursary or something she would also help me fill it out and that helped me keep going to school."
Their time at the U of M has strengthened the mother-daughter bond between Vanessa and Savannah. Their shared experience gives them reason to celebrate.
"For me as a mom it's super exciting to have graduated with my daughter. I'm really proud of her. I'm excited to share this with her. Also that she's graduating university is a huge accomplishment when she's only 20 and it was pretty exciting to do it at the Pow Wow too," says Vanessa.