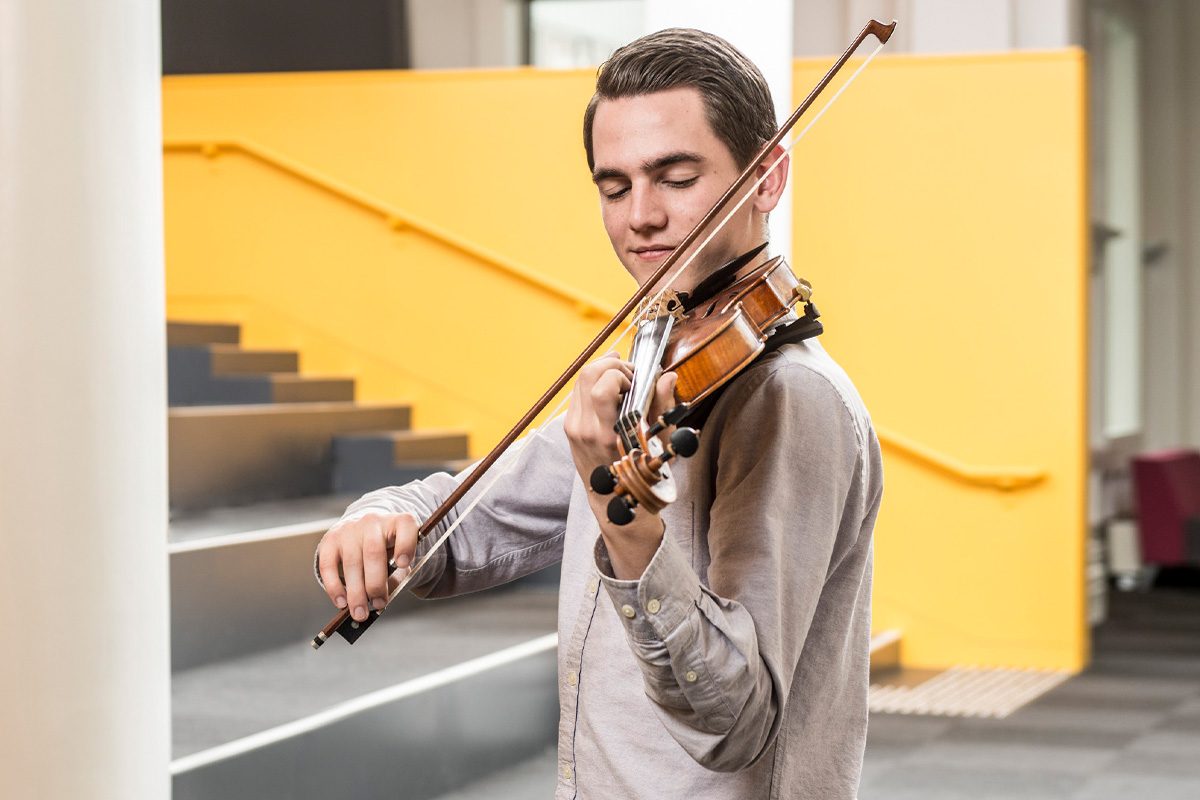 I'm blazing my own trail
March 29, 2017 —
Gregory Lewis's love of violin started at a very young age.
"When I was three years old, my parents took me to an orchestra concert to expose me to classical music. The concert happened to feature a solo violinist, and upon hearing the violin, I was obsessed with its tone," he says. "After begging my parents for over two years, they let me begin violin lessons shortly before my sixth birthday."
Choosing the UofM for his university education was easy for the Desautels Faculty of Music student.
"For a violin performance degree, you spend countless hours working one-on-one with your private teacher between lessons, rehearsals, and performances. Finding a teacher who you really connect and collaborate with well is essential to making the most of your education, and Dr. Oleg Pokhanovski (Associate Professor, Violin) was the perfect match for me," says Gregory.
"UofM has really demonstrated that my future career is important and that they will do whatever they can to make my education support my future. Being in the Faculty of Music, I've seen great examples of the commitment, practice, and preparation necessary to excel in a musical career shown to me by the professors, and I've learned so much from these examples."
Gregory is a rising star on national and international stages. Competing internationally as a soloist, Lewis took home first prize at the 2015 American Protégé International Piano and Strings Competition and second prize at the 2014 and 2016 ENKOR International Piano and Violin Competition. He frequently plays with orchestras across Canada and has already graced the stage at Carnegie Hall twice.
"To be honest, the first time I performed at Carnegie Hall is a blur in my memory. I remember being terrified during my dress rehearsal and making a lot of mistakes, simply because of how overwhelming it was to be on the same stage that all the world's greatest classical musicians have performed on. Once I got the nerves out of my system, I was able to focus better and the performance went really well," he says. "I'm so honoured to have had the opportunity to perform at Carnegie Hall twice, and hope I can return again some day soon."
Gregory plans to graduate from U of M in 2017. Afterwards, he hopes to pursue a master's degree in violin performance.
"Eventually, I would love to hold a career as an orchestral violinist."
Visit umconnect.ca to learn more about our students' experiences and explore our campus.