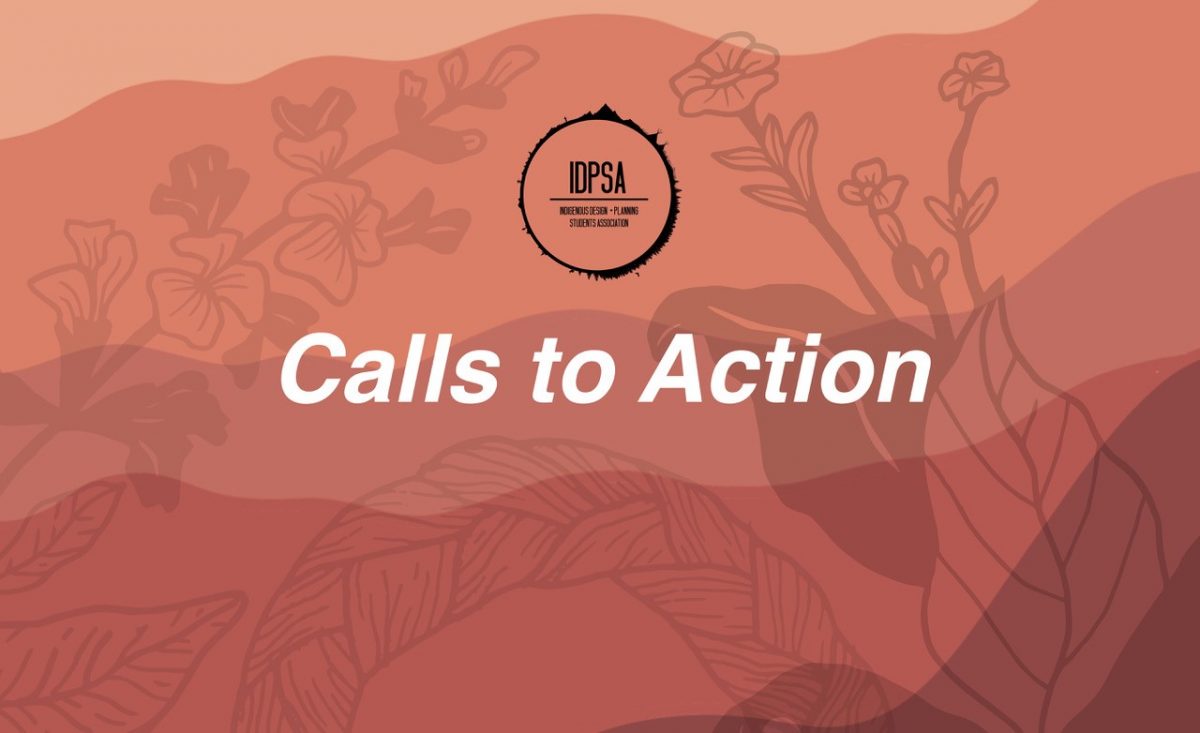 IDPSA Recognizes National Indigenous Peoples Day with Calls to Action
June 21, 2021 —
June is National Indigenous History Month and June 21 is National Indigenous Peoples Day. This is a day for all Canadians to recognize and celebrate the unique practices, diverse cultures and outstanding contributions of First Nations, Inuit and Métis peoples. The Faculty of Architecture Indigenous Design and Planning Student Association (IDPSA) would like to recognize this day by releasing their Calls to Action (CTA) report.
With the rise of Indigenous student enrollment, and increased representation in the design profession, IDPSA believes that design education should be at the forefront of inclusion and understanding of alternative perspectives in teaching design. Twelve Calls to Action are proposed, and will serve as a road map for advancing the areas of recruitment, representation, advocacy, foundation, and resources. Additionally, the CTA will require a commitment by the Faculty of Architecture to advance the inclusion of Indigenous perspectives in design education. A full copy of the report can be downloaded here.
Karen Wilson Baptist, Acting Dean, Faculty of Architecture and Shawn Bailey, Indigenous scholar have shared the following comment:
"The Faculty of Architecture is grateful and honoured that Indigenous students have demonstrated strong leadership and made significant contributions to advancing Indigenous engagement and outlining a path to reconciliation. The Indigenous Design & Planning Students Association (IDPSA) was founded in fall 2019 by Naomi Ratte, a member of Peguis First Nation (enrolled in the Master of Landscape Architecture Program) and Reanna Merasty, Ininew from Barren Lands First Nation (graduating from the Master of Architecture Program). Membership in IDPSA has grown to include representation from all four of the faculty's graduate programs and from the undergraduate program. The IDPSA is active in developing innovative curriculum, both independently and with faculty members. In 2019, IDPSA launched a tipi-building workshop and cultural awareness workshop for all 100 incoming Environmental Design second year students; we will be reinstating this activity post-COVID.
Naomi and Reanna are exemplary role models for all students in our faculty. They have led conversations about decolonizing our curriculum and our institution; supported other Indigenous students in the transition to academic life; hosted influential programing and drawn dynamic speakers to the faculty. Their influence has evolved our curriculum, and they are outstanding and valued members of our academic community.
As their leadership of IDPSA comes to an end, Naomi and Reanna leave us with a parting gift, Twelve Calls to Action for the Faculty of Architecture. These Calls to Action chart a path forward for the Faculty of Architecture and charge us with the weighty and vital work of decolonizing design education. Moreover, the Calls to Action shine light on how the Faculty of Architecture can become a leader in the recruitment and retention of Indigenous students, so we might better reflect the community that we live, work and design within.
The Faculty of Architecture thanks Naomi and Reanna for their vision and action, and looks forward to continued partnership with IDPSA."