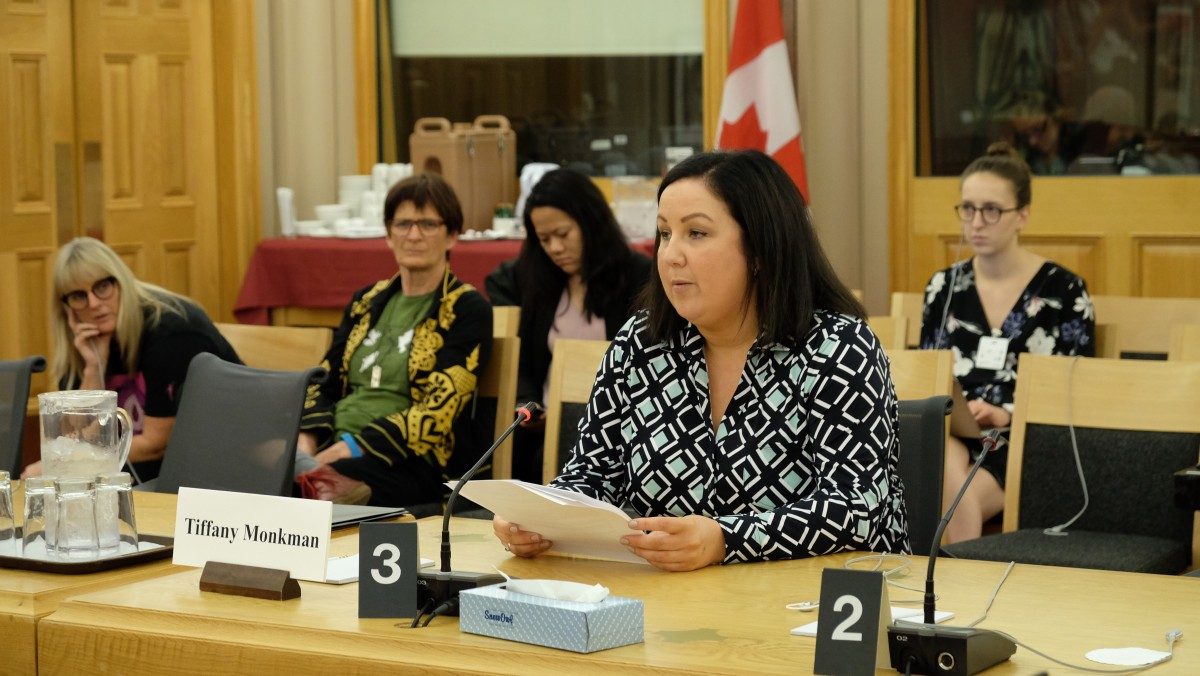 IBEP advisor shares her story with Canada's Senate
July 6, 2017 —
One of the proudest moments of Tiffany Monkman's life was standing before the Senate of Canada and speaking about how the Indigenous students she works with at the Asper School of Business inspire her every day.
Tiffany travelled to Ottawa in early June at the Senate's invitation, one of 10 speakers chosen from more than 100 nominations across the country to take part in the 2017 Indigenous Youth Leaders at the Senate program. The event — an initiative of the Senate's Standing Committee on Aboriginal Peoples — engaged youth to help forge a new relationship between Canada and First Nations, Métis and Inuit peoples.
"To be recognized for who I am and what I enjoy doing made me realize that when you allow yourself to be authentic, amazing things can happen," she says.
"It makes me so proud"
A program advisor and recruiter for Indigenous Business Education Partners (IBEP), a community of Indigenous, Métis and Inuit students at the University of Manitoba's Asper School of Business, Tiffany visits high schools, career fairs and First Nations schools across the province to promote the Asper School's undergraduate business program, as well as the supportive community IBEP provides to Indigenous business students. She also helps IBEP students plan their academic journey and access resources to help them succeed, including scholarships and bursaries.
"It makes me so proud when I get to see one of my students graduate, or when I see an Indigenous youth become comfortable enough around me to show me their work," she told senators in her address. She said she was also proud to witness Indigenous students learn more about their own culture through U of M resources and programs.
"The University of Manitoba and the Asper School of Business have grown so much over the past years in welcoming the Indigenous community."
At Asper, for instance, the University of Manitoba Indigenous Commerce Students (UMICS) student group has launched speaker programs and events aimed at raising awareness about Indigenous issues and culture. And this past year, the Commerce Students' Association, representing Asper's undergraduate student body, welcomed its first Indigenous Student Rep.
"We need to keep pushing forward"
The result, she says, is that "Indigenous students feel more welcome, but people of all backgrounds are learning more about Indigenous cultures."
Tiffany credits this momentum on an eagerness to move forward on the part of both Indigenous and non-Indigenous members of the Asper community.
"The dean came to us, asking us what we wanted to do. He hosted a workshop for faculty and staff that gave my students a chance to speak about their experiences at the school. So much growth has taken place. Now we need to keep pushing forward."
Tiffany told the committee her experience at Asper helped her discover how she could make a difference by "helping Indigenous youth find their passion." Tiffany was born and raised in Winnipeg, with roots in the community of Stony Point. Her parents always encouraged her to pursue her own passion — swimming — in spite of financial challenges. As a family, they didn't speak much of their Métis culture, but "we always appreciated who we were." It wasn't until she took part in the 2002 North American Indigenous Games that Tiffany began to connect with her cultural identity in a profound new way. "I looked around and saw so many people like me. I felt so connected to everyone," she says.
The journey to healing
Later Tiffany became the first person in her family to earn a university degree — a Bachelor of Commerce (Honours) degree from the Asper School in 2012. As a student she joined IBEP, which helped her connect more deeply with her Métis roots. She even succeeded in encouraging her brother to also pursue a business degree – an accomplishment she describes as a "great joy."
One of the highlights of her journey to the Senate was the standing ovation she received, along with the other leaders, from the senators. "That was cool," she says.
A more personal highlight was the card she received from her mother after she returned home. Tiffany's mother nominated her for the program and accompanied her on her journey.
The card read:
This thank you card is to tell how thankful I am to you for making me realize that I can be proud of who I am and that I shouldn't be ashamed to say it out loud that I am a Métis woman. Even though it was very hard for me to hear all the speeches, as it brought up bad memories flooding back for me, I know I need to deal with those feelings. It was when I was listening to your speech, as well as some of the other youth leaders, that I started to become more at peace with myself and understand that I need to let myself heal. I want you to know that it is you that is helping me become "ME".
Tiffany says, "This is what my hope is for Indigenous people — that when we share our stories, others will start to feel more comfortable sharing theirs, and this can be the first step on the journey to healing."