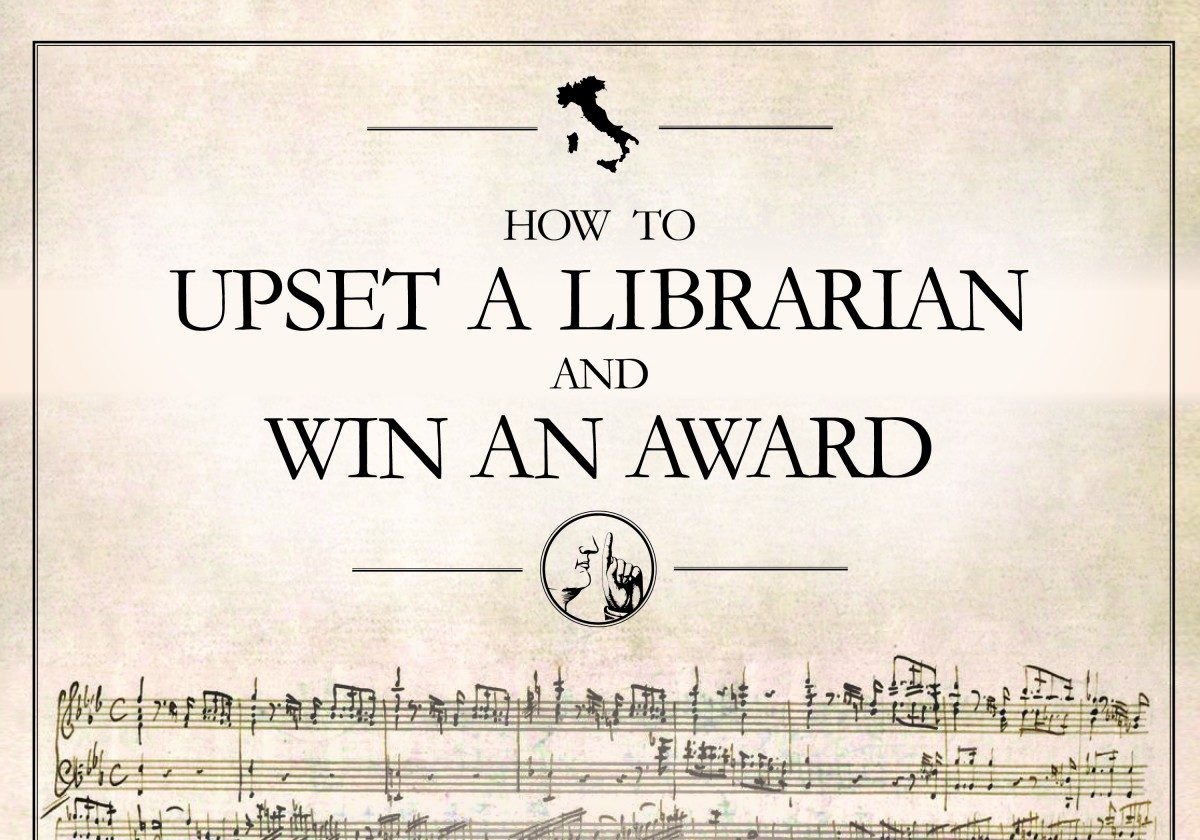 Blacklisted in Naples, awarded in Vancouver
Before winning the American Musicology Society's award for best music publication in 2016, Kurt Markstrom had to outsmart a librarian
December 6, 2016 —
To an outsider, it would seem rather mundane. But when Kurt Markstrom read a casual remark in an 18th-century letter, it eventually led him to get blacklisted from an Italian library, and then 15 years later receive the prestigious Claude V. Palisca Award from the American Musicology Society for best music publication of 2016, which was presented to him in Vancouver this past November.
It began in 1998. Markstrom sat in a long, dull room in a Toronto courthouse waiting to be screened for jury selection. He passed the time by working on an entry for the New Grove Dictionary of Music and Musicians about Nicola Porpora, an 18th-century composer who was the focus of his postdoc work at the University of Toronto.
It was then that Markstrom read a letter in which the composer mentioned a Vespers – a set of works for an evening church service – no historian knew about. He documented it in his entry, and mentally filed it away for later. Then his name was called for jury selection.
The following year he arrived at the University of Manitoba as a new faculty member. His Dean told him to start thinking of a SSHRC project. Markstrom, who is today an associate professor in the Desautels Faculty of Music, was finishing his book The Operas of Leonardo Vinci, Napolentano, and knew his next project should involve Porpora's unknown work.
Porpora, coincidentally, was rivals with Vinci and both composed at a pivotal moment in music history: their works, representing a bridge from Baroque to Classical style, would exert an influence on composers like Handel, Haydn and Mozart. Indeed, Porpora taught Haydn and although Porpora is not a widely known figure today, he held prestigious posts at the famous conservatories in Venice, greatly outranking other figures like Antonio Vivaldi.
Shut out
In 2001 Markstrom visited several libraries in Naples, Italy, checking original documents for Vinci for his book. While there, he thought it would be efficient to investigate the missing links in Porpora's mysterious composition, Vespers for the Feast of the Assumption, 1744.
"This work was stretched out between two libraries, with the one set of works completely buried in a pile of part-books in Naples. Very, very dusty, dirty, nasty stuff that was bound with leather straps," Markstrom recalls. "When the librarian found out that the library assistant had got me this material, he exploded in anger and kicked me out of the library – sorry, escorted me out of the library – because I asked for this…. I hadn't done the proper paperwork."
This librarian did not take kindly Markstrom's casual request for a beloved, national treasure. But Markstrom needed that material, and realized he had the email for the cameraman, Alberto. He contacted Alberto and convinced him to make copies of Porpora's work without the librarian knowing. They met covertly in a parking lot. Markstrom handed over 200 Euros, the appropriate fee for such documents, plus an honorarium. Alberto handed over the microfilm Markstrom needed to resurrect the lost music.
For years Markstrom and two research assistants pored over the score, piecing it together and trying to make sense of Porpora's marginalia and squiggles above the notes. Does that slur cover just those two notes or all three notes?
"One of the problems in editing this is the sharps and flats, what's called 'the accidentals' that are added that change keys within pieces. He had a very different system, a very unsystematic system to it," Markstrom says. "There were just so many details to work through."
After roughly a decade of hunting, organizing, deciphering, debating, deciding, and then tediously entering every note of the three-hour performance into a computer program, Markstrom and his assistants finished the final piece.
"Sicut Erat" is the final movement of Lauda Jerusalem from the Porpora Vespers 1744 performed live in 2011 by La Maîtrise de Bretagne, Le Parlement de Musique/Martin Gester. This particular excerpt was rearranged by UofM professor, Dr. Kurt Markstrom in the Desautels Faculty of Music.
Resurrecting beauty
The Canzona Choir and Music Baroque orchestra performed the modern premiere in 2008 with Henry Engbrecht, professor emeritus and U of M honorary degree recipient, conducting.
It was not a carefree and joyous moment for Markstrom, who was still reworking parts of it as he heard the orchestra practice and perform. But then in 2011 it was performed and recorded in a 13th-century abbey outside of Lyon, France, and Markstrom attended. "It was heavenly. To hear it live, in situ, you know, in a church with the reverberant acoustics, just like how it was meant to be heard and would have originally been heard, it was overwhelming," he says.
"After the performance in France I was just so moved, it was just so beautiful, I had to publish it. I knew I had to publish this in spite of the fact that I don't like doing this final editing work because it's so boring, as opposed to the work leading up to the performances, where you get to see it all come together."
With the publication, he received his eight complimentary copies, sending one to the evicting Italian librarian (who "wrote a beautiful note back"), and then assumed nothing more would come.
"I didn't hear anything about it until a week before classes when I caught my associate dean reading the preface," Markstrom says. "And it's not very often that I catch people reading my stuff and she said, 'This is big. This is important.' And a couple of days later I get an announcement that it won an award for best music publication of the year. I didn't even know it was nominated and I don't know who nominated me. You know, you do this stuff, you publish it, but you make no assumption that anyone will read it."
What Karen Jensen, his associate dean, liked was that in recreating this rare specimen of liturgical music, Markstrom allows us to celebrate and connect to a generally forgotten demographic and phenomenon: artistic orphan girls. In this period, orphan girls with musical promise were given an exceptional musical education and people traveled from all over to hear them sing, offering the orphans otherwise impossible opportunities. This Vespers would have been meant for an all-female chorus, which Markstrom remained faithful to in his work.
"What I thought was so great about it was how diligently he worked as an historian on this. The excellence of the research is just so evident, and it's a beautiful score. He put it all into context, historically speaking, and it has outreach into so many aspects of human life," Jensen says. "Kurt is an introvert, bearing away on his own stuff, but his work reaches out into what's human, what's most compelling about what music does."
For history
Porpora died poor and alone in 1768 after a misfortunate series of events at the end of his life.
Does Markstrom get a sense of putting Porpora's soul to rest?
"Well," he says, "maybe in a fantastical aspect I am putting his soul to rest, but more specifically, it is this idea of justifying his position in the history of music. That's something I feel very strongly about. That's why I'm in this business."
Research at the University of Manitoba is partially supported by funding from the Government of Canada Research Support Fund.