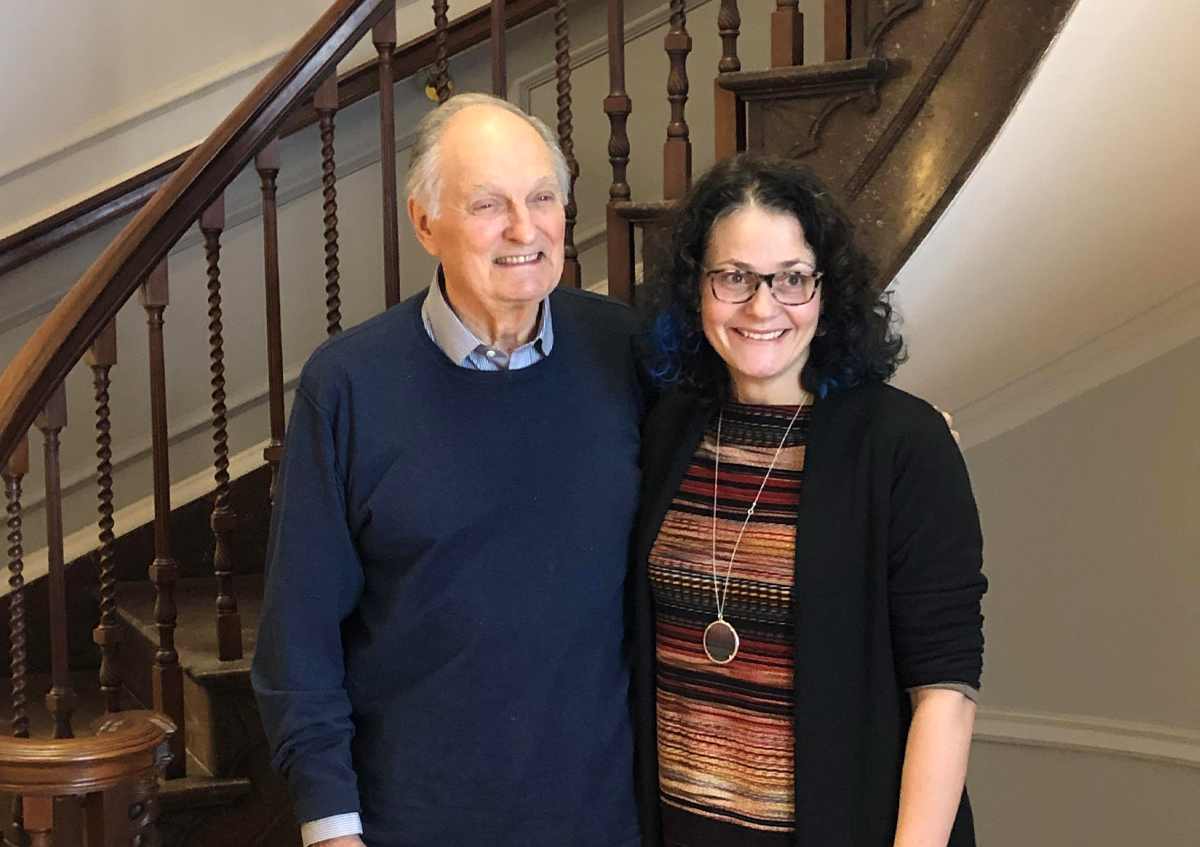 'Compassion heals':
Medical prof honoured for commitment to humanism
April 17, 2020 —
When Dr. Jillian Horton was growing up with a sister who had profound disabilities, she and her family were traumatized by the way some doctors treated them.
But they were uplifted by physicians who shared genuine emotion with them as part of a deeply caring relationship.
Horton says those experiences set her on a path to becoming an advocate for compassion in medicine.
"Before I ever set foot in medical school, I was exposed to this incredible range of how harmful, and how healing, interactions with physicians could be," she says. "For me, those things are deeply personal."
Horton, an assistant professor of internal medicine in the University of Manitoba's Max Rady College of Medicine, is the recipient of the 2020 Association of Faculties of Medicine of Canada–Gold Humanism Award. The national award recognizes her extraordinary commitment to compassion in medical education and health care.
The professor was scheduled to receive the award and deliver a lecture at the Canadian Conference on Medical Education this weekend. The presentation and talk have been postponed to 2021.
Horton, a former associate dean at the medical college, has held leadership roles in the Rady Faculty of Health Sciences in promoting wellness and the integration of the arts and humanities with health care.
She has a rising national profile as the host of the Canadian Medical Association Journal (CMAJ) podcast Med Life with Dr. Horton and as the host and curator of a speaker series called Insights: Arts, Medicine and Life at the National Arts Centre in Ottawa.
Horton is also an accomplished writer. In 2017 she co-authored a short graphic novel, Medicine, aimed at acknowledging the self-doubt, anxiety, grief and shame experienced by nearly all medical students – and practising doctors. Her first full-length book, a memoir called We Are All Perfectly Fine, will be published by HarperCollins Canada in early 2021.
UM Today spoke with Horton about her passion for bringing greater humanity to medical practice.
Tell us more about how all this started for you.
Growing up in Brandon, I had an older sister, Wendy, who had a pediatric brain tumour and was left with severe disabilities. I saw how doctors' rude, indifferent and abusive behaviour could permanently scar families. My parents have a vivid memory of a physician yelling at them about my sister, "Can't you people get it through your heads? This girl has no brain left!"
On the flip side, I saw the profoundly healing nature of the interactions that were infused with kindness, true care, authenticity and deep compassion. In my own practice, I've seen how even if the patient does not survive, families remember, years later, how a compassionate physician walked alongside them and was moved by their loss.
You teach medical learners to be emotionally present with patients, and to learn techniques for regulating their emotions. Do some doctors dismiss that approach?
Yes. I hear physicians say, "It's not my job to be the patient's friend or their shoulder to cry on." We have to question those views. We cannot divorce caring communication from the concept of being an excellent clinician. One is required in order to be the other.
The more we make medicine rote and formulaic, and diminish the depth of clinical encounters, the more we strip away the most meaningful, sustaining part of practising medicine. That contributes to burnout.
Tell us about teaching mindfulness to help doctors maintain their sense of purpose, reduce stress and manage their emotions.
Mindfulness for physicians is evidence-based: studies have shown that it reduces burnout and promotes patient-centred behaviour. Practising it has brought me peace and helped me to feel even more deeply connected to patients.
We talk a lot about the health-care system being broken. One of my mantras is, "The system is broken, but I'm not broken." Our thinking influences our behaviour. Mindful practice can help us learn to control our attitudes and how we respond to stressful stimuli. It can help us find compassion for others, and for ourselves.
Is it true that you exchanged ideas on humanism with Alan Alda, the actor who played a surgeon on the TV series M*A*S*H?
Yes, a couple of years ago I took a two-day, small-group workshop co-led by Alan Alda, who has become a champion for humanism in health care. I also interviewed him for my CMAJ podcast.
It was so meaningful for me, because I've idolized him for years. His character on M*A*S*H, Capt. Hawkeye Pierce, was a great physician who used humour, who got close to people, who felt things very deeply and was authentic.
My life and my patients have continued to teach me the same lesson: Compassion heals.