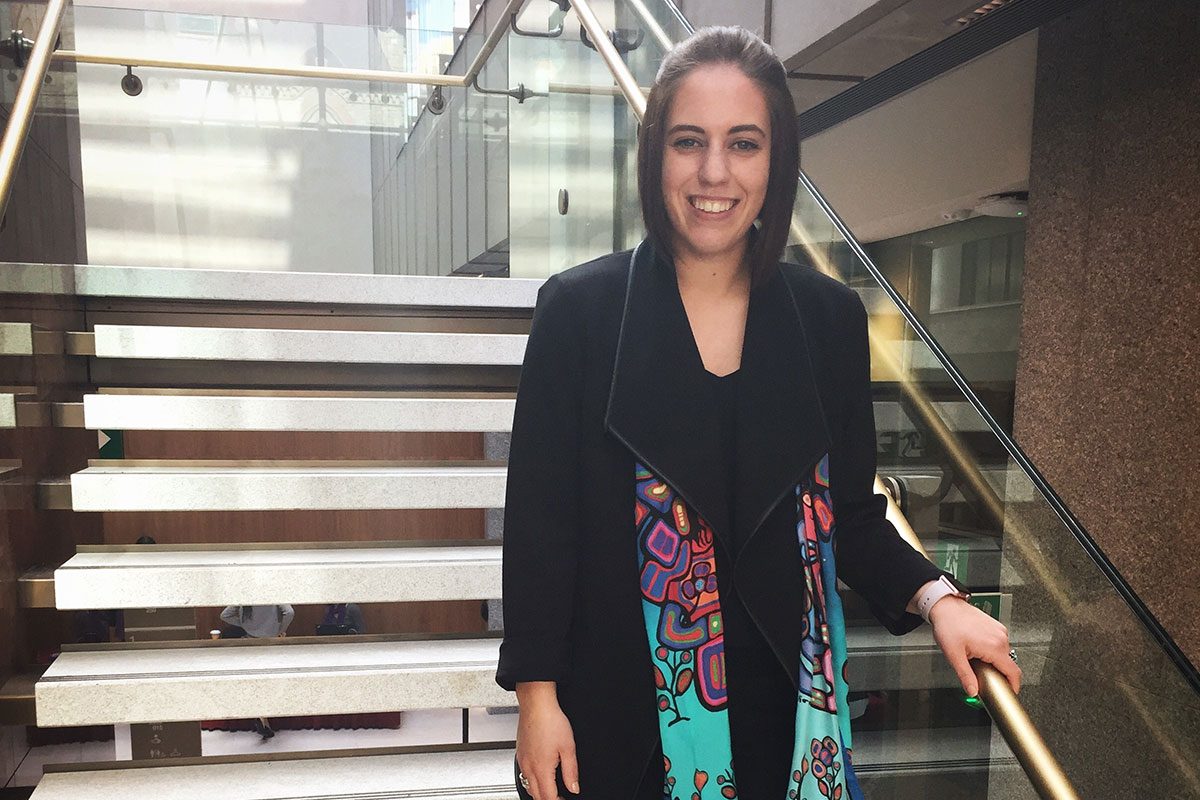 Honouring the outstanding achievements of Indigenous students
March 20, 2017 —
The Office of Indigenous Achievement has announced the recipients of the inaugural Indigenous Student Awards of Excellence.
These awards have been created to celebrate the exceptional achievements and contributions of three Indigenous students who go above and beyond to make the University of Manitoba an inclusive and supportive learning environment.
The recipients will be honoured at an afternoon celebration on Friday, Mar. 24 as part of Indigenous Awareness Week.
There are three categories for the awards. The Community Builder award goes to a student who exemplifies collaboration and collegiality. The Outstanding Achievement award recognizes a student with high academic standing and contribution to the community. The Trailblazer award honours a student for his or her leadership and visionary thinking.
The recipients are:
Outstanding Achievement: Taylor Morriseau
Age: 22
Indigenous background: Cree of Peguis First Nation
From: Winnipeg, MB
Faculty: Science, with a double major of Microbiology and Genetics (Co-op)
Year: 5th
After graduating Morriseau isn't slowing down. She starts her masters of science degree in May in the Department of Pharmacology and Therapeutics. Under the supervision of Dr. Vernon Dolinsky, her research will focus on explaining the mechanisms of youth-onset Type 2 diabetes in Oji-Cree youth.
Morriseau says she is overjoyed to be recognized by the same community that helped her succeed and she recognizes the outstanding professors, mentors and friends that provided support, advice and encouragement.
In her words:
This award re-affirms that I am on the right path and that my community acknowledges these ambitions as worthy. I am honoured to be the recipient of the Outstanding Achievement award as it propels me into my next academic chapter where I will continue to strive for the values set-forth by an outstanding student.
Incredible work by Indigenous students happens every day on this campus and the Indigenous Student Awards of Excellence are an excellent way to acknowledge these achievements. In my experience, this path to success is not clear nor straight, but filled with unique challenges and setbacks. This award gives us a moment in time to recognize our own paths and to appreciate the intersections with others who have lifted up Indigenous achievement. Although these awards acknowledge the names of a few, they provide us space to celebrate the work of our entire community in creating an inclusive and supporting learning environment for everyone.
Trailblazer: Haylea Clyne
Age: 23
Indigenous background: Ojibway
From: Broken Head Ojibway Nation. Scanterbury, MB
Faculty: Rady Faculty of Health Sciences, College of Nursing
Year: 4th
Clyne is in her last year of the nursing program. After graduation, she plans to work in acute medicine and has goals of developing a public health initiative for northern communities. She would also like to continue to mentor Indigenous nursing students, as well as Indigenous students considering nursing. On top of that, she is preparing for a masters degree in nursing.
Like Morriseau, Clyne felt overjoyed and honoured to be recognized with an Indigenous Student of Excellence Award. She too, thanks her mentors, counsellors and committee members who put her name forward.
In her words:
This award signifies my commitment to my community. It means that I am a positive role model and I am leaving an impact at the University.
This award is important because recognizing the work Indigenous people do not only honours them but motivates us to keep going. There are a lot of systemic barriers that make movement difficult and sometimes stagnant; but awards like this are a friendly reminder that the hard work we put in doesn't go unnoticed.
Community Builder: Amanda Fontes
Age: 22
Indigenous background: Métis
From: Winnipeg, MB
Faculty: Rady Faculty of Health Sciences, Max Rady College of Medicine
Year: 2nd
Only in her second year of her medical degree, Fontes has time to plan her future – not that she needs it. She already has her sights set on practicing medicine in rural and remote settings as well as in northern communities as a member of the Northern Medical Unit. Her ambitions are strong and she says she'd like to work closely with First Nations communities to improve health outcomes by providing better access and better quality care.
When Fontes found out she was nominated for an Indigenous Student Award of Excellence she said she was already ecstatic. When she found out she won, she too was overjoyed. She also found the news overwhelming and is grateful for support by the community surrounding her.
In her words:
This award is for my community. I have met so many amazing people and had the pleasure of working with some of the university's finest through my involvement with Indigenous initiatives with both the Faculty of Science and with the Max Rady College of Medicine. To be honored by them in this way is incredible. I consider this award a reflection of not only me but of all of my community: for all their support, their guidance, and their encouragement.
This award is for my family. My family has been my rock through everything. I could not have accomplished what I have without them and so I am sharing this award with them. They taught me what it means to be a part of something bigger than yourself: how to be a part of a team to work together to accomplish things, support each other, and to offer help to one another. These qualities are what I think this award is all about.
This award is a celebration of Indigenous peoples, who have always been about community and working together. It is important that we honor that tradition and share it with others and I think this award does just that.
Creating Pathways to Indigenous Achievement is an institutional priority for the University of Manitoba, with a goal to celebrate achievements by Indigenous faculty, staff, students, alumni and community partners.
Indigenous Achievement is a pillar of Front and Centre — the campaign for the University of Manitoba, with $65 million directed toward this priority. By collaborating with Indigenous communities and stakeholders, the University of Manitoba is striving to be a welcoming place that translates into success for Indigenous students and their families.