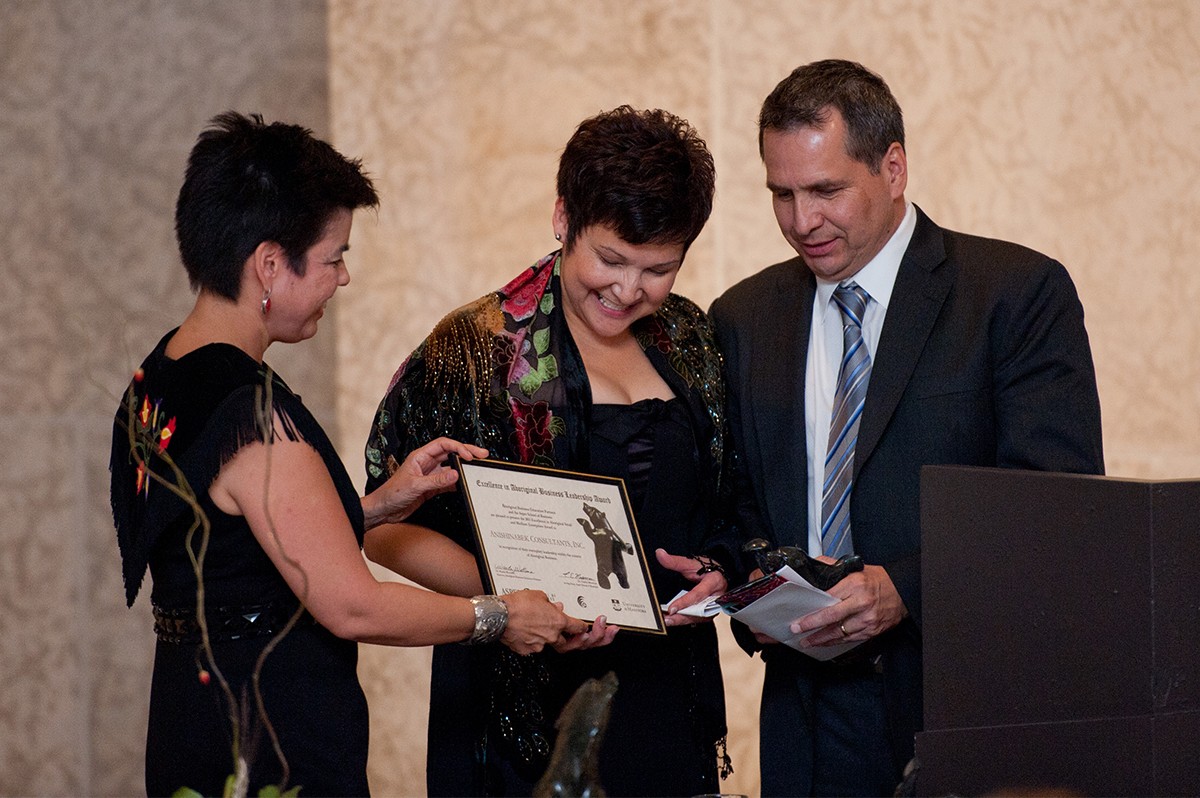 Honouring excellence: Celebrating Aboriginal business success stories in Manitoba
September 3, 2014 —
WHAT: The Excellence in Aboriginal Business Leadership Awards Dinner is hosted and organized by the Aboriginal Business Education Partners program within the Asper School of Business. The dinner is one of Manitoba's most prestigious events for honouring Aboriginal business leaders.
HOW IT STARTED: "Twelve years ago, a colleague organized a dinner and honored a local young Aboriginal entrepreneur. Two years later he stepped aside and an organizing committee was formed to develop an awards dinner that celebrated Aboriginal businesses," explains Wanda Wuttunee, director of ABEP.
HOW IT WORKS: "A selection committee looks at financial strength, leadership and community involvement in choosing our winners. We have honored 13 businesses and community economic organizations, offering products and services that range from a northern airline and curling supplies to a trucking company," says Wuttunee. "The dinner regularly attracts more than 200 people, including our students. Networking is encouraged and some of our students have met their employers at these dinners. The dinner proceeds—amounting to more than $200,000—enhance ABEP programming and help ensure student success."
THE IMPACT: "I love the fact that many of our winners have been in business for over 25 years and yet have never received recognition for their hard work before. Many Canadians don't know the extent to which Aboriginal entrepreneurs are contributing to the economy, both on and off reserve. The dinner is a great opportunity to raise awareness," says Wuttunee.
THE INSPIRATION: "The Excellence dinner has become a stellar event, building appreciation and offering opportunities to make new connections in the business community," she says. "It's exciting to be a part of this celebration. I am moved by the winners' attitudes to the students as they make themselves available for a mentor relationship and I know our students enjoy meeting movers and shakers, a group they aspire to join in a few years. There are so many Manitoba businesses that deserve recognition that we will never run out of nominees."
---
FUNDERS: Even partners vary from year to year. In 2014 they include Great West Life Assurance Company and Manitoba Liquor & Lotteries.
---
LEARN MORE