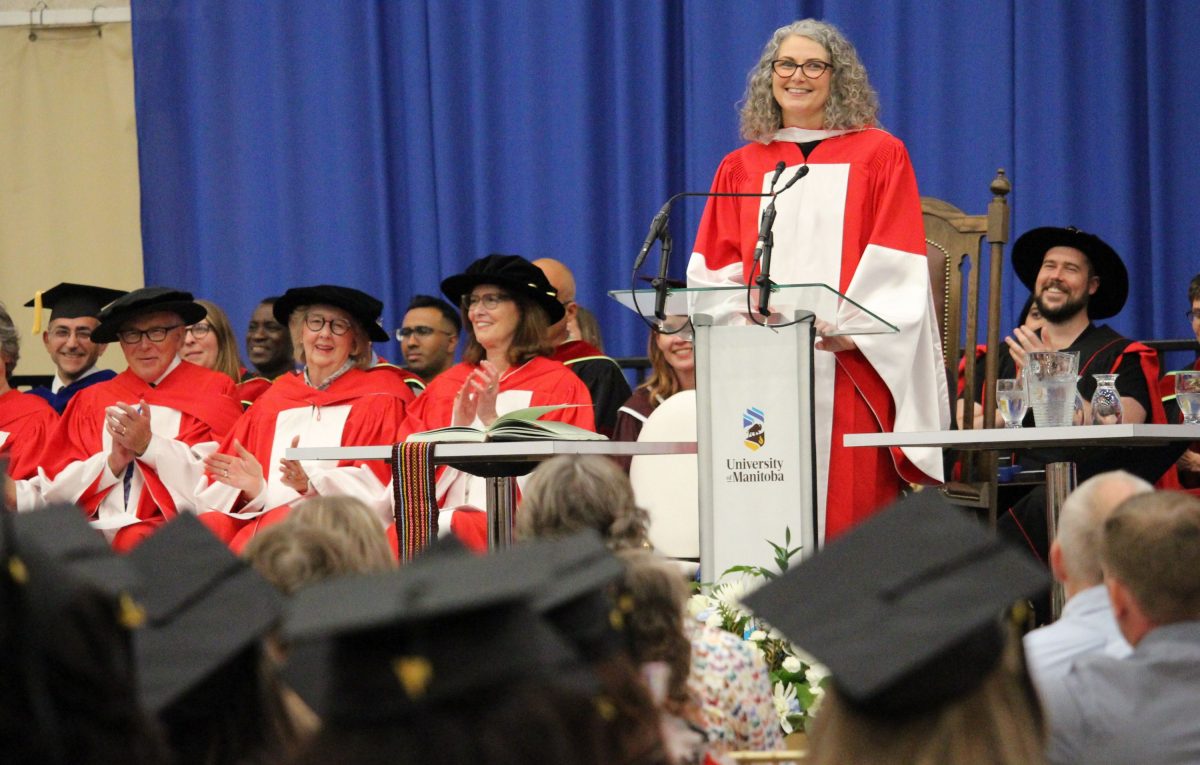 Honorary degrees bestowed upon outstanding individuals at Spring Convocation 2023
June 20, 2023 —
The honorary degree is the highest honour the University of Manitoba can confer upon an individual for distinguished achievement in scholarship, the arts, or public service. During Spring Convocation 2023, honorary degrees were bestowed upon six exceptional individuals.
Discover their impact and watch them address the graduates at each of their ceremonies.
Wayne Suk-Wing Chiu
C.M., AOE, BSc(ME)(Manitoba), ICD.D
For more than three decades, Wayne Chiu has been dedicated to building communities.
An award-winning businessman, activist, and philanthropist, Mr. Chiu founded Calgary-based Trico Group in 1992. In 2004, Trico was on a corporate retreat in Thailand when a catastrophic tsunami hit. As he clung to a tree watching misery below him, Mr. Chiu had an epiphany that led to him and his wife launching the Trico Charitable Foundation in 2008 that focuses on social entrepreneurship to use business to solve problems in society.
Mr. Chui's company has erected tens of thousands of single and multi-family homes in Alberta – including affordable units – and has partnered to provide subsidies to first-time homeowners. In 2015, Trico Homes worked to restore 159 Chiniki First Nation homes that had been destroyed by Alberta floods.
Mr. Chiu has also made an extraordinary impact through his support of the Women in Need Society (WINS). Providing promotion and financial support, he has helped the society to expand its efforts, growing communities and connecting women and their families with resources to thrive.
He is a Member of the Order of Canada and an appointee of the Alberta Order of Excellence and has been awarded the Queen Elizabeth II Diamond and Platinum Jubilee Medals.
The University of Manitoba is proud to award a Doctor of Laws, honoris causa, to Wayne Chiu in recognition of his life-changing impact as a builder, activist and philanthropist and his dedication to growing and supporting communities in Western Canada.
Read Mr. Chiu's full citation
Watch Mr. Chiu's Convocation address
Jennifer Gunter
MD (Manitoba)
For more than 27 years, Dr. Jennifer Gunter has made outstanding contributions to medicine, accessibility, and our understanding of reproductive health, sexual health, and menopause.
Once referred to as "the world's most famous gynecologist," the physician, best-selling author and women's health expert has long been an unapologetic advocate for patient empowerment and accessible information. Her approach as an OB/GYN and a pain medicine physician is centered on evidence-based medicine integrated with a focus on empathy and the patient's experience.
Dr. Gunter wrote her #1 national bestseller The Vagina Bible as a reaction to the large amounts of false and dangerous information about female health on the internet. She has used her voice to debunk medical myths, advocate for a "better medical internet" and call out exploitative pseudoscience. Her goal is to have more medical experts involved in disseminating medical information in ways that are accessible to the public and to correct the misinformation and disinformation available online, especially as it relates to women's physical, reproductive and sexual health.
Since 2006, Dr. Gunter has been managing a health clinic for women in the Chronic Pelvic Pain & Vulvo-Vaginal Disorders division at The Permanent Medical Group of Kaiser Permanente in Northern California.
Her prominent social media presence has led to the nickname "Twitter's Resident OB/GYN" and she often references her Winnipeg roots and credits her prairie upbringing for her confidence and direct approach.
The University of Manitoba is proud to award a Doctor of Laws, honoris causa, to Dr. Jennifer Gunter in recognition of her outstanding contributions to the field of gynecology and her lifelong advocacy for accessibility and women's health.
Read Dr. Gunter's full citation
Watch Dr. Gunter's Convocation address
Thomas Quinn
BS, MSc (Notre Dame), MD (Northwestern)
Dr. Thomas Quinn is a world-renowned scientist known for his groundbreaking HIV/AIDS research. He was one of the first researchers to identify the AIDS epidemic and its cause, the HIV virus.
As one of the top clinician-scientists in the world, he has been a leader in the world's response to the HIV/AIDS pandemic, working to decrease the rate of illness, the number of deaths, and reduced transmission rates with antiretroviral therapy, particularly in developing countries. In addition, through a clinical trial, his team reported the benefits of voluntary male circumcision to reduce HIV acquisition by half in Uganda.
Dr. Quinn is currently a professor of medicine and pathology at Johns Hopkins University and is the founding director of the university's Center for Global Health. He is also a NIH distinguished investigator and associate director of international research at the National Institute of Allergy and Infectious Diseases.
At the forefront of developing public health and research capacity in Africa, Dr. Quinn has mentored many clinicians and scientists. His leadership and commitment has contributed to the training of more than 13,000 health-care providers in Africa to combat the AIDS epidemic.
The University of Manitoba is proud to award a Doctor of Science, honoris causa, to Dr. Thomas Quinn for his commitment to understanding the complexities of the HIV virus and his pursuit of improving the health of people around the world.
Read Dr. Quinn's full citation
Watch Dr. Quinn's Convocation address
Lara Rae
As a trailblazing force in Canada's comedy scene for more than three decades, Lara Rae is an orator, an entertainer, a teacher and an advocate.
Born in Glasgow, Scotland, Ms. Rae moved to Winnipeg in the mid-1990s, where she founded the Winnipeg Comedy Festival with Tom Anniko in 2002 and served as the Festival's Artistic Director for 18 years.
A longtime contributor, writer, columnist, and producer on CBC radio and television, Rae has written for programs such as Blackfly, Big Sound, What a Week, Definitely Not the Opera, and Monsoon House.
Her autobiographical play, Dragonfly, which explores her "gender odyssey" and her journey as a transgender woman, won the 2020 Chris Johnson Award for Best Play by a Manitoba playwright. She was the first transgender woman to guest host the CBC flagship news program The Current.
In addition to her cultural and creative works, Ms. Rae founded Pantry, a local food project that provides home-cooked meals, winter clothing and other essentials to her neighbours in Winnipeg's West Broadway area who are struggling with food and shelter insecurities.
Ms. Rae continues to write and perform comedy in Winnipeg and is an instructor at the University of Winnipeg's Department of Women and Gender Studies.
The University of Manitoba is proud to award a Doctor of Letters, honoris causa, to Lara Rae in recognition of her trailblazing impact on Canada's comedy scene, her dedication to the cultural and social life of Manitobans and her tireless advocacy for Winnipeg's 2SLGBTQ+ community.
Read Ms. Rae's full citation
Watch Ms. Rae's address
Her Excellency the Right Honourable Mary Simon, Governor General of Canada, C.C., C.M.M., C.O.M., O.Q., C.D., LLD(McGill, Queen's, Trent, Memorial, Guelph, Carleton, Alberta., British Columbia, Victoria, Calgary, Western Ontario), LHD (Mount Saint Vincent)
Since beginning her career as a radio broadcaster with the CBC Northern Service (now CBC North), Her Excellency the Right Honourable Mary Simon has made significant contributions to Canadian broadcasting, public service and diplomacy.
A leader, constitutional negotiator and diplomat of Inuit ancestry, Ms. Simon was appointed as Canada's 30th Governor General in 2021, becoming the country's first Indigenous Governor General.
Ms. Simon has gained national and international recognition for her work on Arctic and Indigenous issues, and for her efforts in advocating for Inuit rights, youth, education and culture. She was responsible for the implementation of the first land claims agreement in Canada, the James Bay and Northern Quebec Agreement, and in 2008, on behalf of Inuit, she stood in the House of Commons and delivered a response to the Government's formal apology on residential schools.
The University of Manitoba is proud to award Her Excellency the Right Honourable Mary Simon with a Doctor of Laws, honoris causa, in recognition of her immense impact on Indigenous communities in Canada, and her lifelong dedication to public service and diplomacy.
Read Ms. Simon's full citation
Watch Ms. Simon's Convocation address
Donald Triggs
BSA (Hons) (Manitoba), MBA (Western Ontario)
For decades, renowned Manitoba-born entrepreneur Donald Triggs has been making a profound impact on the Canadian economy.
From his humble beginnings growing up on the family farm, Mr. Triggs' ambitions first began to take shape after he completed his honours degree in Agriculture at UM, receiving the Lieutenant-Governors Gold Medal in Agriculture and the Co-operative Promotion Board Gold Medal in Agricultural Economics upon graduation.
In 1989, his ambitions grew further when the chance to buy beer-maker John Labatt Ltd.'s wine division. Mr. Triggs and his wife Elaine, against the advice of their bankers, made the risky decision to re-mortgage their house and pool their life savings with other partners to take the gamble and form their own company, Vincor. Boasting 14 wineries and 2,250 employees, Vincor became the first Canadian wine company to succeed worldwide.
Co-founded with former colleague Allan Jackson in 1991, Jackson-Triggs Winery transformed Canada's small wine industry into an economic powerhouse. By 2003, their company was Canada's largest wine producer and the world's eighth largest.
Now retired, Mr. Triggs is credited with making a major contribution towards transforming the quality and reputation of Canadian wines and establishing international markets to benefit all winemakers. He also guided the industry as chair of both the Canadian Vintners Association and the Ontario Wine Council.
The University of Manitoba is proud to award a Doctor of Laws, honoris causa, to Donald Triggs in recognition of his transformative impact on the Canadian wine industry and his immense contributions to the Canadian economy.
Read Mr. Trigg's full citation
Watch Mr. Trigg's Convocation address