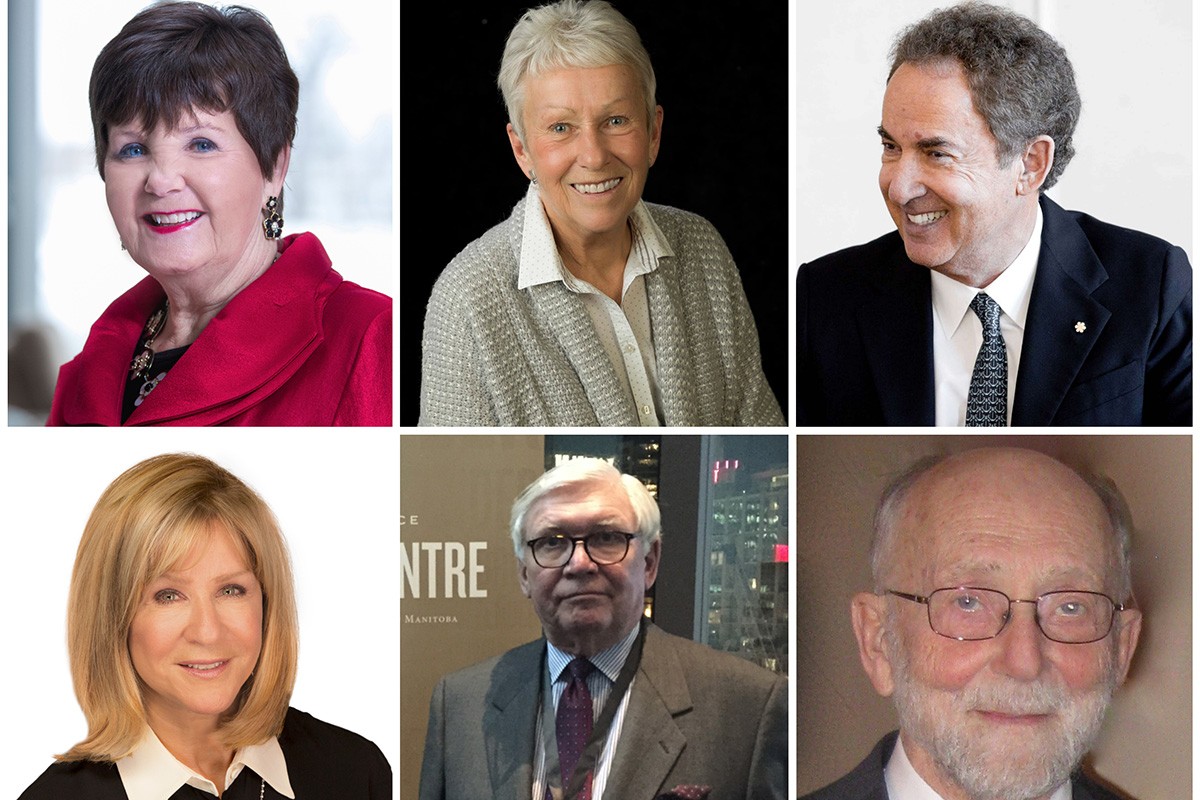 Honorary degree recipients recognized for innovation, philanthropy and enhancing well-being of Manitobans and Canadians
April 27, 2016 —
Each year, the University of Manitoba bestows honorary degrees upon individuals who have achieved pre-eminence in the advancement of culture, communications, education, administration, scholarship, leadership, philanthropy, mentorship and business.
During the 137th annual Spring Convocation of the University of Manitoba on May 12 and 31, and June 1 and 2, 2016, the following noteworthy individuals will be awarded honorary degrees:
Paul Henteleff
Winnipeg-born Dr. Paul Henteleff earned his medical degree from the University of Manitoba in 1956. During his 12 years as a family physician in Winnipeg, Dr. Henteleff worked part-time with Dr. Jack MacDonnell, a pioneer in geriatrics, and served as medical director of St. Boniface Hospital's Home Care program. From 1975 until his retirement in 1991, Dr. Henteleff presided over the palliative care system in Manitoba. He is the founding president of the Canadian Palliative Care Association and head of what is now Palliative Manitoba. His leadership helped make end-of-life care a core service in this province and influenced the direction of clinical and research programs in Canada.
Doctorate of Science
Medicine Convocation, Bannatyne Campus, May 12, 2016
Bonnie Buhler
Bonnie Buhler is one of the most transformational philanthropists in Manitoba, impacting the community through support of health-care services, cultural institutes and education. She and her husband have given a stunning $60 million to various charities, and recently revealed their aspiration to donate at least $100 million in their lifetime. They support the Canadian Museum for Human Rights and the Manitoba Children's Museum, as well as other organizations and hospitals in and around Winnipeg.
Doctor of Laws
May 31, 2016    9:30 AM
Andrew Coyne
Andrew Coyne studied at the University of Manitoba where he was editor of The Manitoban and worked as a reporter for two summers at the newly launched Winnipeg Sun. He received his master's degree in economics from the London School of Economics. After working as a columnist and editorial writer for the Financial Post from 1985 to 1991, he joined the editorial board of The Globe and Mail, winning consecutive National Newspaper Awards for editorial writing. His work has appeared in The Wall Street Journal, National Review, Saturday Night, the Canadian edition of Time, and is also a longtime member of the CBC's popular At Issue panel on The National.
Doctor of Laws
May 31, 2016   3:00 PM
Heather Reisman
A voracious reader since childhood, Heather Reisman followed her passion by launching Indigo Books and Music in 1996. Five years later, she bought her biggest competitor—Chapters, Inc.—to become the largest book, gift, and specialty toy retailer in Canada. Reisman is arguably the most influential figure in Canadian publishing and ranks among the world's most powerful businesswomen. She has also distinguished herself as a major philanthropist together with her husband, entrepreneur Gerald Schwartz.
Doctor of Laws
June 1, 2016    9:30 AM
Gerald Schwartz
Gerald Schwartz grew up in Winnipeg's River Heights neighbourhood and studied business at the University of Manitoba. He earned a B.Comm in 1962 and a law degree in 1966. He practiced corporate and tax law in Winnipeg before pursuing an MBA from Harvard University in 1970. In 1977, he returned to Canada and—with Israel Asper—co-founded CanWest Capital, which later became CanWest Global Communications. In 1983 he founded Onex Corporation, a major investment firm and holding company. Schwartz is one of our nation's most successful business leaders and philanthropists.
Doctor of Laws
June 1, 2016    9:30 AM
Bryce Douglas
Bryce Douglas joined Dominion Securities in 1963 and after a 42-year tenure with what is now RBC Capital Markets, retired in 2006. He helped shape not only the largest but the premier investment banking institution in Canada, and one of the oldest and most respected investment firms in all of North America. Douglas remained committed to enhancing the financial industry through ethical practices and education and inspired the Bryce W. Douglas Professorship in Finance at the University of Manitoba in 2005. More recently, he and his family endowed a Chair in Finance at the Asper School of Business.
Doctor of Laws
June 2, 2016    9:30 AM
Susan Lewis
Susan Lewis joined United Way of Winnipeg in 1973 and a year later became the first female United Way campaign director in the country. In 1985 she became the organization's president and CEO, again breaking ground as the first woman to do so in Canada. She stepped down in 2014, after a distinguished career with United Way of Winnipeg which under her leadership raised more than $400 million to improve lives and build a better community for all.
Doctor of Laws
June 2, 2016  3:00 PM