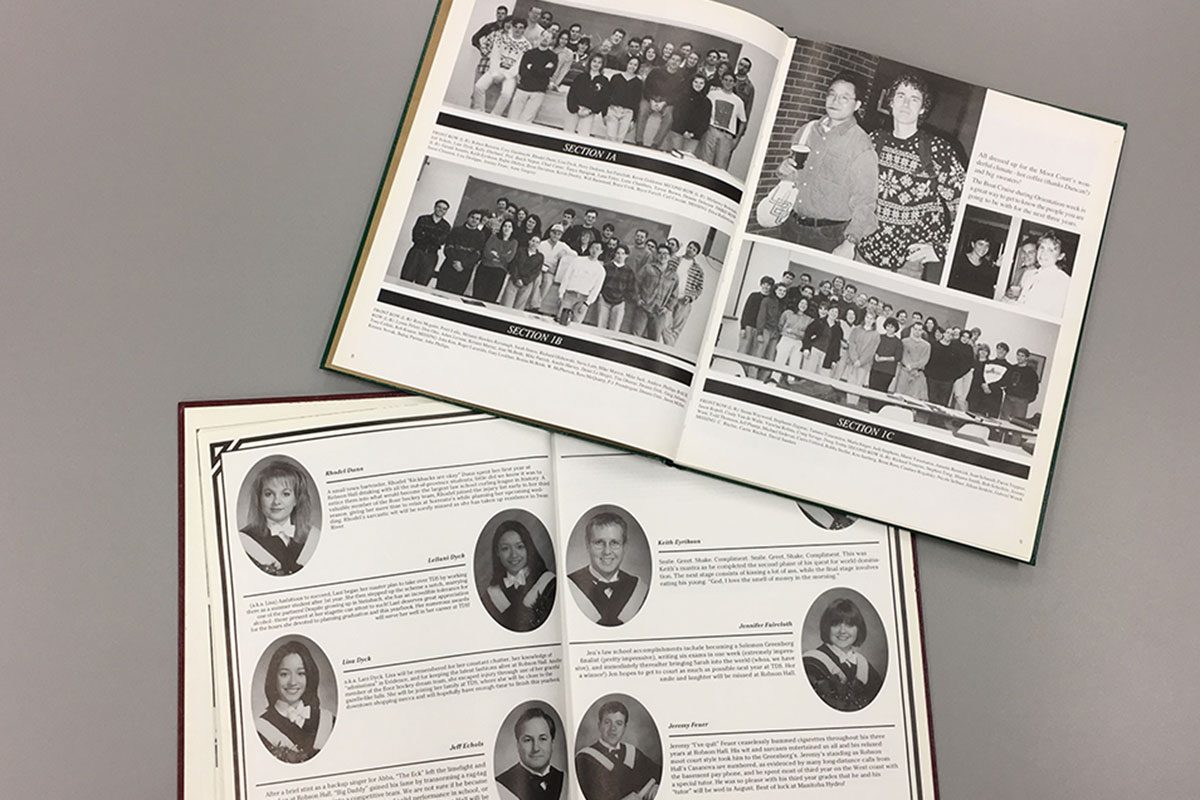 Homecoming Throwback: Law class of 1998
September 24, 2018 —
The year 1998 was one for the history books. Google was founded; Mulan hit the big screen; and Discmen were all the rage.
Most notably, it was also the year 81 aspiring lawyers graduated from the University of Manitoba's Robson Hall Faculty of Law.
In honour of their twentieth graduation anniversary, UM Today tracked down two members of the stalwart group to reminisce about influential historic events, the early days of classroom tech, and the upside of 100 per cent finals.
We caught up with Kevin Dooley, senior counsel at Shell Canada, and Robert Buisson, corporate counsel at Red River College, before their class reunion.
UM TODAY: IF YOU LOOK BACK TO 1998, THERE WAS A LOT GOING ON IN LEGAL HISTORY. DAVID MILGAARD WAS EXONERATED; THE ROBERT LATIMER CASE WAS EVOLVING. DID THAT AFFECT YOUR DISCUSSIONS IN THE CLASSROOM?
DOOLEY: Didn't the O.J. decision come down?
BUISSON: The big legal story – which unfortunately I think was a precursor of the dominance of American media – was the O.J. Simpson decision. They actually wheeled a TV into the common room and CTV brought their news cameras and watched our reaction to O.J. Simpson being found not guilty. The whole class was on TV. There was an older gentleman in our first year and I remember I looked at him and said "for your generation it was the moon landing, and for us it's going to be watching some guy get away with murder". That was a big moment for our year. And the strike.
THE FIRST UMFA STRIKE IN 1995?
DOOLEY: Yeah, our instructors went on the picket line.
BUISSON: We actually continued going to class in people's apartments and homes off-site. It was a great way to get to know your classmates in an informal setting. The Law Society hosted a few classes which garnered some media attention. There was a lot going on. That, and we saved a professor's house during the flood of 1997.
DOOLEY: Yes, John Irvine. He had a log house in the country, a couple hundred feet from the river. When we started sandbagging, we just walked to the house. By the time we were done the bloody river was on his doorstep.
BUISSON: We stopped by the law school first because the assistants had made sandwiches for everyone. We sandbagged all day. John Irvine was the kind of instructor you'd do something like that for. He was a really good instructor, a really nice man. A great storyteller, but you learned the legal principles. That was worth my tuition right there. In the end, his house was saved. It didn't improve my grade any …
DOOLEY: No, not mine either. You'd think he could have thrown us a bone.
IT SOUNDS LIKE STUDYING LAW WAS JUST AS CHALLENGING BACK THEN AS IT IS NOW. CAN YOU TALK A BIT ABOUT HOW YOU RESEARCHED CASES AND DID ASSIGNMENTS?
BUISSON: We were the first generation that had an inkling of the power of the Internet but we learned old school using books and finding citations that would lead us to cases. The Canadian Abridgment, things of that nature. You'd trace the line of cases by reading other cases and then you'd find that case from 1610 that said exactly what you wanted it to say.
DOOLEY: [with English accent] "Lord Blackwell, as he then was …"
BUISSON: But they did give us access to Quicklaw. I think we were the second or third year to get free access.
DOOLEY: I remember we had substantial libraries. I'm guessing that's not the case anymore.
BUISSON: Kevin was actually one of the first students to get a laptop. We were like 'whoa, why would someone bring their computer with them when you could just go to the lab?' Shows how forward thinking we were.
DOOLEY: Yeah, but laptop batteries weren't great. Laptops certainly weren't silent. So after one or two abortive attempts at taking notes I just went back to the pen and paper.
BUISSON: And you couldn't connect to the Internet.
DOOLEY: No, there was no WiFi. Classrooms weren't wired for this stuff.
DO YOU REMEMBER HOW MUCH YOUR LAPTOP COST?
DOOLEY: It would have been certainly over $1,000. I do recall in my last year of law school my total tuition plus books was five grand.
BUISSON: Yeah, I don't even think it was that high actually. Close to five. Compared to now …
YOUR GRADUATION YEARBOOK MENTIONS THAT BOTH OF YOU DID A LESS-THAN-STELLAR JOB OF COACHING FOOTBALL. WAS THIS AN EXTRA-CURRICULAR THING?
BUISSON: There was a law school match that happened in about June of your second year. You would go for interviews, match with a firm, and then you'd know what your firm was after you graduated. In order to look more like humans we would pad our resumes with volunteer activities. Dooley and I coached a football team together.
DOOLEY: That's right.
BUISSON: It was good for our resumes I think but really traumatic for a lot of children. A lot of us did stuff like that together. Again, furthering the lifelong relationships and bonds that we made.
DOOLEY: I think that's a big difference because students today have the craziest life experiences and volunteer experiences. The expectations on them are different than the expectations were on us. They certainly have it harder. Back then you just did whatever you wanted to do during the summer. I was like a guide in costume at Lower Fort Garry. Nowadays you have to have a job in a firm.
BUISSON: Forget articling, you were a very fine blacksmith. No finer blacksmith than Kevin Dooley at Lower Fort Garry, I'll tell you that much.
DOOLEY: Ah, the memories. Can I go back to that – being a blacksmith?
ABSOLUTELY. ANYTHING IN PARTICULAR THAT YOU'RE FOND OF?
DOOLEY: Making spears, hitting metal, not knowing what you're doing.
WHAT DID YOU GET UP TO OUTSIDE OF CLASSES?
DOOLEY: I can't believe the amount of free time we had back then. It was insane. I remember one day we brought our skates and hockey sticks and put them in our locker because we knew we wouldn't have classes that afternoon. We found the nearest rink and played hockey all night. A lot of our exams were 100 per cent finals. You were supposed to keep up on your reading but you didn't really have a lot of assignments.
BUISSON: There were no assignments.
DOOLEY: It was all for the money at the end. So, man, we had a lot of time. Now I look at how little time I have in my life. I have none!
LOOKING BACK AT YOUR ASPIRATIONS WHEN YOU GRADUATED, DOES IT SURPRISE YOU WHAT THE OTHER IS DOING NOW?
BUISSON: Oh, I totally thought Kevin would be a corporate shill and I was completely accurate in my assessment. Not surprised at all! Just after law school we both did corporate commercial stuff and had some files with each other. I remember thinking just how good a lawyer Kevin was being a year out. It's not surprising that he's now got a pretty prominent role at a very large oil company.
DOOLEY: See, Rob, interestingly enough, was probably the most left-winged person in law school. He taught us all union songs. He would sing them on the picket line! And the irony of it all is when he articled he went to one of the most right-wing corporate law firms. If anybody out there was to smash the unions it would have been that firm. It doesn't surprise me that Rob is working in the public sector in education. That's very much where his "bent" was back in the day. What surprised me was that right-wing turn!
BUISSON: In my defense, I was a labour studies student. I learned all about industrial unionism before I went into law school which may have … coloured some of my viewpoints at the time. It's interesting to know I'm where I thought I would be.
DOOLEY: It shows that people in law school come from all different backgrounds with all different kinds of beliefs and everyone got along really well.
IT SOUNDS LIKE A HIGH SCHOOL CLASS, THE WAY YOU ALL BONDED.
BUISSON: Oh yeah. But with less cliques. The great thing about law school is it's a tight knit group. Your classmates become your best friends.
DOOLEY: Yeah, we formed really long-lasting relationships. Except it was done alphabetically. You were put in sections based on the alphabet so all of my law school friends have last names from A to L.
BUISSON: It's absolutely true! There'll be people at this reunion who I don't even remember their names because they're not A to L.
WHAT DO YOU REMEMBER MOST ABOUT YOUR CLASS?
BUISSON: We shared into each other's big moments. One of our classmates had a baby in her third year and that was really cool. Others got married mid-way through and we attended their weddings. We were there for each other, supportive. You really cared about these people and that's not something I would ever had prepared myself for or expected going into law school. I went to get an education and I came out with some of my best friends.
DOOLEY: What I can say with absolute honesty is that I moved to Calgary in 2001, and the only thing I ever felt I left behind – which I absolutely regret – are my friends from law school. And I say that without any hesitancy. Those relationships, I've never been able to reproduce. That was a level of really understanding people and making friendships that under certain conditions never would exist again. So the only thing I really miss are all those folks I left behind. I still miss them all … I miss you Robbie!
BUISSON: This is uncomfortable.
DOOLEY: I'll give you a big hug when I see you!
BUISSON: This is getting really uncomfortable.