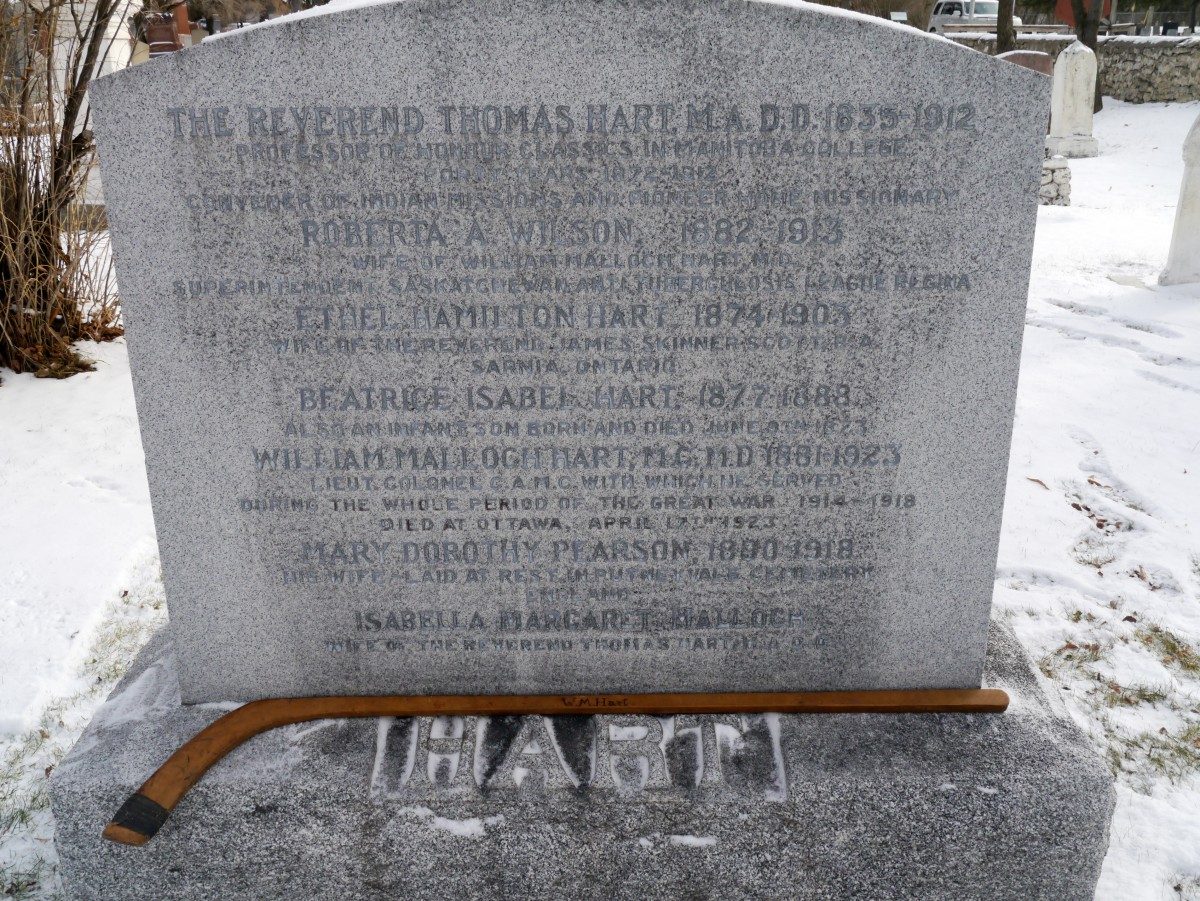 Hockey treasure at St. Paul's College
December 3, 2018 —
The following was written by Bill Wsiaki, a library supervisor at the Fr. H. Drake Library at St. Paul's College. It was originally published in the Winnipeg Free Press on Dec. 1, 2018.
For several years, two sports-related objects sat undisturbed in a display case in St. Paul's College.
One item, a curling broom, belonged to John C. Hanley, a Jesuit priest who taught theology at the college for 21 years, beginning in 1949. He died Oct. 30, 1970. The Hanley Memorial Lecture Series was created to honour his memory.
The second, a hockey stick, was among the few possessions found in the office of the late Jesuit priest Vincent Jensen, who died May 12, 1988.
In 1948, Jensen came to St. Paul's College from Ontario to teach Canadian history. Throughout his teaching career, he served twice as dean of studies and once as rector. He garnered several awards, including the Manitoba Order of the Buffalo Hunt. An outstanding trait of his was his concern and care of students at the college. However, besides being very popular as an instructor with an encyclopedic knowledge of history, he tirelessly tended to pastoral duties. During the 1950s, he was chaplain at Stony Mountain penitentiary. In addition to his ministry, he taught football to the prisoners. So respectful were the prisoners of Jensen that for a number of years, he continued to coach them in football, basketball and hockey.
As a young man, Jensen is credited for having been a superb athlete. He was shy but muscular and stocky. He excelled in boxing, football and hockey. At the Royal Military College in Kingston, Ont., he is remembered as the "little ferocious high school coach." During his early days at St. Paul's College, which had been located on the corner of Ellice Avenue and Vaughan Street, "he was still the star of student-faculty intramural hockey, famous for the thrust of his stick, the jab of his elbows, the speed of his blades."
Did Jensen actually use the hockey stick found, years later, in his office? The stick, circa 1895-1900 and 112 centimetres long from tip to blade heel, was certainly short enough to be a good size for him. But why would he use such an old hockey stick? For sentimental reasons, did he bring it with him to Manitoba from Hamilton where he had first played hockey? What stories can the stick tell us? Does it hold secrets?
The stick is a one-piece design, made out of yellow birch or hornbeam, a popular hardwood used because of its durability. It was likely carved by Mi'kmaq craftsmen and sold by the Starr Manufacturing Co., world renowned for its ice skates. The hockey sticks were sold for playing shinny, an informal type of hockey game played on a street or a pond, and organized ice hockey, which was becoming increasingly popular in the 1890s. During the late 1800s to early 1900s, Starr, located in Dartmouth, N.S., sold a huge number of the sticks across North America. They sold for approximately 39 cents each. In fact, the Mi'kmaq stick was the most popular at the time. By 1903, next to farming, making hockey sticks was the primary occupation for the Mi'kmaq people in Nova Scotia.
The Hart of the matter
Prominently hand-printed in ink on the shaft of the stick is W. M. Hart. Similar to the Moffatt-produced hockey sticks, some speculated that this indicated the manufacturer of the stick. I puzzled over this for months, until one day, upon very close examination of the stick, and by shifting it to catch the light at a particular angle, I noticed some faint, small handwriting:
"W. M. Hart, Man. Coll. Wpg." This was the eureka moment. Those who know the history of St. Paul's College also know that the former SPC building at Ellice and Vaughan once was Manitoba College. The Jesuits had purchased the building in 1931. So then who was W. M. Hart?
William Malloch Hart was born in Winnipeg on April 27, 1881. He was the son of Rev. Thomas Hart and Isabella Margaret Malloch Hart. Thomas Hart, a graduate of Queen's University, came to Manitoba in 1872. He immersed himself in missionary work and taught at Manitoba College, lecturing in Hebrew and French. He became a professor in 1874 and was one of the founders, in 1877, of the University of Manitoba. He is credited with many valuable contributions to the University of Manitoba and Manitoba College. Also, he was a founding member of the Historical and Scientific Society of Manitoba.
William Malloch Hart attended Manitoba College, where he received his arts degree in 1903. He was a proficient student, receiving a scholarship of $80 in third-year classics and involving himself in student governance. While in medical college, he served on the student council executive as president. During his university years, Hart participated in hockey. He may have played only recreationally with Manitoba College, but officially, he served as a timekeeper.
On Jan. 18, 1898, the Inter-Collegiate Hockey Association was formed at the University of Manitoba, consisting of teams from St. John's College, Wesley College, Manitoba College and the Collegiate. At the turn of the 20th century, hockey was becoming a big deal in Winnipeg, with many different leagues and teams being formed locally and nationally. It was in 1903 that the college league first conceived of the idea of measuring their strength with other amateur organizations in the city. Throughout the years that Hart was a university student, according to sports reports in the Winnipeg Daily Tribune, Manitoba College had a formidable hockey team, particularly in 1903. "The champions have not lost a match this season and well merited their success."
Hart graduated, in 1907, from the Manitoba Medical College faculty at the University of Manitoba. Later that year, he entered Adirondack Cottage Sanatorium as a patient. A year later, he became assistant physician. The facility was a tuberculosis sanatorium established in Saranac Lake, N.Y., in 1885.
Soon after, he travelled to Wallingford, Conn., and worked at Gaylord Farm Sanatorium. Gaylord Hospital, recognized for its expertise in the treatment of tuberculosis, was founded in 1902 and provided long-term treatment during the 50 years when the disease was epidemic. In 1910, Hart went to Duluth, Minn., to become the executive secretary of the County of St. Louis Tuberculosis Commission. He did research on tuberculosis, and under his direction, Nopeming Sanatorium was built. While money was being collected to build Nopeming, Hart treated patients at the St. Louis County Courthouse and wrote informative pieces for the Duluth News Tribune in order to create awareness among the public. While living in the U.S., Hart married Roberta A. Wilson from Baltimore, Md.
Near the end of 1911, Hart moved to Saskatchewan, where he did further pioneer work in the campaign against tuberculosis. He was appointed head of the Saskatchewan Sanatorium for Consumptives. He became a driving force behind the Saskatchewan Anti-tuberculosis League formed in 1911. However, as the development of the Saskatchewan Sanatorium neared completion, fate played its hand, and on June 12, 1914, Hart's wife died of a lengthy illness in Regina. On June 13, her body was bound for Winnipeg on the Grand Trunk Pacific Railway line. Meanwhile, storm clouds were gathering over Europe and a war between Great Britain and Germany was imminent.
With the outbreak of the First World War on Aug. 4, 1914, Hart's career lurched in another direction. Likely angry and grieving over the loss of his wife, and as a means of "atonement for his previous pacifism," he immediately applied for a commission either as a combatant or with the Army Medical Services. On Aug. 8, 1914, he enlisted as a private in the Corps of Guides, No.12 Company at Regina. On Sept. 18, 1914, at the age of 33, he filled out Attestation Paper No. 12660 Folio 343 of the Canadian Overseas Expeditionary Force.
Soon after, in Valcartier, Que., he held the rank of sergeant and transferred to the machine-gun section of the 5th Battalion, 2nd Infantry Brigade, which went overseas with the first contingent. Near the end of November, at Salisbury Plain in England, Hart was appointed provisional lieutenant of the Army Medical Corps. In January 1915, he was appointed medical officer of the 5th Battalion, Saskatchewan Regiment, and eventually went through the Second Battle of Ypres, April 22, where chlorine gas was first used.
Rain, cold, continuous heavy shelling, snipers' bullets, lice, millions of rats, sickness, exhaustion, fear, injuries and death surrounded Hart on a regular basis. His diaries describe the thrills, horrors and desperate attempts to bring medical attention to the wounded. While moving near enemy lines, with stretcher-bearers and severely injured soldiers who dragged themselves along, he encountered shell-pitted earth and huge fallen trees blocking the way, and "dead men and horses were in evidence all along the road." Ambulances were not able to get through due to frequent bombardments and obstacles, so Hart was hoping to reach a medical facility, five kilometres away, on foot. However, en route, he was captured by the Germans and became a POW on April 27, 1915. It was the sixth day of attacks on this part of the front line. He was transported to Roulers, Belgium, then the German city of Mainz on the Rhine and finally to Danholdt on the Baltic. He was not able to find out the fate of the men he had been accompanying.
Hart was held captive behind enemy lines for two months. Through a prisoner exchange, he was released and sent back to England in July 1915. In the fall, he returned to active duty at the front with the 3rd Canadian Field Ambulance, remaining 15 months in Belgium and on the Somme.
On Jan. 9, 1917, at St. Barnabas Church in London, Hart, then 35, married Mary Dorothy Pearson from Minnedosa. They had one daughter, Mary Dorothy Malloch, born Dec. 10, 1917. In France, Hart was promoted to major and awarded the Military Cross, which he received at Buckingham Palace in March 1917.
Hart's bravery and achievements were recognized in the University of Manitoba's 1917-18 yearbook by placing him on the University Roll of Honour. Near the end of the Great War, he was promoted to lieutenant-colonel "for conspicuous gallantry and devotion to duty. He displayed great courage and skill in evacuating wounded under most trying conditions. On one occasion, he worked for several hours in the open under heavy fire attending to the wounded."
Near the end of the war, on Jan. 3, 1918, Hart's second wife, Mary, died in Middlesex, England. She was 28. He returned to Canada after the war and was demobilized in January 1920. He settled in Ottawa, as a permanent consultant on pensions to returning soldiers, and as a medical adviser to soldiers with tuberculosis. He remarried, but sadly, on April 17, 1923, just 10 days shy of his 42nd birthday, died of appendicitis. His mother Isabella Margaret Malloch, third wife Barbara Beatrice Ross, daughter Mary Dorothy and cousin John A. Hart were with him at the time of his passing.
His body was transported back to Winnipeg, where he was given a full military funeral at St. Stephen's Presbyterian Church, currently Elim Chapel. He was buried at Kildonan Cemetery. The shock waves of Hart's passing were felt by military and medical communities across Canada. According to the book Four Centuries of Medical History in Canada, written by John Joseph Heagerty and published in 1928, "Dr. Hart's untimely end has caused the deepest regret throughout Canada to anti-tuberculosis workers and the tuberculous ex-service men."
So how did Jensen come to possess the hockey stick once belonging to Lt.-Col. William Malloch Hart? Nearly 50 years separated Jensen's arrival at St. Paul's College from the time Rev. Thomas Hart and son W. M. Hart taught and studied at Manitoba College. W.M. Hart graduated in 1907 and left Winnipeg later that year. His father died in 1912.
It can only be surmised that W.M. Hart left his hockey stick with his father. Being a professor at Manitoba College, Thomas Hart would have had an office and perhaps kept it there until his passing. Several years later, when the students and faculty vacated the premises purchased by the Jesuits, miscellaneous items, including the hockey stick, likely gathered dust in some room along one of the many rambling corridors of the large gothic-style building. When Jensen arrived at the college, still years later, either he discovered the stick himself, or somebody else who knew Jensen played hockey gave it to him.
Being the astute Canadian historian that he was, he certainly could have figured out who once owned the hockey stick and further ascertained the contributions of the Harts. After all, the City of Winnipeg had paid tribute to Thomas Hart by naming a street after him in 1904.
Maybe Jensen kept the stick, until the end of his life, as a testament to W.M. Hart, a former Canadian student whose impressive medical achievements made a difference to those suffering from a terrible disease, a young man who had displayed enormous courage by trying to save lives on a battlefield in Europe. The one-piece stick may have inspired Jensen, in his own way, to also make a difference in people's lives, by going above and beyond in teaching students and ministering to prison inmates.
Jensen was extremely sensitive and might have appreciated the connection of the hockey stick to Thomas Hart, who had been a leading member of the Presbyterian Church in Manitoba and a professor of classics and known by his colleagues and students as a scholar, teacher and friend.
Or perhaps, when he held the stick in his large gardener's hands, it reminded him of simpler times, when he himself was an agile young hockey player, gliding over the ice with fire in his eyes, burning with the same passion he once had in the boxing ring.