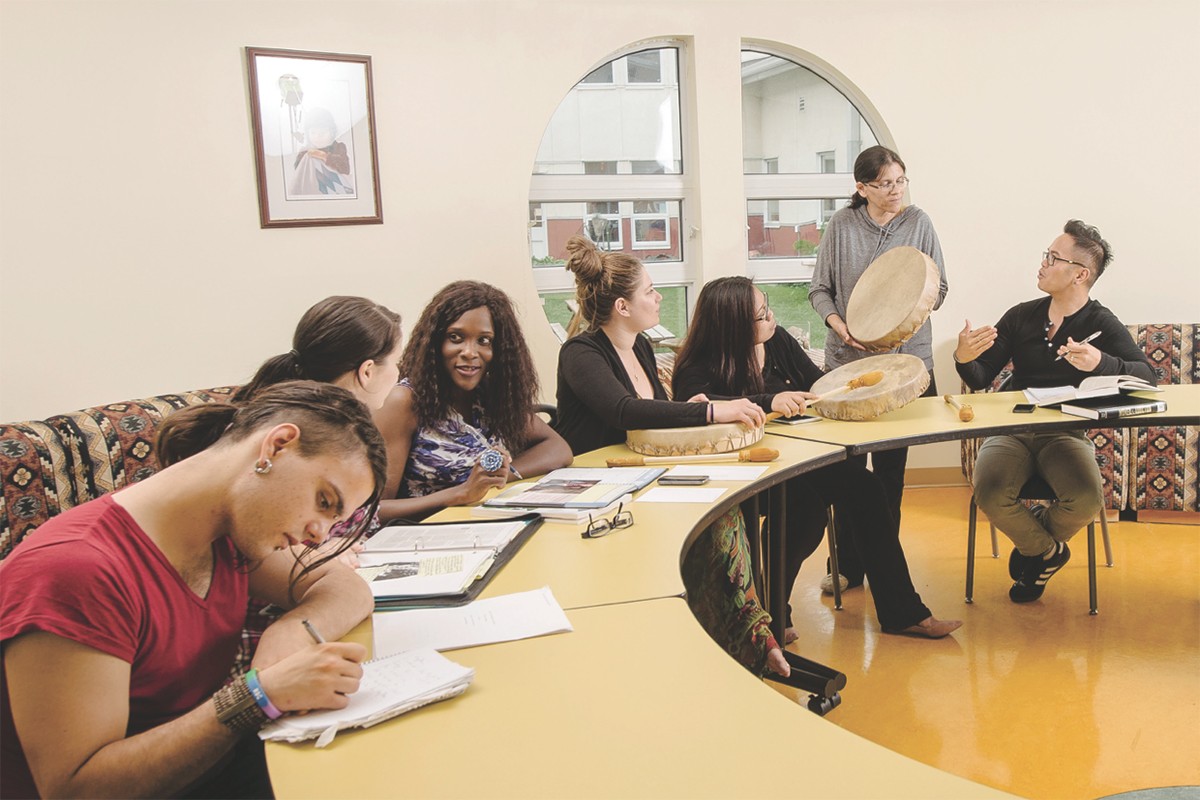 History to be made when Indigenous Education Blueprint adopted by education sector on Dec. 18
December 15, 2015 —
When the historic Indigenous Education Blueprint is signed on Dec. 18 by all of Manitoba's post-secondary institutions and the province's public school boards, Manitoba will become a leading global centre of excellence for Indigenous education, research, languages, and cultures.
The Indigenous Education Blueprint – formally the "Manitoba Collaborative Indigenous Education Blueprint For Universities, Colleges and Public School Boards: Making Excellence in Indigenous Education a Priority" – offers our province a new way forward, taking action on the Truth and Reconciliation Commission's recommendations.
This transformational framework is the result of an unprecedented partnership between Manitoba's public school boards and the post-secondary education sector, now united in their efforts to advance Indigenous education and reconciliation. As the process moves forward, more partners will be sought.
"This new partnership has the potential to fundamentally change our society," says David Barnard, chair of the Council of Presidents of Universities of Manitoba, and the President and Vice-Chancellor at the University of Manitoba. "Reconciliation requires societal change and societal change is propelled by education. For the first time, all parties in Manitoba's education sector have united their efforts on this front and together, we will work with stakeholders to make Manitoba a centre of excellence in Indigenous education."
This new collaborative endeavor will continue to grow as more stakeholders and community groups are asked to join in the education partnership.
Next steps include action items such as establishing a steering committee with all signatories, creating a collaborative website and social media platform, and hosting an Indigenous education conference.
"This monumental undertaking will help transform our province by celebrating Indigenous success, and helping to heal and reconcile the wrongs of the past," says Deborah Young, Executive Lead of Indigenous Achievement at the University of Manitoba. "The depth and extent of this collaborative effort will create pathways and safe spaces in our education institutions for Indigenous students and, remarkably, we are only just getting started. This partnership will grow in membership and mandate, strengthening our province's ability to close the gap between Indigenous and non-Indigenous peoples."
The educational partners who will sign the historic Blueprint in Migizii Agamik – Bald Eagle Lodge, at the University of Manitoba, include: University of Winnipeg, Brandon University, Université de Saint-Boniface, Canadian Mennonite University, University College of the North, Red River College, Manitoba Institute of Trades and Technology, Assiniboine Community College, Manitoba School Boards Association, and the University of Manitoba.
The University of Manitoba also recently signed a Memorandum of Understanding with the Treaty Relations Commission of Manitoba (TRCM). The MOU will enhance learning experiences for students, staff, and faculty relative to Treaty and Treaty related matters. By entering this new formal relationship, the U of M and the TRCM will bolster Treaty education by sharing their expertise with each other to the benefit of all.
Indigenous Achievement is an institutional priority of the University of Manitoba, and is one of the five pillars of the University of Manitoba's $500-million Front and Centre comprehensive fundraising campaign . By collaborating with Indigenous communities and stakeholders, the University of Manitoba is rebuilding trust in the current education system, striving to be a welcoming place that translates into success for Indigenous students and their families.