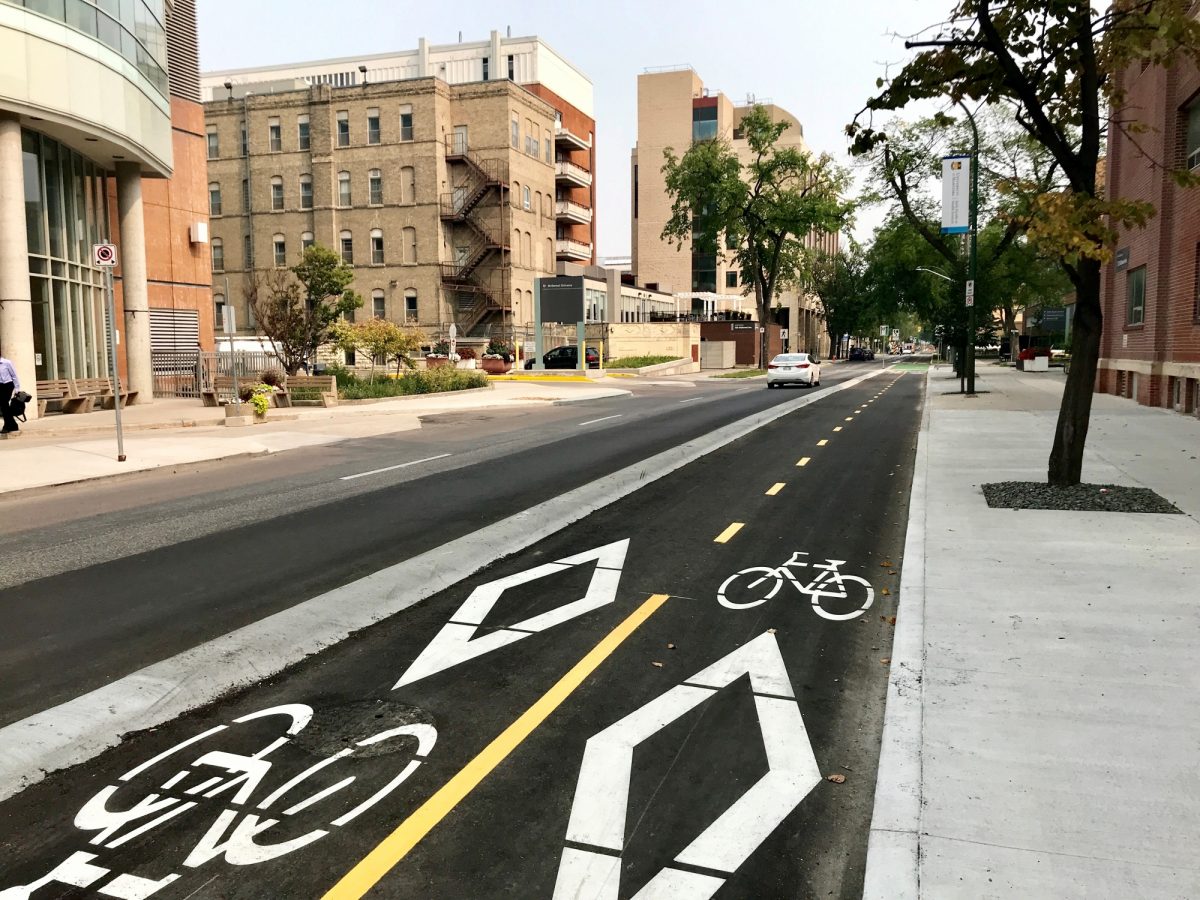 Highlighting campus transportation
2020 Campus Commute Survey results now available
June 22, 2020 —
Every second year, the Office of Sustainability, along with the Green Action Centre, collects data on how University of Manitoba (UM) community members travel to and from our campuses.
Sustainable transportation systems make a positive contribution to the environmental, social and economic sustainability of the communities they serve. Receiving feedback on and finding out more about the UM community's transportation patterns provide insight into how we can continue creating safer, more accessible and reliable transportation options.
A total of 3,701 respondents completed the January 2020 survey. Of those, 61 per cent were students (undergraduate and graduate), 30 per cent staff and 10 per cent faculty members.
Sustainable transportation options, such as transit and carpooling, continue to be heavily used by students. Fort Garry student respondents reported a much higher use of transit (39 per cent), compared to Bannatyne campus students at 18 per cent.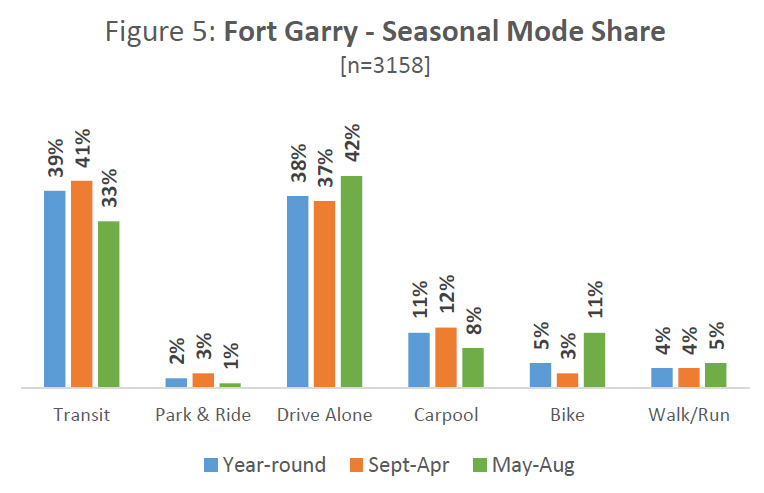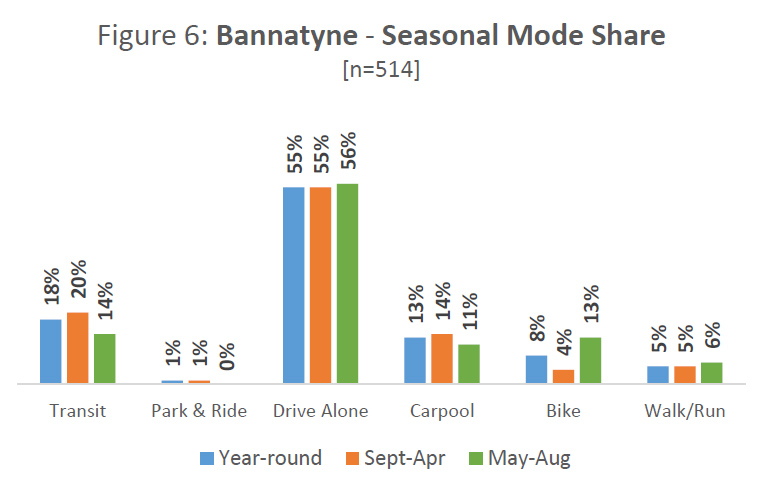 When it comes to carbon emissions, the average number of kilograms of CO2 per person has declined, compared to the previous two survey results, from 839 in 2016 to 763 in 2020.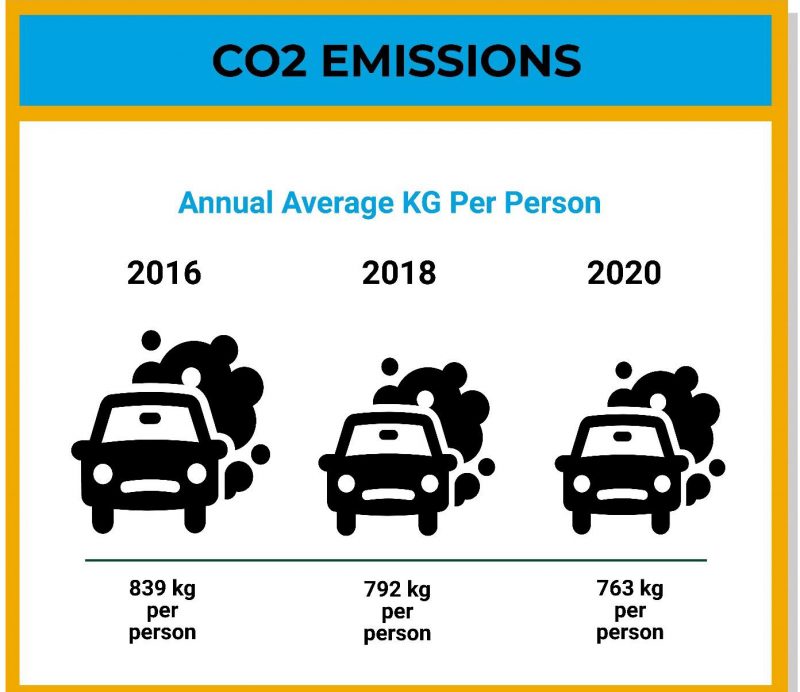 The survey identified commuters' preferred methods of transportation, which may not reflect their current transportation method. For all Fort Garry respondents, transit is the preferred mode of transportation (49 per cent), with significantly more interest in carpooling (28 per cent) than existing use (11 per cent). Interest in cycling (24 per cent) is almost five times higher than current use, with interest in walking/running close to triple.
Preference for transit (34 per cent) and carpooling (29 per cent) was also high among Bannatyne respondents. Cycling is particularly appealing, at nearly four times its current use. Unlike Fort Garry respondents, there are more campus members driving alone (55 per cent) than would prefer to do so (38 per cent), representing an opportunity to switch to a more sustainable mode of commuting.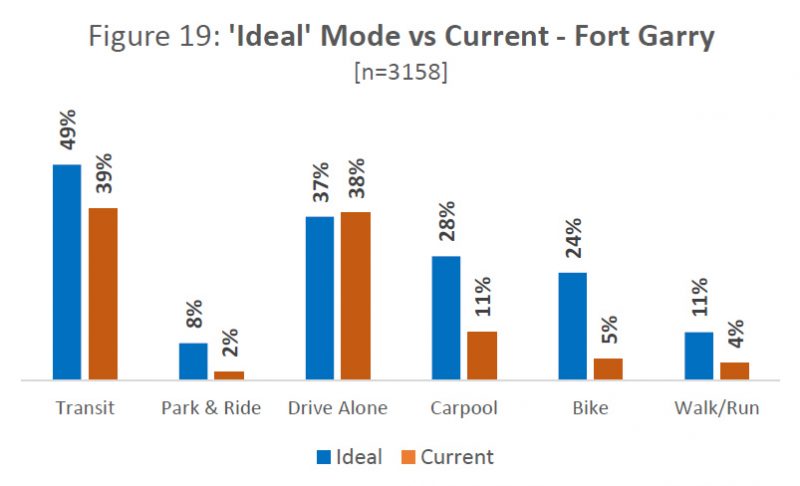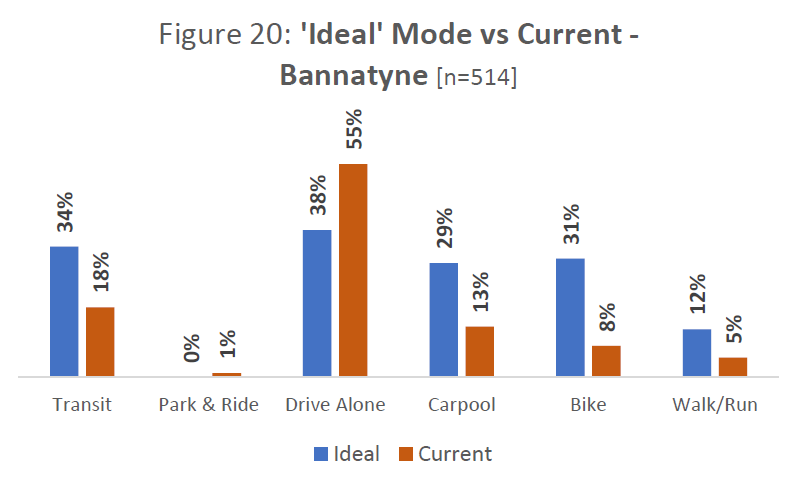 Respondents were also asked for feedback on potential improvements to UM's current transportation systems as well as what influences their commute choices. The top five, ranked, include:
increased frequency and space on buses
more direct transit routes to and from campus
improved walking and cycling infrastructure
more flexibility in parking permits
additional secure bike parking
Many respondents were familiar with existing resources and programs like the Student Transit U-Pass and secure bike lock-up services; however, many services remain underutilized, like:
GoManitoba (online carpool matching site)
staff bike fleet on Fort Garry campus
moped / motorized scooter parking areas
flexible scheduling for staff (position-dependent)
accessible van (Student Accessibility Services)
Data and feedback from the 2020 survey responses continue to inform recommendations to better support UM students, staff and faculty. Feedback from previous years has been able to introduce and catalyze a new flexible parking pass option for students during the 2019-2020 year. Recommendations from this year's survey include the following:
a subscription for staff and faculty to Winnipeg Transit's EcoPass program
continuation of expanding secure bike parking
sharing of transit-related survey results with Winnipeg Transit to demonstrate the high levels of interest and increase reliability
Based on survey feedback, the Office of Sustainability, in partnership with Campus Planning Office and Physical Plant, continue to update the action items outlined in our campuses' Sustainable Transportation Strategy. This could lead to benefits for the entire UM community like fewer greenhouse gas emissions, improved mental and physical health, better air quality, less traffic congestion and cost savings.
Visit the Office of Sustainability website to learn more about other transportation or sustainability goals and for more details about the Campus Commute Survey.