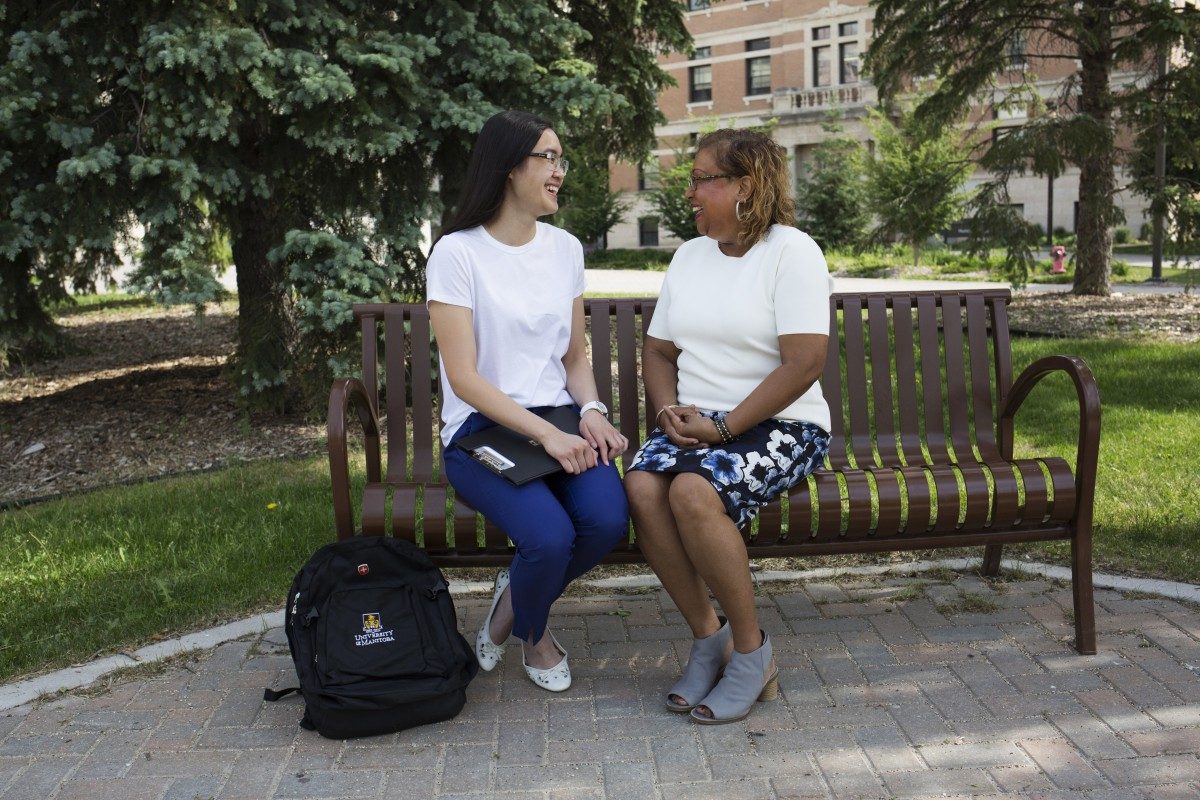 Helping wellness succeed
Goal is to improve university's campus mental health strategy
March 27, 2018 —
Five grants have been awarded to enrich the University of Manitoba's campus mental health strategy.
The inaugural Success Through Wellness Grants of up to $10,000 were awarded to projects that engage the campus community to foster positive mental health and well-being, and create a supportive campus environment.
Seema Goel, STEAM coordinator at the Faculty of Science, received one of the grants for the STEAM Therapy program.
Making use of many materials STEAM touches on, the program will provide an opportunity for students, staff and faculty to have drop-in sessions of drawing, fibre arts and building small objects with links to science. The sessions will allow participants to connect with the materials, meet new people and find new interests. The activities will also reduce stress, improve concentration, increase neuroplasticity and more.
"STEAM itself is already a reconsideration of the acronym STEM – Science, Technology, Engineering, Math, plus Art – [and] this approach to activity and mental health is a twist where we understand the value of creativity and making in connection with the body and how to restore ourselves," says Goel. "[It has] an added spin of figuring out the science connection with the activity."
The other winning proposals came from the Faculty of Agriculture and Food Sciences, Desautels Faculty of Music, the Office of Sustainability and Student Accessibility Services.
The successful proposals are:
Brain Food Dinners
Proposal submitted by Maureen Cooper, student, Faculty of Agriculture and Food Sciences
There is increasing evidence that emphasizes the correlation between proper nutrition and mental health status. Brain Food Dinners are a new initiative that will take place once a month at the University of Manitoba campus. During the dinners, participants (students, staff and members of the community) will prepare and eat a healthy, balanced and delicious meal together. Participants will have the opportunity to try new recipes, learn healthy ways to feed their body and mind, and make new friends in a relaxed, fun and supportive setting.
Music and Wellness Speaker Series
Proposal submitted by McKenzie Warriner, student, Desautels Faculty of Music
Students in the Desautels Faculty of Music face unique wellness challenges related to their studies. To respond to this need, the Desautels Faculty of Music Students' Association (FMSA), with the support of students at large, will organize a speaker series to provide music students with innovative strategies for maintaining their physical and mental wellness both during their studies and throughout their careers. The expert speakers will address a range of topics, from performance enhancement to body awareness, which will be relevant to as many musical disciplines as possible within the faculty.
Restorative Spaces at U of M
Proposal submitted by Leanne Shewchuk, director, Office of Sustainability
The Office of Sustainability will work with other departments, student groups and the National Centre for Truth and Reconciliation (NCTR) to locate, enhance and communicate restorative spaces on Fort Garry campus. Using available natural elements such as boulders and tree stumps, along with simple markings and artistic elements, staff, students and faculty will be encouraged to takes a break in restorative spaces on campus. Communications and accessories will support opportunities for reflection, creative outlets (using chalk, existing public art, and other creative use of space) humour, and reconnection to our natural world.
STEAM Therapy
Proposal submitted by Seema Goel, STEAM coordinator, Faculty of Science
The use of art and art therapy as valuable to health is well documented and increasingly part of our understanding of public health. From meditation and mindfulness to music, theatre, dance, and the visual arts, we increasingly see the value of the arts on improving the well-being of people and their ability to cope with stress and the isolation of contemporary life. Some examples of the workshops that will be planned through the STEAM Therapy program include beading as engineering, anatomy drawing and hyperbolic crochet.
SAS Student Mentorship Program
Proposal submitted by Eleni Wener, accessibility advisor, Student Accessibility Services
The Student Accessibility Services (SAS) student support program will be an additional resource for students registered through Student Accessibility Services. Upper-year SAS student support mentors will be trained to answer imminent questions, point their mentee in the right direction, ease their concerns or book a student meeting with an advisor/specialist. This program will promote a healthy and responsive community and provide caring and committed support to our SAS student community.
Success Through Wellness: University of Manitoba's Campus Mental Health Strategy was launched in February 2014, and is the guiding document for the enhancement of the campus community to promote and support mental health and well-being at the University of Manitoba.
For more information on supports and resources for mental wellness at the University of Manitoba, visit the Live Well website.