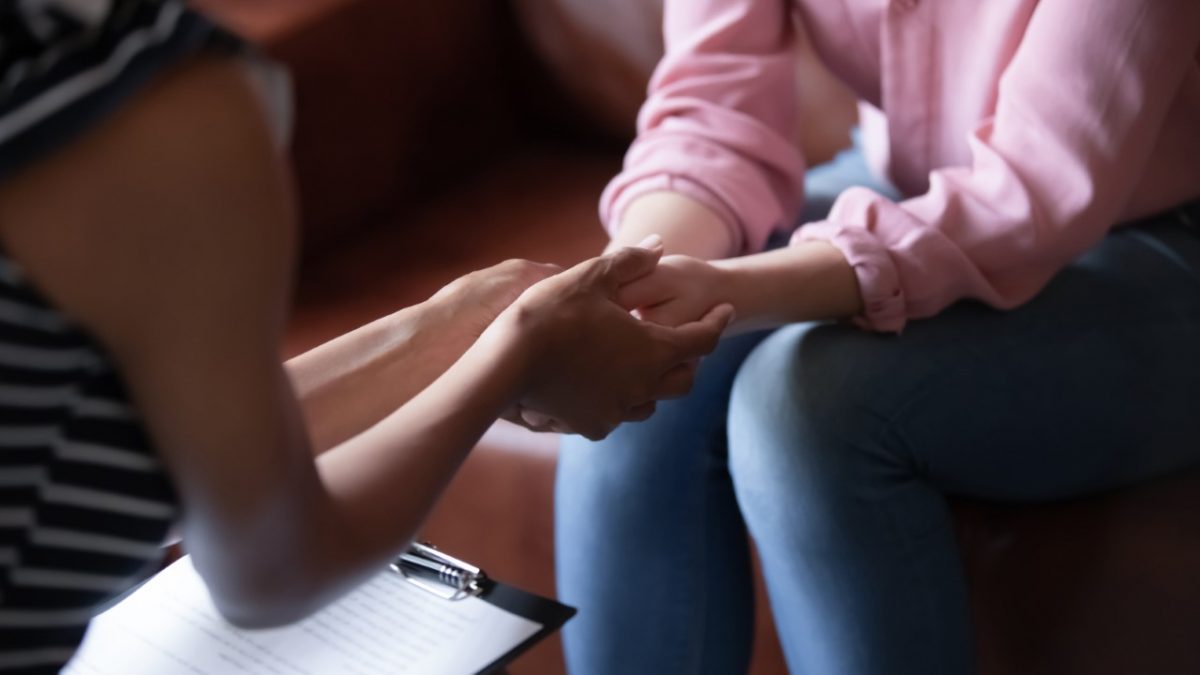 Helping others helps us too, this Bell Let's Talk day
January 26, 2022 —
The conversation around mental health will take centre stage during the 12th annual Bell Let's Talk campaign Jan. 26. This occurs at a time when many are feeling heightened stress of yet another surge in COVID-19 cases due to the Omicron variant, a return to remote working/learning and on top of it a bout of especially cold and snowy winter weather.
UM Today spoke with Dr. Andrea Piotrowski, assistant professor in the department of clinical health psychology, Max Rady College of Medicine and regional medical specialty lead for clinical health psychology with the WRHA, about the mental health impacts people are facing right now and ways to keep your mental health on track.
What kind of effects are you seeing on the mental health of people in Manitoba with the COVID-19 pandemic dragging on as we near two-years in?
We've heard a lot about not only COVID fatigue, but caution fatigue, which are slightly different from each other. Many people are just tired of COVID and want things to be back to normal. Caution fatigue, on the other hand, occurs when people are getting tired of following the restrictions intended to reduce the risk of contracting or transmitting COVID. People's reactions to the pandemic will vary with some who struggle with making adjustments and others who 'go with the flow.'
Overall, there have been numerous Canadian surveys throughout the pandemic showing higher rates of self-reported symptoms of depression and anxiety. Not only have people struggled with the uncertainty of the pandemic, but also with financial loss, increased isolation and illness.
What are some things people can do to maintain or improve their mental health?
Many people will already be familiar with or engage in activities that they have found helpful throughout the pandemic. Research has also provided us with helpful strategies to better manage our mental health.
Maintaining a good routine. Although it might seem basic, focusing on good eating habits, exercise, and getting enough sleep is important in managing stress, anxiety, and depression.
Mastery & accomplishment. Engaging in pleasurable activities and those where mastery can be achieved can be helpful. These include activities where you can see the end product and feel the accomplishment, such as learning a new language, playing an instrument or baking. We can remember at the beginning of the pandemic, sour dough bread was all the rage and yeast was hard to find!
Connecting with others. Connections with family and friends is important though sometimes challenging to maintain during a pandemic with restrictions. Take the opportunity for virtual visits or game nights with family and friends. My fiancé and I play cribbage with our parents and other games with our siblings virtually, which has led to even more visiting than prior to the pandemic.
Helping others. We know from the literature that being altruistic or helping others actually helps to improve our own mood. Giving to others could include shoveling your neighbour's driveway or making a phone call to somebody who might be lonely.
What do you think is the benefit of public campaigns such as Bell Let's Talk day?
These types of public campaigns can help to reduce stigma. There has not been a time when we've heard so much about mental health. Someone who is struggling may feel validated and not so alone with all the media coverage on mental health.
These campaigns also often highlight a broad range of mental health resources, based on a person's level of need. These resources can include self-help books and websites, peer support organizations, ways to access mental health specialists (e.g., psychologists or psychiatrists) and crisis services.
In the meantime, while we are in this pandemic, it can be helpful to acknowledge that we are in it together and scientists are learning more in an effort to bring this pandemic to an end. We are in a much different place than we were in March 2020 and we continue to make strides while living during this 'temporary normal.'
Resources:
What is going around UM: Bell Let's Talk 2022–supporting ourselves and each other
Sara Riel Mental Health & Addictions offers the Seneca Warm Line as a dedicated 24-hour Telephone Service to Manitobans struggling with issues which affected their mental health and wellness.
The Red Cross: Taking care of mental health during COVID-19
Anxiety Disorders Association of Manitoba
Mood Disorders Association of Manitoba
Centre for Addiction and Mental Health