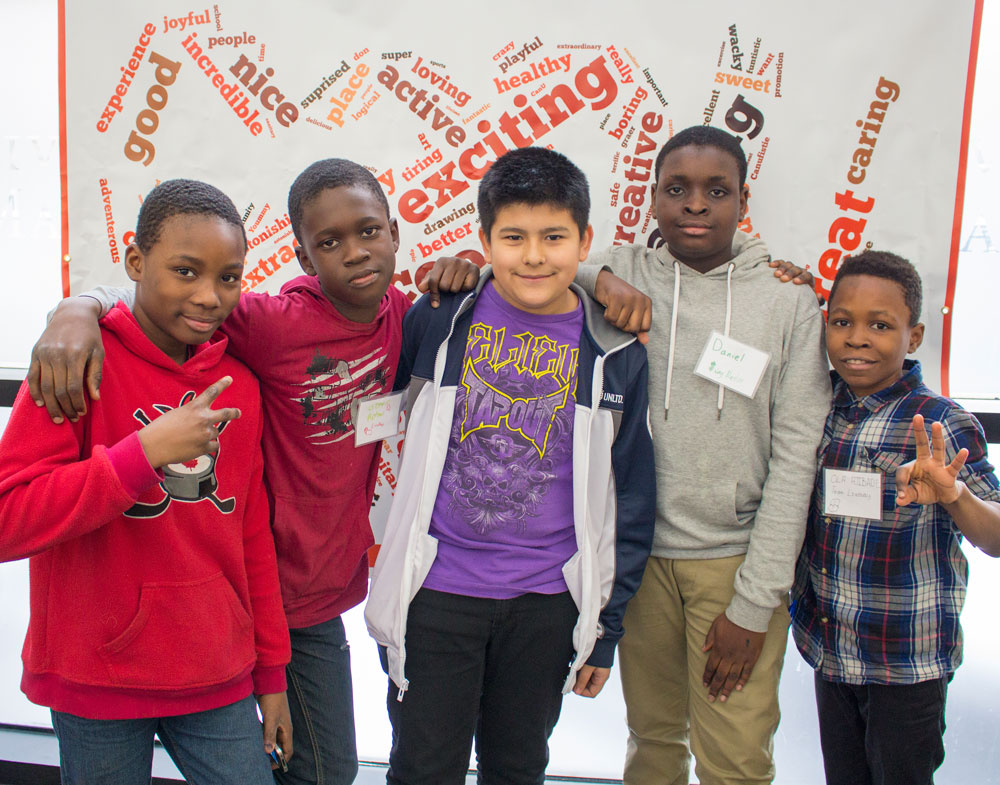 Health Sciences' student-led initiative reaches success
April 6, 2015 —
Daniel is a Grade 7 student at Acadia School. He recently decided he wants to be a doctor when he grows up. He did try his hand at dentistry, even filled a cavity; and pharmacy, where he learned how to make sunscreen and label bottles, but ultimately he wants to study medicine and help people.
The 12-year-old is one of 44 kids who participated in a 14-week after school pilot project called CanU Reach, held weekly at the Bannatyne Campus. The Faculty of Health Sciences' student-led initiative is an offshoot of the CanU program which runs out of the U of M's Fort Garry Campus.
"It's very good," says Daniel, when asked what he thought of the program. "Last year I went to Dalhousie and some kids went through the program and I wanted to go too. I think this is really nice for me."
The hands-on, interprofessional workshops were designed and facilitated by medical, dentistry, occupational therapy, and pharmacy students; over 100 Faculty of Health Sciences students volunteered throughout the 14 weeks.
Many of the students live in the south end of the city and are bused in by a volunteer driver; a group of six high school student volunteers chaperon the younger kids and lead them to their sessions while on campus. Lauren Martens, program coordinator and Med II student, says the pilot project was a great learning experience that went beyond figuring out logistical factors and recruiting volunteers.
"I really appreciate the chance to see what other Colleges do and what they're showing the kids," she says. "Prior to last year I had limited knowledge with what physiotherapy and occupational therapy students actually do. For me that was beneficial."
CanU Reach is the result of a series of coincidences, says Roger Berrington, executive director for CanU. At the program windup party the U of M alumni recalled a conversation he had with Fatima, a Grade 6 student who wondered what she would do the following year as CanU is only offered to grades 5 and 6.
"Fatima came up to me last year…she said 'Roger, is there a CanU program for Grade 7 Kids?' It got me thinking, 'Yeah, we need to get something going for the Grade 7 children,'" Berrington told the crowd of students and volunteers, adding: "You all owe Fatima an expression of gratitude."
Around the same time Fatima has posed the question, Shilpa Alex (then a Med I student) was thinking of ways medical students could become more involved with the community that neighbors the Bannatyne Campus.
"When I started medicine last year, I was running for the Global Health Liaison position, and part of that position involved planning the Rich Man Poor Man dinner but I wanted to add to the portfolio," says Alex, now in her second year of study. "I thought to myself, I really want to do something more and reach out to the community around us and build a connection with them."
She came up with a concept of an after school program and called it "Reach." She took her idea to Karen Cook, community engagement coordinator the in the department of community health sciences (College of Medicine), and the pair reached out to Berrington who was known to Cook through the highly successful CanU program.
At the windup event, students from each of the Colleges, volunteers and participants were invited to speak and share personal highlights.  Chris Ward, volunteer and a second-year dentistry student encouraged the kids to be proud of what they've learned; reminding them of the four different skills they covered during the dentistry sessions: mirroring and indirect vision; making impressions; polishing; and filling teeth.
"A lot of us students have long days and the opportunity to come and hang out with you after those long days was an opportunity to refresh and it's because you showed such intent to learn and to be there, a thanks to all of you," said Ward.
Just before the kids were given the go-ahead to hit up the ice cream sundae bar, they heard from a Grade 7 student named Pricilla, who referred to the last 14 weeks as, "fun and enlightening."
"During my time at CanU Reach I learned a lot of things about medical science, which is what I want to do when I grow up," she said. "For me it was not just a place where I could learn about medical sciences, but a place where I could also meet new friends and mentors. It has taught, challenged and inspired me not only to become a better person, but to become a better member of society."