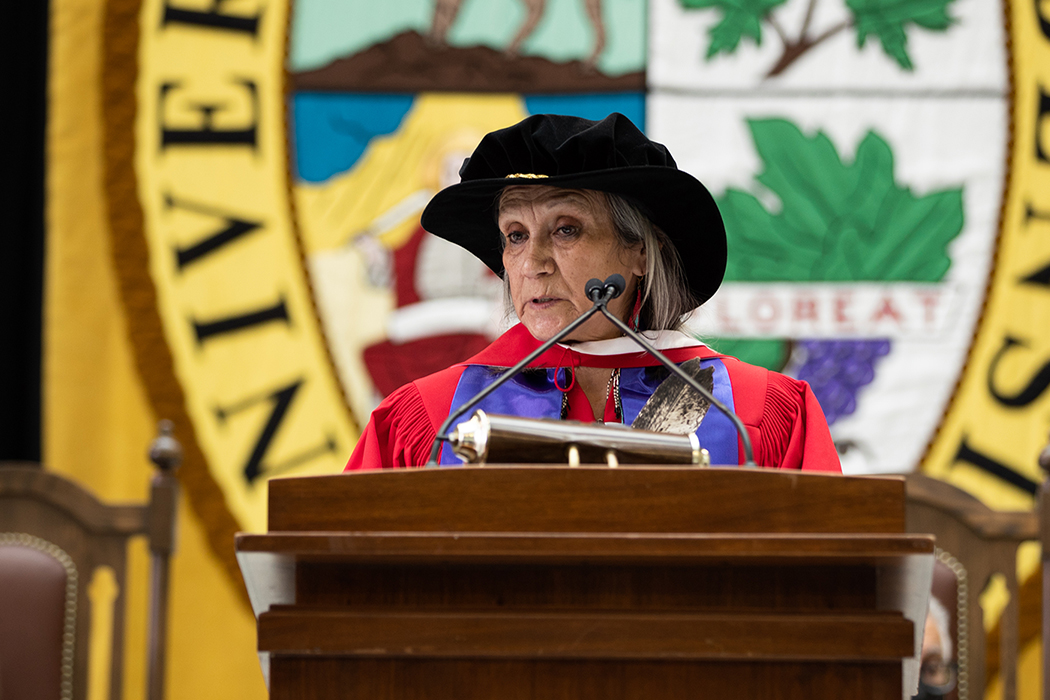 HD recipient Mary Jane McCallum: 'Advocate for a better, healthier and more just life for all Canadians'
May 26, 2022 —
At the 143rd Spring Convocation, Dr. Mary Jane McCallum encouraged the graduating dental and dental hygiene students to continue pursuing knowledge and wisdom so they can give back to society to make it a better place for those who aren't yet born.
McCallum, who graduated from the University of Manitoba with her dentistry degree in 1990, is believed to be the first Indigenous woman in Canada to become a dentist.
"We acknowledge that all humans regardless of race, colour, religion come from a heritage of strength, and that we use that strength to advocate for a better, healthier and a more just life for all Canadians," McCallum said during the convocation address. "We have the capability to contribute to that."
McCallum told the graduates that with passion, energy and responsibility, they can create a collective momentum. She said that collective action is needed now, especially considering the climate disaster.
"The more we think of ourselves as living ancestors to the generations yet to come, the more we respect the roles that we play today," said McCallum, a member of the Canadian Senate since 2017.
The university conferred an honorary Doctor of Laws degree upon McCallum for her extraordinary impact as a champion for health care in northern and Indigenous communities, as a social justice advocate and an Indigenous leader. Dr. Marcia Anderson, vice-dean Indigenous health, social justice and anti-racism, Rady Faculty of Health Sciences, presented McCallum with an eagle feather.
The ceremony for the Dr. Gerald Niznick College of Dentistry and the School of Dental Hygiene took place on the afternoon of May 19. The ceremony for the Max Rady College of Medicine took place that morning.
The Brodie Centre atrium on the Bannatyne campus was the site for the first in-person convocation since 2019. The ceremonies were like those of the past, but the only difference was that the wide smiles of graduates, family and friends were hidden behind masks.
UM President and Vice-Chancellor Dr. Michael Benarroch said that what this group of graduates has experienced in the past two years is historic.
"You have endured two years of a global pandemic, demonstrating remarkable resilience and commitment," Benarroch said. "Your generation has been tested like few others before, and because of this, I know you are all graduating today as exceptional professionals who have developed courage and a compassion that we cannot easily replicate outside of these extraordinary times."
At his final Convocation before retiring as dean of the Rady Faculty of Health Sciences and Max Rady College of Medicine, Dr. Brian Postl challenged the graduates to provide equitable care.
"I think the question for you as new graduates is how do you find ways to serve that population because that's where a significant amount of need exists," he said.
UM Chancellor Anne Mahon encouraged the graduates to broaden their definition of service.
"Throughout the pandemic we have truly learned that we are all interconnected and we all need each other," she said. "Service is more important than ever as we work together to reestablish the connections that have been lost in the last two years and to return us to each other."
The ceremony saw 29 dentistry graduates, seven International Dentist Degree Program (IDDP) graduates and 26 dental hygiene graduates cross the stage on the next step of their careers.
Vidhi Patel, a dental hygiene graduate, said her time at UM and the memories she made hold an important place in her life.
"During the clearance process, when I was handing in keys and emptying my locker, it was a bittersweet moment," Patel said.
Aaron Quach, a dentistry graduate, said that after nine years in university he is relieved to be done.
"The hard work is tough as you're going through it, but it's the good memories that are remembered afterwards," Quach said.
May Taha, an IDDP graduate, is happy that the hard work and years of studying has paid off.
"I am proud to achieve my goal and resume the career I'm passionate about," Taha said.