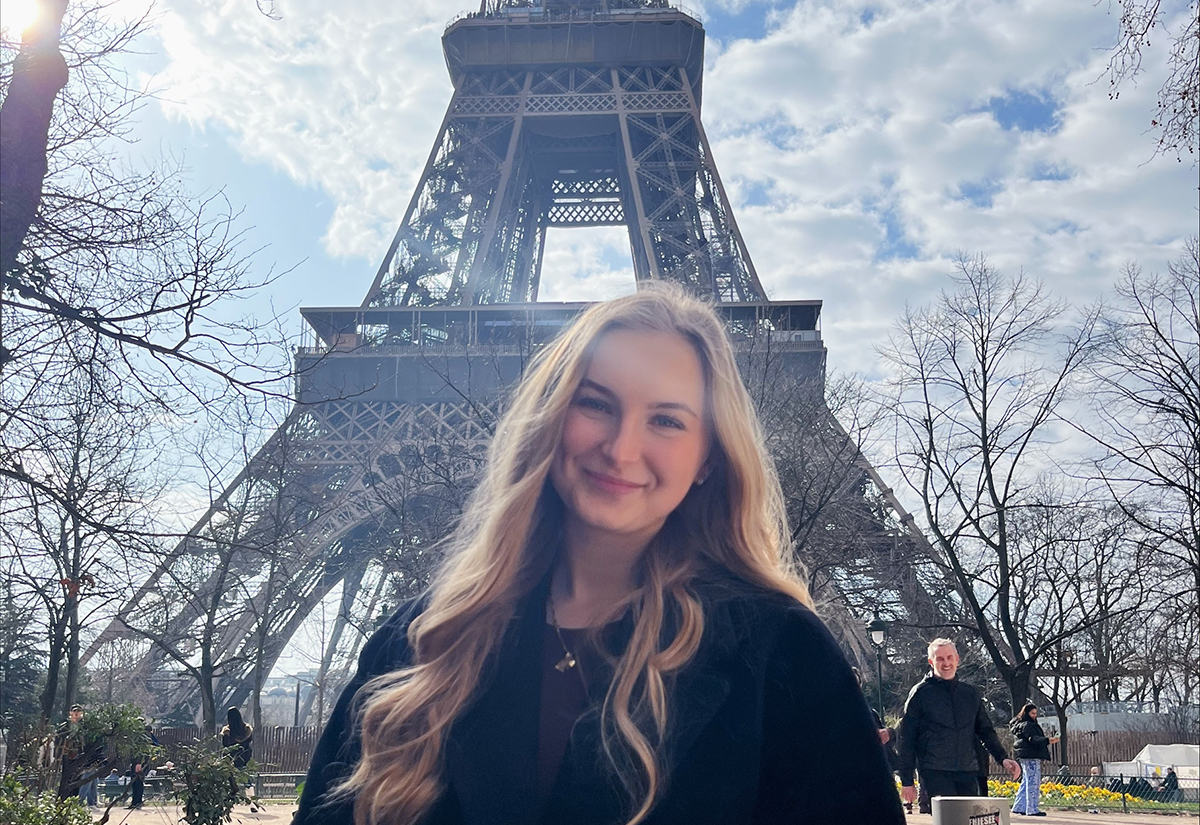 Hartley T. Richardson International Travel Bursary allows Asper business student to achieve her dreams
November 15, 2023 —
When applying to university, Melisa Miljkovic wanted to pursue a degree that offered flexibility and allowed her to do many different things. The I.H. Asper School of Business had exactly what she was looking for, and she's now working toward a double major in International Business Studies and Supply Chain Management and Logistics, a career path inspired by her parents.
"My parents got their degrees and did all their education in Croatia, and came to Canada after the Bosnian Civil War," she says. "They had to do a little bit of extra schooling and basically rebuild their life, but they eventually started their own business in freight forwarding. I look up to them a lot, and whenever I'm in doubt, I ask them for advice."
Another part of the I.H. Asper School of Business that drew Miljkovic's attention was the International Exchange Program, which allows students the chance to study at one of over 60 business schools around the world.
"My parents also always spoke so highly of their education overseas, and it made me want to experience it for myself," she says.
But to be able to go on the exchange program, Miljkovic had to make some serious financial decisions. Because she was going to be gone for months, she had to quit her job. Without that source of income, she worried about how to cover tuition, travel and the cost of living. Through school, she was able to apply for the Hartley T. Richardson International Travel Bursary.
"This bursary helped me so much stress-wise. Between the pandemic and the rise of inflation, I had to balance and work two jobs while still being full-time in school, so that I could save extra money," she says. "Having the extra money from the bursary relieved me of my stress. I knew I had that extra safety on top of my savings, which helped me to focus more on school."
The Hartley T. Richardson International Travel Bursary provides students with transformative educational experiences that shape their personal and professional lives, fostering a lifelong appreciation for cultural diversity and global citizenship.
"Having the opportunity to do the Asper exchange program was a super eye-opening experience. I was not only able to continue my education, but along the way I learned about different cultures and more about myself," she says.
Miljkovic says one of her biggest takeaways from this experience is the difference between schooling and lifestyle in terms of work-life balance.
"I am constantly on the go and always have back-to-back assignments and just don't really have time to breathe," she says. "When I got to England, I was able to prioritize learning the content rather than having to rush through assignments, which helped me really retain what I was learning. I also learned to achieve a work-life balance."
Since its establishment, this bursary combined with the Hartley T. Richardson Bachelor of Commerce Bursary has provided $70,000 to support 14 deserving students.
"There's so many people who want to get an education, but they can't because they don't have the financial means. They're constantly in this cycle of prioritizing work so that they can get into school, but end up not getting a proper education because their focus is on work rather than school," says Miljkovic. "Scholarships and bursaries help give individuals some financial relief, allowing them to focus more on their education to build a better life. This bursary had a great impact on me both emotionally and academically. I'm extremely thankful for the opportunity to have that support and to be chosen to receive this bursary."
The bursary is part of the Hartley T. Richardson Student Support Fund, which was established by family, friends and fellow UM alumni in 2019 in honour of Dr. Hartley T. Richardson [BComm(Hons)/77, LLD/04] receiving the International Distinguished Entrepreneur Award (IDEA). Dr. Richardson is the President and CEO of James Richardson & Sons, which has a decades-long partnership with UM. The philanthropic spirit of the company's giving arm, the Richardson Foundation, has had a wide reach across UM, funding the renovation of 110 spaces in 12 faculties at the Fort Garry Campus, establishing the Richardson Centre for Food Technology and Research, and backing initiatives at both St. John's and St. Paul's colleges.
Whether you are supporting health as a human right, advancing reconciliation and promoting Indigenous achievement, climate change research, or transforming the learning experience, you are making the world a better place.
Read more in our Gratitude Report