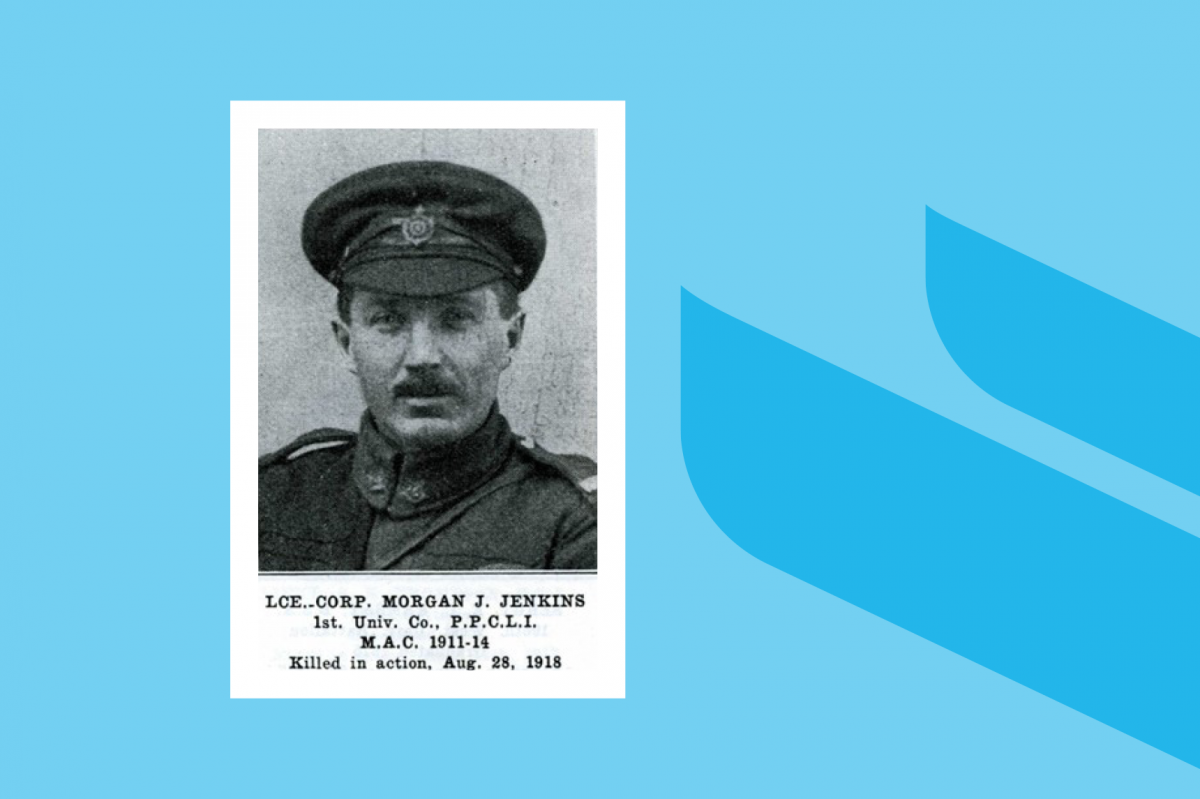 Grave of UM Aggie, Great War Casualty, Identified in France
December 15, 2021 —
On 16 November 2021, the Commonwealth War Graves Commission confirmed the grave of University of Manitoba Agriculture student, Lance Corporal Morgan Jenkins in Vis-en-Artois British Cemetery near Haucourt, France. This concludes an investigation begun May 2019 by the Canadian Department of National Defence and the Canadian Armed Forces.
Morgan Jones Jenkins was born in Wales in 1886. After immigrating to Canada, he studied at the Manitoba Agricultural College and was working on a Saskatchewan farm when he enlisted at Saskatoon on July 8, 1915 and was posted to the 3rd University Co., Princess Patricia's Canadian Light Infantry. He was killed in action on August 28, 1918 during the Canadian Corps action at the Battle of the Scarpe. Until now, LCpl Jenkins had no known grave but was commemorated at the Canadian National Vimy Memorial near Arras, France.
Affectionally known as 'Jenks' by his classmates, Jenkins enrolled at UM in 1912 and kept in touch with the school until his passing. Several of his letters were published in the Manitoba Agricultural College (MAC) Gazette before and after his arrival in Europe. He discussed crossing the Atlantic, army life, and the number of UM students he encountered while overseas. His final letter addressed the topics he hoped to study upon his return to the college "with great interest in the study of the structure of metamorphosis of parasites, pests and reptiles", given his exposure to all number of parasites that affected trench life on the Western Front.
Jenkins is one of 140 University of Manitoba students, alumni and staff who made the ultimate sacrifice during the Great War.
A formal rededication ceremony, and replacement headstone, will take place in France at the earliest opportunity.
Warren Otto is a military historian and serves as Academic Advisor with the Military Support Office and Military Liaison with the Centre for Defence and Security Studies, University of Manitoba. In addition, he is regional coordinator with the Maple Leaf Legacy Project and a member of the Royal Winnipeg Rifles Regimental Senate.