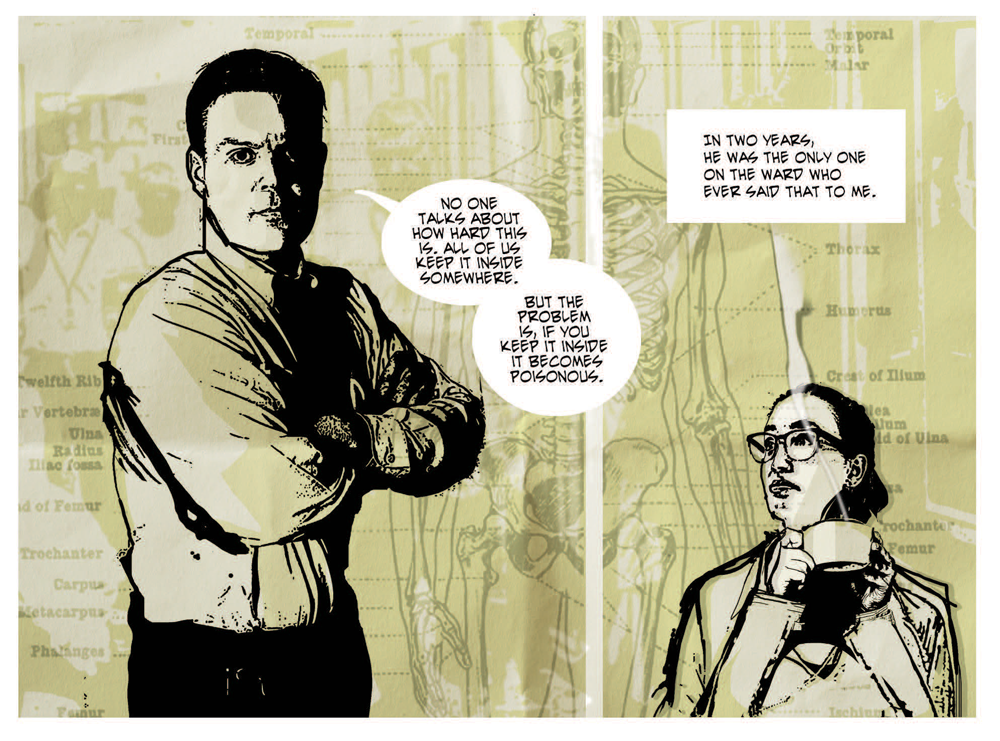 Graphic novel unmasks anxiety, self-doubt of medical students
January 31, 2018 —
When Dr. Jillian Horton reflects on her time as a medical student and resident, memories of self-doubt, anxiety and guilt come flooding back.
There was no safe outlet for her intense sadness and helplessness when a patient died, or her deep shame when she missed a diagnosis.
Medical culture told her that to become a successful doctor, she had to detach and push through. Being emotional could be perceived as weakness or inadequacy.
"I found many aspects of it soul-crushing, relentless and very painful," recalls the Brandon-bred U of M professor, who graduated in medicine 18 years ago from McMaster University – the valedictorian of her class – and completed her residency in Toronto. "The isolation of those experiences is hard to describe."
Horton, now associate dean of undergraduate student affairs at the Max Rady College of Medicine in the Rady Faculty of Health Sciences, is determined to bring mental and emotional health out of the shadows and into the foreground of medical education.
It's time to change the culture, she says, and "tend to the inner experience of being a physician."
Having an artistic background as a musician and writer, Horton sees healing power in storytelling. She has long admired Art Spiegelman's Holocaust-themed graphic novel Maus as an example of how a comic-book style can powerfully convey dark content.
Last year, she teamed with GMB Chomichuk, an award-winning Winnipeg graphic artist, to create and publish a short graphic novel called Medicine. The book's central character is a female medical student.
"Although I wouldn't say it's autobiographical, in terms of emotion, it's straight out of my own experience," Horton says. "In telling the story in such a personal way, I wanted to help students who are struggling, and chip away at the barriers to talking about how hard medicine is."
In a series of episodes while on duty at a hospital, the character struggles with feeling broken, empty and inadequate. She thinks about suicide. "Sometimes I fantasized about hanging myself with my stethoscope," the student admits. "It was already killing me anyway."
The book received funding from the Alan Klass Memorial Program for Health Equity at the U of M. It has been given free of charge to several classes of medical students. It can be purchased for $10 at the U of M Health Sciences Bookstore.
Horton says medical students and physicians have responded to Medicine with gratitude and self-recognition. The honest depiction of "things that feel unspeakable" has opened up dialogue.
It has helped students to process difficult emotions and recognize that feelings like fear, grief and shame are shared by just about everyone who earns a medical degree.
Dr. Brian Goldman, host of CBC Radio's White Coat Black Art, praised the graphic novel as "gritty, uncompromising and totally authentic."
Horton says medical schools, including the Max Rady College of Medicine, are working to teach students not to harden themselves or displace their pain, but to be emotionally present and learn "higher-order coping skills" to stay balanced and prevent burnout.
"The more you numb yourself, the more you cut yourself off from the joy," Horton says. "It can lead to a sense that your work is meaningless and purposeless."
She urges students and doctors to seek help for themselves and give support to their colleagues. Rady Faculty of Health Sciences students can access free, confidential counselling on Bannatyne campus at Services for Students (SS@BC).
"Be part of creating a culture," says Horton, "where nobody feels like the emotional weight of their experience has to be borne alone."