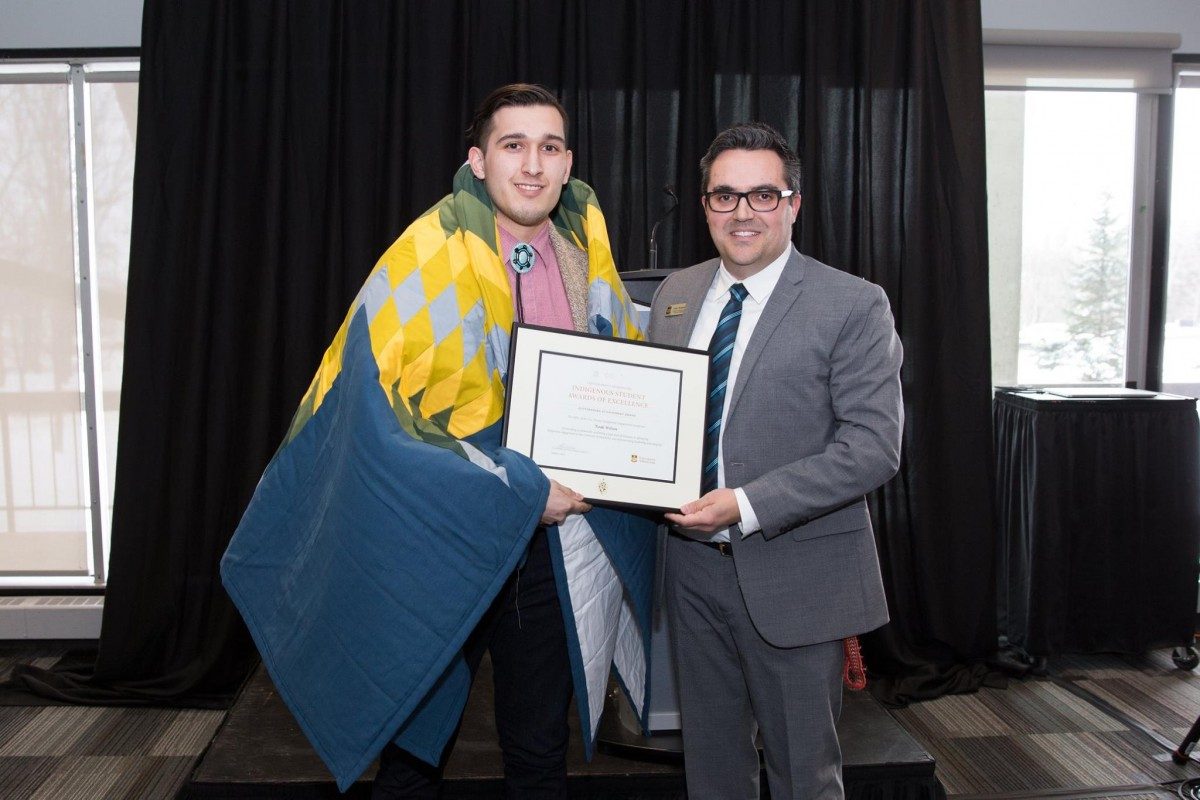 Graduation Pow Wow Profile: Noah Wilson
From athlete to changemaker, how one student navigated the twists and turns of the university experience
April 30, 2019 —
In the lead-up to the 30th Annual Traditional Graduation Pow Wow on May 4, UM Today is profiling a few of the Indigenous students who will be graduating. Below is the a feature on Faculty of Arts student Noah Wilson.
There are likely not many university students who follow a straight path to the end of their degree. After all, in addition to academic growth, the university experience is largely considered to be a time of immense personal development.
It certainly was for Noah Wilson.
"I came into university with the average mindset: 'I just want get my degree and get out of here'," says Wilson.
During his first two years at the University of Manitoba, Wilson's focus was on athletics. As a defensive lineman for the Winnipeg Rifles, he ensured school remained a priority but his extracurricular activities were almost exclusively on the gridiron. He knew he wanted to study something with an Indigenous focus but what that was didn't become clear until his second year.
"I always kind of knew going into university I was going to take the Introduction to Native Studies course but after I took it, it changed my perspective," says Wilson. "At the same time I started, the Truth and Reconciliation Commission (TRC) was closing their report and there were a bunch of events going on. I heard Murray Sinclair [LLB/79] speak and that changed my outlook about what I wanted to do for my degree."
So, in Wilson's second year, he jumped into the Aboriginal Governance program, which opened up options for business, political studies and Native studies. And, around the same time, he decided to put his football aspirations on hold. Instead, he joined the University of Manitoba Aboriginal Students' Association (now the University of Manitoba Indigenous Students' Association), first serving as the director of finance and the next year, as president. He also served as the Indigenous student representative on the University of Manitoba Students' Union (UMSU) council.
"That was an amazing experience, being able to meet so many different people and get involved in so many different activities," says Wilson.
Building off of fellow student Chance Paupanakis' ReconciliACTION platform – a grassroots Indigenous movement based on the TRC Calls to Action – Wilson found momentum for change. They prioritized the TRC's 16th Call to Action, to create university and college degree and diploma programs in Aboriginal languages, first in introducing the campaign and passing it unanimously in UMSU, then nationally at the Canadian Federation of Students' annual general meeting.
"Everything aligned perfectly and the right people were there at the right time. I definitely can't take all the credit because there were a lot of people who contributed, including everyone who was on council," says Wilson, who credits both his peers and the support from everyone at Migizii Agamik – Bald Eagle Lodge. "Pretty much the entire Migizii staff have been a good support to me throughout my whole university career. They definitely do a good job of making you feel included."
Wilson found mentorship with a number of people. Elder Norman Meade, Elder Marlene Kayseas, student advisor Carl Stone and Ry Moran, the director of the National Centre for Truth and Reconciliation (NCTR), all made an incredible impact in Wilson's student journey. While Wilson and his peers were developing the ReconciliACTION campaign, they walked across campus to the NCTR to see if they would like to be involved.
The meeting had a tremendous impact.
"They were having a meeting and he invited us in. [It was] literally this huge meeting in this boardroom with the nation's leaders in Reconciliation, and he sat us down and we observed. It was crazy to have that experience," says Wilson.
It also taught him a valuable lesson. Even though the discussions at the time were specifically about Reconciliation, Wilson saw how important inclusivity was in moving forward in all aspects. As he's leaving university, Wilson thinks about how he can continually pay it forward, allowing other groups of students to continue to carry momentum with the wheels of change.
This perspective reminds him about graduation, celebrating with Indigenous students at the 30th Annual Traditional Graduation Pow Wow.
"I think the Grad Pow Wow is amazing," says Wilson. "It's a representation of Indigenous peoples reclaiming space within institutions that historically were used to suppress our culture and our language and our expression of celebration. I think by reclaiming the Grad Pow Wow – to celebrate Indigenous students who, in a lot of cases, overcame a lot of barriers that other groups in society don't actually have to face – it's an opportunity for Indigenous and non-Indigenous people to connect over Indigenous culture, the Pow Wow. That's an awesome thing to have at the university."
Looking back, Wilson calls his road to his bachelor of arts and his experience at the U of M "transformative."
"I went into university with a goal and eventually reached that goal, but it wasn't followed as what was first planned. The road is always winding and I think it set me on a pathway that without it, I wouldn't have had the experiences and opportunities to meet people, to do different things. There was definitely a struggle between me transitioning from my football, my athlete identity, to this change-maker or activist. But in the end, those struggles are what define your university career – because when you come out the other side, you see it was worth it in the end."