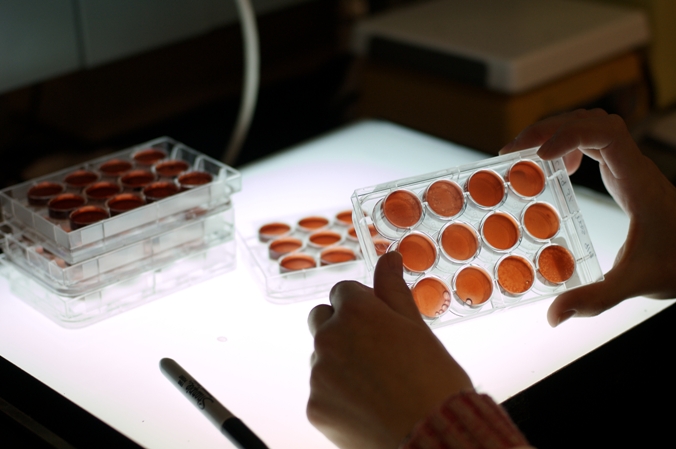 Graduate student 'top performer'
June 9, 2015 —
It's been quite a week for doctoral student Rebecca (DeLong) Dielschneider: last week she took 2nd place in the National 3MT competition and this week is recognized by BIOTECanada's—the biotech industry's 200 member national association—with the prestigious Gold Leaf Award as a Young Leader in Biotechnology Research.
Dielschneider's doctoral research is in the department of immunology at the University of Manitoba's Faculty of Health Sciences and focuses on lysosomes as targets in leukemia. She is working under the supervision of Spencer Gibson, U of M professor of immunology, biochemistry, medical genetics and cell biology, and senior scientist at the Research Institute of Oncology and Hematology, a joint institute of the University of Manitoba and CancerCare Manitoba.
"An important competitive advantage for Canada's biotech ecosystem is its array of strong regional biotech clusters located in every province of the country, most of which find at their centre a Canadian university. The University of Manitoba's Rebecca Dielschneider's ground-breaking research focused on cancer of the immune system embodies the strength of Canada's young research community and the post-secondary institutions that support them," says Andrew Casey, President and CEO BIOTECanada.
"Rebecca and her many research colleagues across the country are a foundational element of Canada's vibrant biotech industry and an important reason why Canada enjoys a global reputation for being home to world leading university-based scientific laboratories and researchers," says Casey. "I congratulate Rebecca on receiving the BIOTECanada 2015 Gold Leaf Award for Young Leader in Biotechnology Research and also extend appreciation to the University of Manitoba and CancerCare Manitoba for supporting Rebecca's important research."
"I congratulate Ms. Dielschneider on receiving this much deserved recognition," says Digvir Jayas, Vice-President (Research and International) at the University of Manitoba. "I'd like to thank the Life Sciences Association of Manitoba for their nomination for this award and their continued support of research in Manitoba."
"Rebecca's work gives Manitoba an even greater reason to be proud of its life science industry," says Tracey Maconachie, President of the Life Science Association of Manitoba. "She represents the future. Her research is cutting-edge, creative and inspiring. We look forward to seeing the impact of her work."
BIOTECanada is the national industry association with more than 200 members, reflecting the diverse nature of Canada's health, industrial and agricultural biotechnology sectors. The Gold Leaf Awards will be presented at the BIO International Convention in Philadelphia on June 16, 2015.
For more information
BIOTECanada contact Nadine Lunt at: 613-230-5585 x257.
University of Manitoba contact Janine [dot] Harasymchuk [at] umanitoba [dot] ca at 204-474-7300 or 204-799-4802
Rebecca Dielschneider can be contacted at: delongr [at] myumanitoba [dot] ca
Research at the University of Manitoba is partially supported by funding from the Government of Canada Research Support Fund.