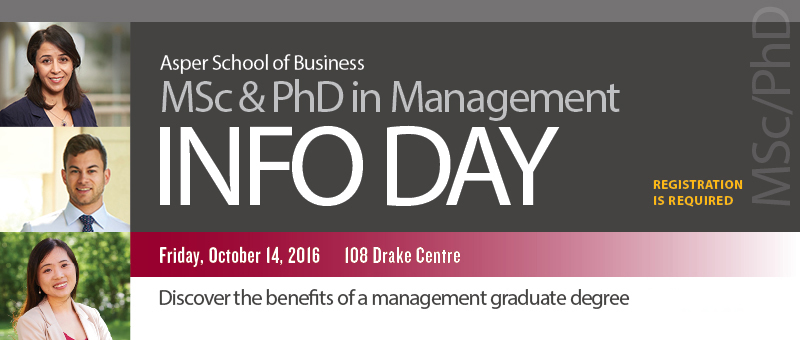 Graduate degrees in management pay off
October 5, 2016 —
The Asper School of Business invites all members of the University of Manitoba community to attend an information day on Friday, October 14, 2016 showcasing the benefits of an MSc and PhD in management.
Asper profs, students and advisors will highlight program and application requirements, research areas and opportunities, student experience, and career possibilities.
Specialty sessions will be held in 108 Drake Centre. You can attend any sessions you wish:
11:00 — Business Administration (includes Strategy, Human Resource Management, Entrepreneurship, and Organizational Behaviour)
11:30 — Marketing
12-12:45 — Lunch in 517 Drake Centre (please register in advance)
1:00 — Finance
1:30 — Actuarial Mathematics
2:00 — Supply Chain Management
Registration is required; RSVP to Irina [dot] Glikshtern [at] umanitoba [dot] ca indicating the session you wish to attend, or call 204.474.8448.
"It is surprising how many career possibilities a management research degree can open up," says Gady Jacoby, associate dean (research) at Asper. "We have people from a strikingly diverse range of backgrounds — for instance, psychology and other social sciences, mathematics and economics, engineering, chemistry, law enforcement, and so on — who have used, or are using, a graduate degree in management to enhance our understanding of finance, marketing, business administration, actuarial mathematics, and supply chain management. Some go on to put that knowledge to work as academics at leading universities around the world, while others are advising government and industry."
Asper PhD student Ray Lavoie agrees that a graduate degree in management is a career-booster, as well as a means to fully immerse yourself in a specialized area of interest. After graduating with an undergraduate management degree, he worked for two years in marketing at StandardAero. Before long, he began helping some of his former Asper profs with research projects. "They were doing exciting stuff," he said, "and I realized I wanted to pursue a graduate degree and be a part of it."
He started his MSc in marketing in 2012 and soon advanced to the PhD program, where he's now studying consumer behaviour. His focus is on the psychological state of flow, otherwise known as "being in the zone", which can be a powerful tool for marketers.
"We're also exploring how to obtain flow states in groups, which is extremely important for innovation and creativity within organizations. We're showing how to control it for the good of organizations, consumers, and society at large."
Lavoie describes the Asper PhD program as "a lot of work, but with an incredible amount of autonomy in choosing what you research and how you run your daily routine." He says his research has helped him develop a wide network of professional connections by collaborating with faculty from universities all over the world, and with researchers from local organizations and companies.
He also teaches marketing classes to undergraduate students. "Teaching allows me to meet a diverse group of people and make a positive impact on their professional and personal development. It's amazing to see the progress they make over the course of a class."
Lavoie began his graduate studies for the love of research, and is now applying to universities for tenure-track professor positions. At the same time, he plans to provide consulting services to industry.
"My goal," he says, "is to be the 'flow guy' in our field."
More benefits of pursuing an Asper MSc or PhD:
The Asper School is a major research and teaching community with more than 60 full-time faculty (tenure track, holding a PhD) and over 2,000 students overall in the undergraduate, MBA, MSc and PhD programs.
We are accredited by AACSB International, the world's premier accreditation association for business schools. Only 5% of business schools worldwide receive this distinction.
Our faculty are engaged in research projects supported by national and international funding agencies, and have publication records of excellence in leading journals across multiple disciplines. They work closely with students on joint research projects that lead to publication opportunities and an enhanced master's and doctoral training experience.
The School's rigorous entry requirements ensure our graduate students are of the highest quality. Our students are consistently awarded national scholarships, including the Government of Canada's Social Sciences and Humanities Research Council graduate fellowships, numerous national and international "best paper" awards, and international awards for academic research.
The Asper School offers a global perspective on business. Scholars come from around the world to contribute to the vibrancy of our academic setting. Together, we create a microcosm of the global business community, enriching each other's learning experience and research productivity.