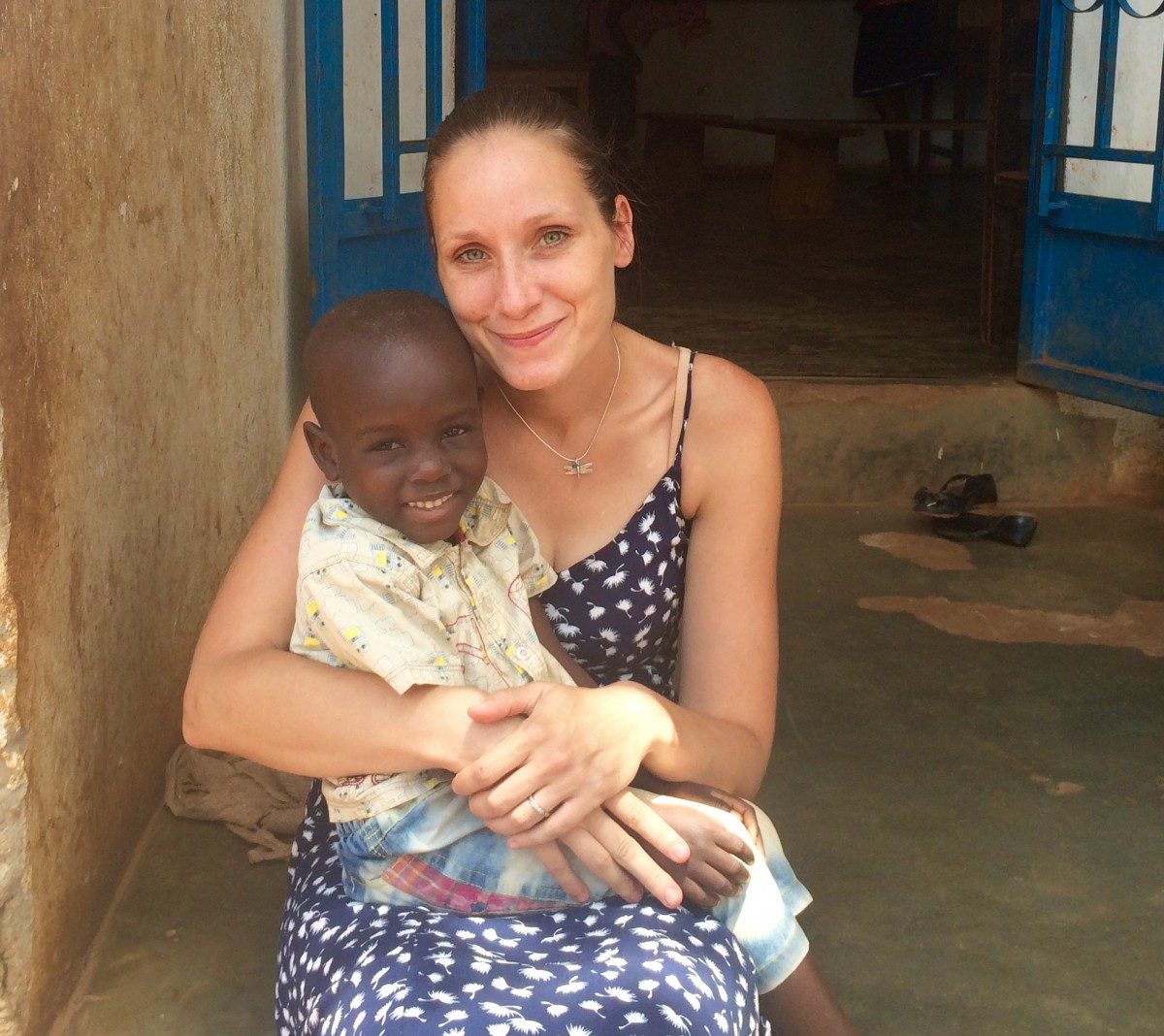 Grad student with 'heart for Africa' finds riches in giving
December 16, 2016 —
Lindsay Aboud won't be doing any extravagant shopping this holiday season.
As a Rady Faculty of Health Sciences graduate student who started a charity to help desperately poor children in Uganda, she lives as frugally as possible. But she is enriched by making a difference, one child at a time.
"It's incredibly rewarding," says Aboud, who is about to receive her PhD in medical microbiology, having completed her thesis on HIV transmission in Kenya. "Not many people get the chance to feel like they actually change someone's life, and see that change."
Aboud, 32, co-founded the charity Bridging Villages with her husband Zaid, 31. He holds a master's degree in pharmacology from the U of M. Since making their first volunteer aid trip to Uganda in 2014, the couple has raised about $30,000 for the project, including their own contributions.
"Our eyes were opened to the need, and there was no way we could walk away from it," Aboud says.
They have held Manitoba events such as a trivia night and a social to benefit Bridging Villages. The organization recently obtained official charitable status.
Now living in Uganda and working with partner organizations in the village of Namavundu, the Abouds have renovated a school for 120 children who are orphaned or can't afford education, established a child sponsorship program so Canadians can support individual kids in the school, helped villagers to obtain medical care, and supported a women's vocational training program.
Their next project is a shelter for street kids. The couple is also making plans to adopt two orphaned Ugandan toddlers who have special needs.
Aboud says it is deeply gratifying to see lives transformed by education. "In February, we're sending 12 children to high school who never would have gotten there without the Bridging Villages sponsorship program," she says.
The charity also provides life-changing medical help. One little girl suddenly couldn't walk and had to stop going to school. Her family, who couldn't afford medical care, assumed she had become permanently disabled. Aboud helped get her into a hospital, where a benign tumour was found on her spine and removed. The girl is expected to make a full recovery.
Aboud, who grew up in Pinawa, met her future husband in an undergraduate microbiology class. Born in Iraq, he came to Canada as a refugee at age 16. Zaid plans to return to U of M next fall, either to earn another master's degree as a physician assistant or a PhD in community health sciences.
Aboud will soon start post-doctoral work with a University of British Columbia team on a study in northern Uganda of how conflict affects HIV transmission. So the couple foresees a great deal of separation and travel between Canada and Uganda for the next few years.
The microbiologist has faced her own medical challenges. She lives with Crohn's disease and on her first trip to Uganda became seriously ill with malaria. Nonetheless, she says, "I have a heart for Africa."
She credits U of M mentors with fuelling her passion for both science and service. "Dr. Marissa Becker and Dr. Lisa Avery (faculty affiliated with the U of M's Centre for Global Public Health) are two of my role models. I love the impact they have in communities.
"Dr. Blake Ball (assistant professor of medical microbiology), my PhD supervisor, has also played a huge role in who I am. He knows that life is not just the lab. He saw in me something beyond basic science, and he helped foster that."
To learn more about Bridging Villages, visit bridgingvillages.org.