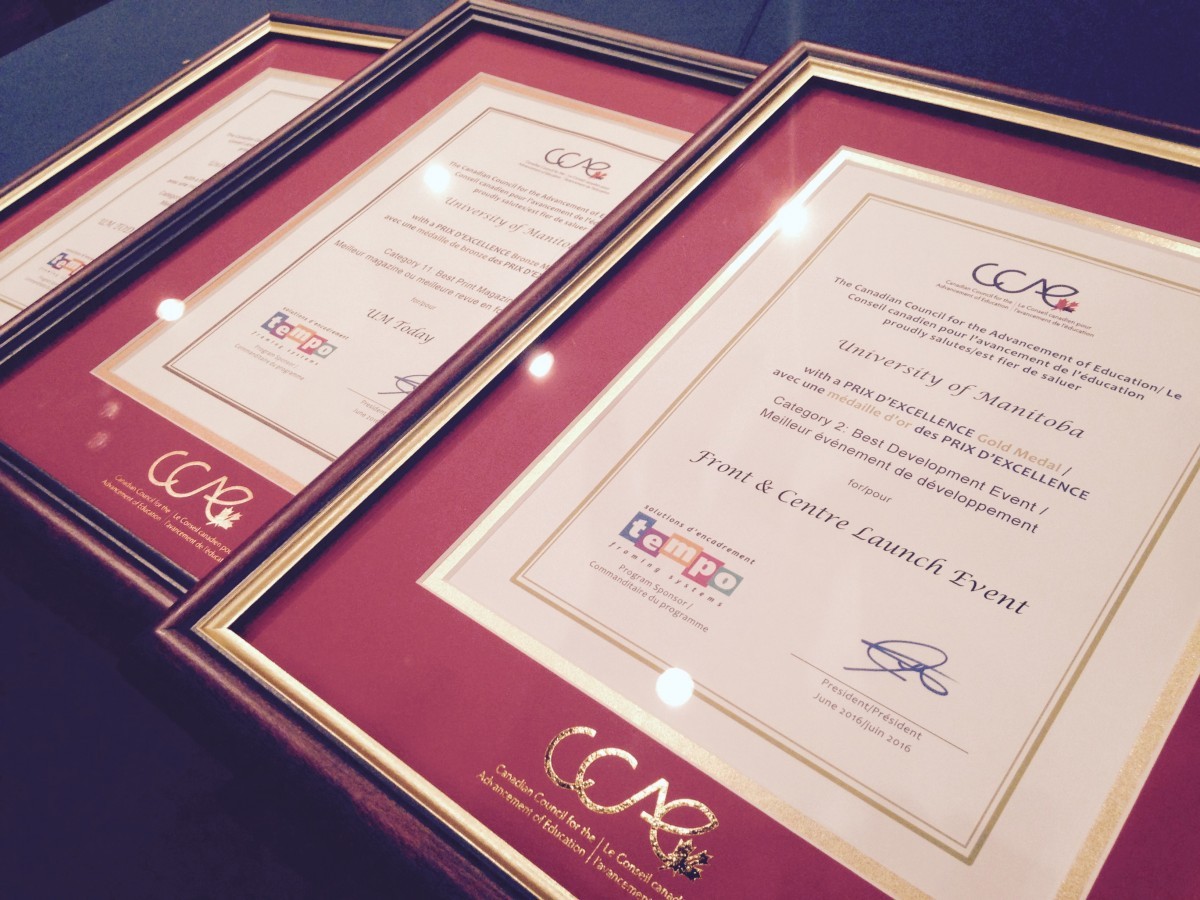 Golden achievements
Front and Centre campaign launch and UM Today The Magazine given prestigious Prix d'Excellence Awards by the Canadian Council for the Advancement of Education (CCAE)
June 10, 2016 —
The University of Manitoba has won three prestigious awards in the 2016 Canadian Council for the Advancement of Education (CCAE) Prix d'Excellence Awards. These awards recognize the amazing work accomplished over the past year. The awards were announced on June 10 at the national conference in Saskatoon.
The awards are:
Gold Award for Front and Centre Event in Best Development Event category
Gold Award for UM Today The Magazine in Best Online Publication category
Bronze Award for UM Today The Magazine in the Best Print Magazine Category
"This is wonderful news for our External Relations team and our broader university community," says John Kearsey, Vice-President (External) at the University of Manitoba. "The awards recognize the work we've done over the course of the past year on two of our most significant accomplishments – the Front and Centre Campaign launch and UM Today The Magazine."
Specific to those to accomplishments, he added: "The Front and Centre campaign launch gave us the opportunity to celebrate the generosity of individuals and corporations whose philanthropy will support our students, faculty and ultimately our entire community for years to come.
"The magazine – brilliant in its design and projection – is made outstanding because of the stories we get to tell. The stories of our alumni making contributions to their communities around the world. The stories of our students. Our researchers. Our teachers. They are the muscle of the new magazine and they share in this award."
The Prix d'Excellence is the annual awards program of the CCAE, recognizing outstanding achievements in alumni affairs, public affairs, communications, marketing, development, advancement services, stewardship and overall institutional advancement.