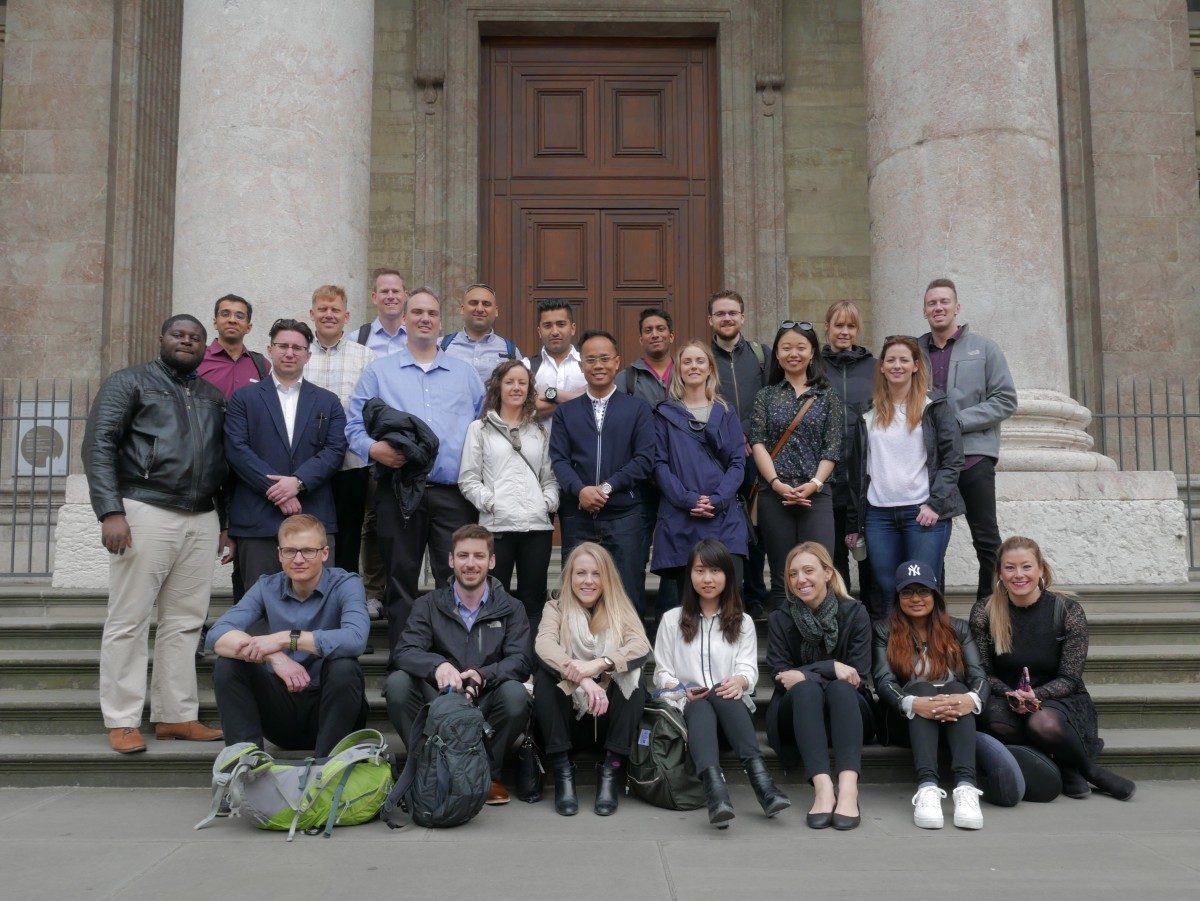 Going Global: Asper MBAs experience Switzerland
June 26, 2017 —
When Asper MBA student Jeremiah Kopp and 30 of his classmates arrived in Switzerland this April, the excitement was palpable. It was the culmination of several months of hard work in their international study trip class – and the stakes were high.
At the beginning of the winter term, students had formed consulting teams and were paired with local Swiss companies. Students engaged with their clients to tackle organizational challenges pertaining to finance, marketing, organizational behaviour, and sustainability while devoting countless hours to exploring Swiss history, culture, and economy – now, the time had arrived to unveil their hard work.
"This was an incredible, once-in-a-lifetime learning opportunity" says Kopp, an MBA student who is completing the last term of his program. "In working with real, international clients, we were able to apply what we learned in the classroom in a unique and meaningful way."
In an increasingly fast-paced and evolving world, business students need hands-on experiences that allow them to apply academic learning to real-world settings. The Asper MBA program understands this, providing a unique and intensive international business course in local environments. Instructor Stuart Henrickson, who has worked in 6 countries globally, and Amy Briscoe, program coordinator at the Stu Clark Centre for Entrepreneurship, who coordinated the whole trip, have run this course for the past three years.
"This is a chance for students to gain invaluable experience working on a global stage, experiencing a different culture hands-on, and having a lot of fun in the process" says Briscoe. This was the fifth year that the International Projects course was offered to MBAs, with previous locations in China (2013), Brazil (2014), Dubai/Abu Dhabi, United Arab Emirates (2015), and Malaysia (2016). This year's trip focused on Switzerland, a country with a unique and fascinating culture in the geographic, cultural, and economic heart of Europe.
The premise of the course is for students to work on major "live" projects with international companies, bringing a Canadian viewpoint, work ethic, collaboration, and out-of-the-box thinking to a global problem. The four local companies: Victorinox (makers of the world famous Swiss Army Knife), Palexpo (one of Europe's largest convention centres), MigFlug (provides fighter jet excursions) and Envisol (environmental engineering firm) were impressed by the innovation demonstrated in the Asper MBA projects – students performed robust environmental analysis, built unique alternatives, and developed creative solutions to help meet the needs of their clients' businesses. It was clear that the exercise had provided tangible business insight to real-world clients while helping students understand how to work with partners who have different customs, experiences, and viewpoints. Carl Eisener, fourth generation CEO of Victorinox and great-grandson of the inventor of the iconic Swiss Army Knife, said afterwards, "I was impressed by the excellent structure, alternatives, and most importantly, the recommendation is one that I agree with and we can implement … your MBAs far exceeded our expectations."
In addition to the formal presentations, students traveled throughout Zurich, Geneva, and the rural countryside, engaging in a variety of cultural and economic activities unique to Switzerland. The group learned about the intricate quality of Swiss watches at Frederique Constant while watching a professional watch-maker in action, and toured the famous Swiss army knife factory. Of course, no visit to Switzerland would be complete without exploring the various culinary specialties that the country is renowned for. Students sampled local flavours during a tour of the famous Favarger chocolate factory and had their turn at making cheese at the Milchmanufaktur Einsiedeln.
The international business trip also provided students with the opportunity to bond outside of the classroom, learning about each other's lives while surrounded by breathtaking alpine scenery. In a program comprised of busy professionals from many walks of life, this trip allowed students to create friendships and memories that will last forever.
By blending academic concepts with experiential education, the course allowed students to deepen their knowledge of contemporary themes and practices in business. In the end, Kopp says that the trip ultimately became much more than just an academic opportunity.
"Our time in Switzerland opened our eyes to a world of possibility and gave us the sense that we can achieve anything that we set our minds to. We worked hard, created friendships, and learned more than we could have imagined – in many ways, the international business trip represented our time in the Asper MBA program and the constant personal and professional growth that we experience."
Next Stop: Tokyo, Japan!