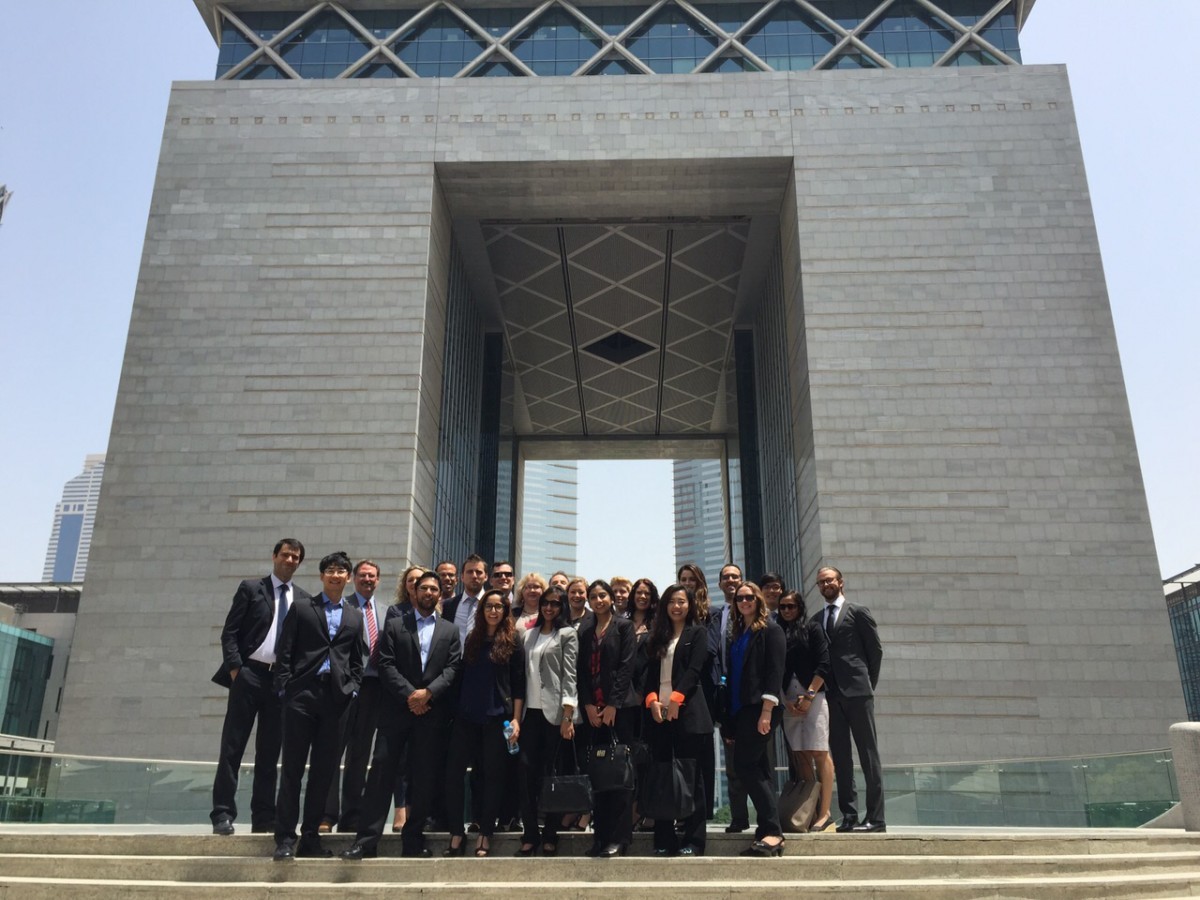 Going Global: Asper MBA Students Impress Dubai
May 15, 2015 —
When Asper MBA student Geeta Chopra and 24 of her classmates landed in Dubai in April, the overwhelming energy of one of the world's busiest international airports immediately set the tone for their week-long international study trip: "Busy, exhilarating, and non-stop."
The trip marked the culmination of an Asper MBA course exploring the intricate dance of culture, economic development, and business management in the United Arab Emirates (UAE), one of the world's leading emerging markets.
"At the beginning of the course we split into four consulting teams, each working with a real business client in Dubai," she explains. "Each client faced a unique business challenge, which our Asper MBA teams worked to solve throughout the term."
A Unique Business Challenge
Equipped with months of "rigorous research, well-rehearsed presentations, and a sense of adventure," the Asper MBA teams arrived in Dubai ready to present their solutions to their clients, the Dubai International Finance Centre, the Dubai Autodrome, Aldar Properties, and the CAE Flight Training Centre.
"We wanted our teams to work as if the companies were actual customers, not just arm's-length business cases," says Stuart Henrickson, who led the course and coordinated the trip. "Judging by the extraordinary accolades we received from the clients, and after witnessing their interactions with our students in the presentations, our MBAs hit the mark and represented Asper extremely well."
Margit Levay, a representative from the Dubai International Financial Centre, says the students over-delivered on expectations by demonstrating outstanding initiative and strategic thinking. "In my years working in business there is nothing that impresses me more than to witness initiative and thinking outside the box. The team is an exceptional group and one can also sense that they truly support each other. This made it incredibly easy to work with them, as the questions and approaches they had in mind to pursue were worthy and in the right direction. Not only did they work well with me – the end result in the presentation was well above of what I expected."
Expanding Networks and Perspectives
Meeting their clients in person gave the students a chance to expand their professional networks and connect with potential employers and business partners in a city teeming with opportunities, says Chopra.
"Positioned at the crossroads between Asia, Africa and Europe, Dubai is inhabited by some of the world's best talent. It feels as if everything and everyone is there with a purpose and part of something big."
The trip itinerary included visits to cultural heritage sites and modern business centers. "Visiting the Sheikh Mohammed Centre for Cultural Understanding and the Sheikh Zayed Grand Mosque helped remind us of the UAE's deep historic roots, and contrasted with visits to the Dubai International Finance Centre and CAE Flight Simulation Centre, epicenters of modern technology that clearly illustrate Dubai's investment in the future," says Chopra. "The dichotomy of Dubai and its ability to balance both old and new may be the key to its rapid and aggressive success."
For Chopra, other trip highlights included visiting the Emirates Palace in Abu Dhabi (the setting for the recent Fast and Furious 7 movie), touring Palm Island, and riding camels in the Arabian Desert. But the city of Dubai itself is what most excited her imagination:
"At night, the city comes to life, the tall skyscrapers twinkling in the moonlight, the sound of race cars zipping down Sheikh Zayed Road, the scent of frankincense wafting through the streets. The warm weather draws people out from indoors, and encourages them to visit the outdoor gold and fabric souks, catch a late-night meal at any of the delicious restaurants, or just walk up and down the streets admiring the beauty that is not forgotten in any detail of the city's design."
The Experience of a Lifetime
Chopra says the trip was ultimately much more than an international learning opportunity: it was a transformative personal and professional experience. "What Dubai did within a matter of days was instill within each of us a belief that anything is possible. We returned home feeling energized at this new sense of possibility. Many of us are now seriously considering opportunities to work for, or in, the UAE at some point in the future. For that reason alone, among so many others, the Asper MBA program has truly provided the experience of a lifetime."