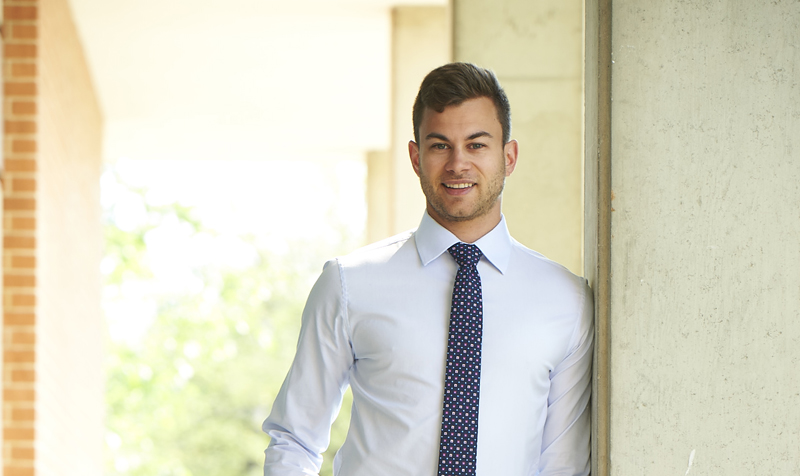 Go with the flow
June 5, 2015 —
Asper PhD student Ray Lavoie is studying how flow — the psychological state of "being in the zone" — leads to positive and negative user experiences in new technologies such as augmented reality and social media.
"Technologies like these are conducive to putting us in flow states," he explains, "because they give us a sense of control and immediate feedback." Although flow is typically seen as an ideal, positive state, Lavoie argues that flow can turn negative when fuelled or reinforced by the wrong kind of curiosity. "If we confront a puzzle or problem, curiosity drives us to put effort into solving it. The process isn't immediately enjoyable, but achieving the solution offers long-lasting rewards. However, social media also fosters curiosity by allowing us to keep clicking and discovering new things, but afterwards we're more likely to feel we've just wasted time on an empty experience."
Lavoie is specializing his doctoral work in Marketing. He and his research team have partnered with Winnipeg startup ZenFri Inc. to explore how users engage with augmented reality games (ARGs). ZenFri has developed a location-based ARG called Clandestine: Anomaly. Using the camera and GPS functions of the user's smartphone, the game augments characters and objects into the surrounding environment. "It's new technology, so it's the perfect opportunity to find out how curiosity affects a user's experience when we don't tell them what to expect, and force them to treat the game as a puzzle or a problem."
In another study, he plans to investigate the negative effects of social media and how they change our behaviour in the real world. "We've all lost ourselves on Facebook or Twitter without realizing how much time has gone by. But the effects of social media can be more dangerous. We theorize that social media and search engines are training our brains not to work for information. Overindulging in curiosity can also lead to all kinds of impulsive, aimless behaviours in our daily lives."
Lavoie hopes the studies will uncover ways to facilitate positive flow and mitigate negative flow in many emerging products and technologies. His overall hypothesis, he says, is simple: "If an experience is truly good for you, it probably requires you to put in some effort."
For more Asper stories, download the latest issue of our newsletter, Update.