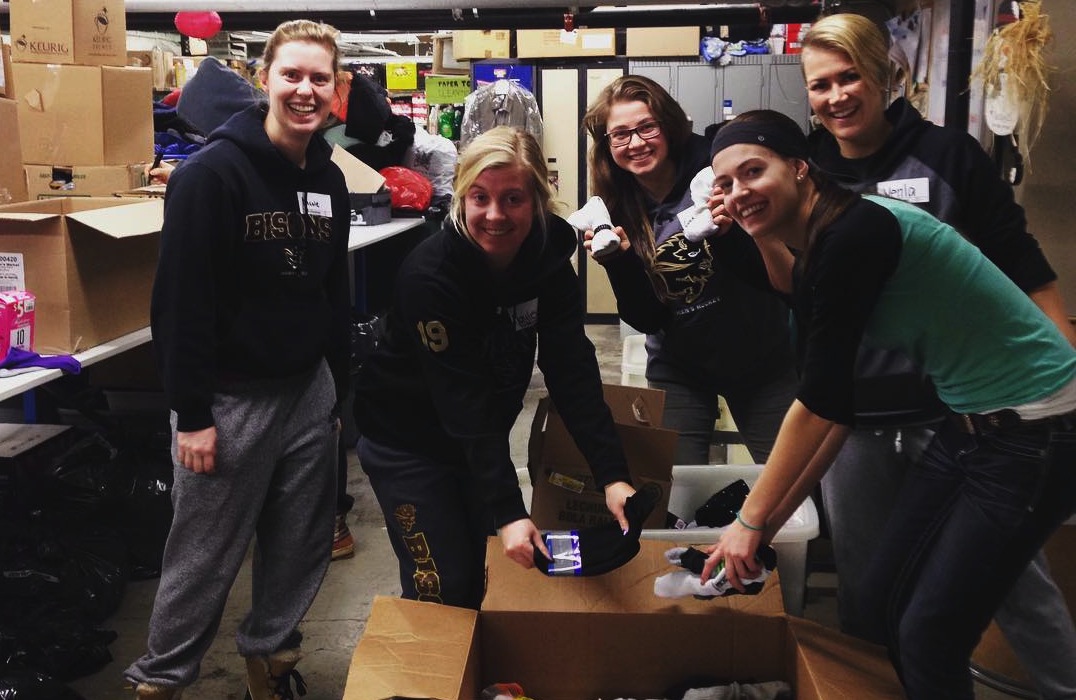 Giving Back
Bison athletes volunteer at Siloam Mission for 11th consecutive year
December 16, 2015 —
The University of Manitoba Bison athletes are often on the receiving end of the support they need to succeed. Knowing this leaves the student athletes with a deep-rooted desire to give back.
Teams from Bison Sports are volunteering at Siloam Mission from December 14 to 18, working in two daily shifts to help to serve breakfast and lunch, as well as provide support to the homeless shelter wherever it's needed.
Former Bisons women's volleyball player Lindsay Poggemiller-Smith started the initiative in 2005. This is the 11th consecutive year the Bisons have been involved in the volunteer activity.
Fourth year arts student and women's volleyball player, Caleigh Dobie has volunteered at Siloam as part of the program since her rookie year. This year she is part of the leadership for University of Manitoba Athletic Council (UMAC) and helped organize the volunteer activities at the shelter.
"We are so pleased to be back at Siloam this December for an 11th year as we really cherish what they are doing for those who deserve it the most," says Dobie. "It's so important to take the opportunities that you are given in life to better the opportunities of others and what more perfect time then around the holidays."
Dobie says the experience gives her and fellow Bisons opportunities to connect with people using the services Siloam offers.
"You really feel appreciated because they don't expect a bunch of university students to be there. Whether they're coming for a warm meal or looking for somewhere warm to stay we have an opportunity to help make someone's day just a little bit better."
Bisons women's hockey centre Karissa Kirkup and her teammates will be volunteering at Siloam on Dec. 16 and will be sharing photos on the umanitoba Instagram account. The Instagram takeover will allow the U of M community to take a look behind-the-scenes and see what the athletes are doing at the shelter.
The Bisons community outreach at Siloam is aligned with the One Minute Movement – a UMAC campaign created to challenge Bisons athletes as well as all U of M students to give back to their community.
Like so many initiatives, the One Minute Movement started out as a hashtag says Dobie.
"The idea is that for every hour we spend on our selves, we give one minute of our time to help others. This might seem insignificant at first but considering the number of student athletes, it all adds up to a lot of time we can give to help others," says Dobie. "Volunteering within and around our community is so valued by all of our Bison student athletes and Siloam Mission offers a wonderful program that allows us to give back."