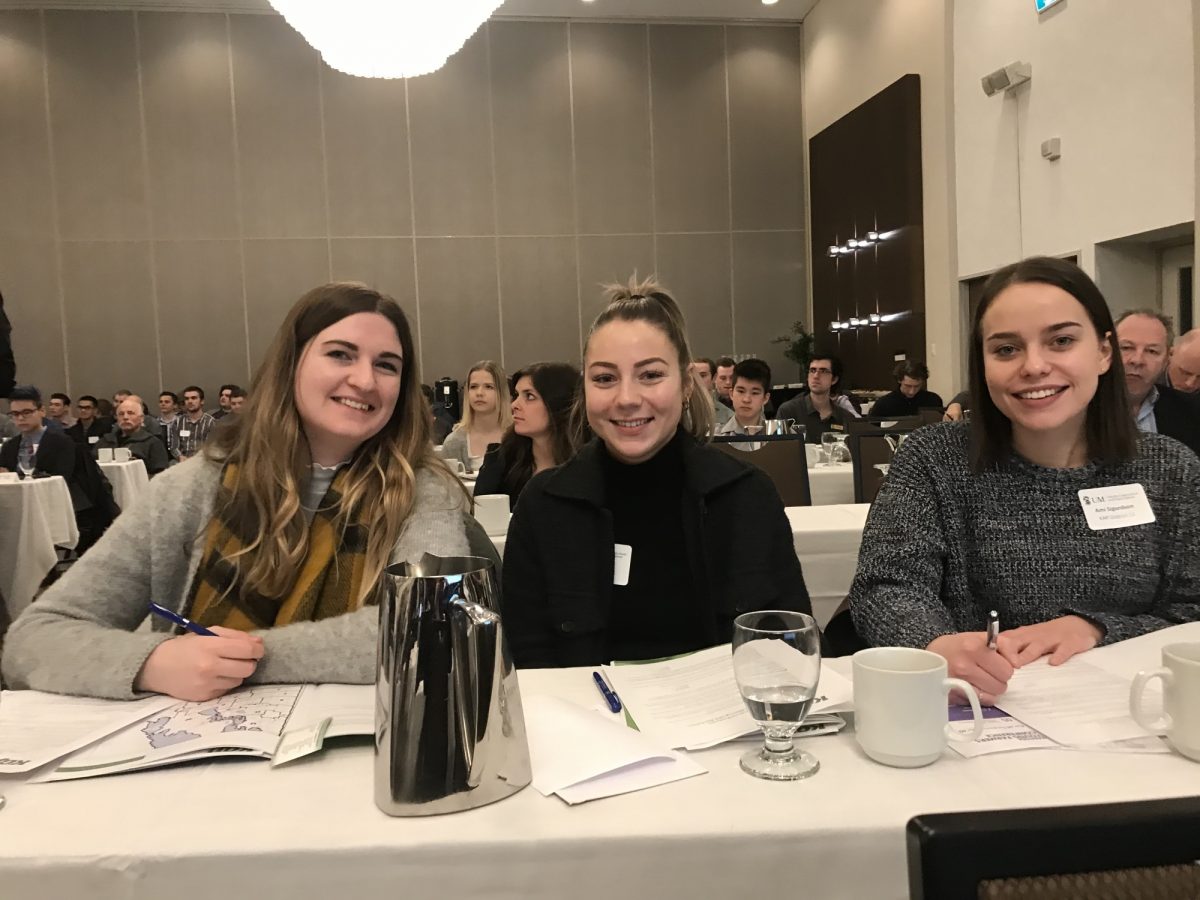 Getting hands-on with agricultural policy development
February 13, 2020 —
Second year University of Manitoba Diploma in Agriculture students were on the floor of the Keystone Agricultural Producers (KAP) annual general meeting in early February and gained valuable first-hand experience in shaping farm policy.
The DAGR 0920 Current Issues in Agriculture and Food class, taught by farm management instructor Reg Dyck, was invited by KAP to attend and to present a resolution to the membership.
Before the meeting, the students were divided into 11 groups and developed resolutions that addressed concerns of producers. In class, the students presented and debated the various resolutions. The 11 proposals were narrowed down to three and the class voted to select the top resolution, which would ultimately be presented at the AGM.
The U of M student resolution, which was crafted entirely by the students, reads as follows:
Whereas: the Indian Head tree nursery provided farms across the prairies with free trees funded by the federal government until the program was shut down in 2012 and,

Whereas: Ag Action Manitoba Program for Farmers offers funding for beneficial management practices such as cover-cropping, farmyard run-off control, and improved pasture and forage quality but does not cover shelter belts and,

Whereas: some watershed districts offer trees for shelterbelts, but there is not always funding available, and there are many municipalities that are not part of a watershed district and,

Whereas: most of the municipalities not covered by a watershed district are in the Red River Valley which is susceptible to runoff, water erosion, and wind erosion and,

Be it resolved: that KAP lobby the Provincial Government to offer rebates for shelter belts being planted on Manitoba farms in order to combat salinity, improve ground water quality and sequester carbon and,

Be it further resolved that: the rebates for shelterbelts be administered through the Ag Action Manitoba Program with a cost share of 50% covered by the provincial government to a funding cap of $10,000 per farm.
The other resolutions proposed by the class dealt with mandatory entry-level driver training (MELT) for Class 1 licenses, agriculture education in schools, diverting school tax to agricultural education, cover crops, a gross revenue insurance program, seed royalty checkoff, a diversification centre, and licensing and road use of autonomous vehicles and equipment.
Dyck, who started teaching the class six years ago, regularly invites guest lecturers so that the students hear from a broad range of industry perspectives. Over the past six years, the KAP president or general manager has joined the class to speak to them about the role of the farm lobby group and the ways in which the students could participate. As well, Diploma students have been attending the KAP annual meeting, and since 2018, have been presenting a resolution to the membership.
At the 2020 meeting on February 4, students Acey Brinkman and Jill Martens presented and spoke to the resolution above.
"The resolution was presented and discussed, and was amended to include the Government of Canada in its wording. I am pleased to say the amended resolution passed with strong support," said Dyck.
Director of the School of Agriculture Michele Rogalsky credits Dyck for strengthening the relationship with KAP and its expanded role in supporting the School as it delivers the new curriculum launched in 2018.
"Our new program puts strong emphasis on complex decision making, leadership and communication and increased content integration and experiential learning in the Diploma in Agriculture courses."
She notes that Dyck worked with KAP staff three years ago to survey students about what issues were impacting young farmers, which ended up being very different than the issues impacting the KAP general membership.
"Students were challenged that year to participate in ag policy development and ensure that their concerns are being addressed by producer groups. Reg worked with the students that year to develop a resolution and present it successfully at KAP's 2018 AGM."
In 2019, the student resolution – developed and presented by Dyck's class – was not only endorsed by KAP, but was forwarded by KAP to the national lobby group Canadian Federation of Agriculture where it was again ratified. As well, the National Farmers Union approached Dyck and his students last year with a request to bring the resolution to their body.
"We are so pleased to have Reg as one of our core instruction team members. He is a recognized national expert in ag policy and has a long history of strong leadership within KAP. Reg is providing opportunities in his classes for students to develop their understanding of ag policy and its impact on farmers as well as developing their communication and critical thinking skills while developing the farm leaders for the future," said Rogalsky.